Despite being just a short hop across the Thames from the Houses of Parliament, Vauxhall used to be London's least fashionable borough, an area known only for its outdoor urinals and irredeemably depressed bus station. But this atmosphere is now changing. Damien Hirst, ex-enfant terrible of the art world and once agitator-in-chief of the Young British Artists (YBAs), has chosen Vauxhall as the venue for his first and very own art gallery. Suddenly the whole place is interesting, plausible, a destination. But as well as renewing interest in an overlooked post code, Hirst's Newport Street Gallery has occasioned a rash of questions. Central to which, as ever, is what is Hirst up to?
The legacy of his life and work thus far is such that—regardless of his standing as a maker—Hirst's every act continues to be scrutinized for further evidence of his undeniable artistic genius or his undeniable marketeering cynicism. Or both—if, like me, you consider his principal artistic subject not to be death (as he himself often claims) but the commodification of art.
Hirst is now 50, and his career thus far has been a downhill slalom of provocation and pound signs. First, there were the name-making warehouse shows of the late 1980s, at which Charles Saatchi—the most influential British collector of the last 35 years—initially saw his work. Then, in the early 1990s, Saatchi offered to put up £50,000 toward the creation of Hirst's infamous tiger shark in formaldehyde, entitled The Physical Impossibility of Death in the Mind of Someone Living.
The "dead animal" pieces from this era still represent Hirst's best purely artistic claim to significance—the shocking reification of death in the midst of life. (Displayed in an oblong glass vitrine, that shark appears to be both wrathfully in movement and yet spectral and mummified, both fiercely alive and yet horribly dead.) These pieces are also the most revealing of his acknowledged and unacknowledged influences—Jannis Kounellis (who used dead cattle before Hirst), Francis Bacon, and the tragic American artist Paul Thek, who died in 1988 and whose series of "Meat Pieces" are surely the direct progenitor of Hirst's own installations of butchered livestock in glass boxes.
In 1995, Hirst won the Turner Prize. In 1997, Sensation opened, the exhibition at the Royal Academy in London that canonized Hirst and the other YBAs: Tracey Emin, Jake and Dinos Chapman, Sam Taylor-Wood, Gavin Turk. This was considered a controversial show at the time, partly for its many explicit sexual pieces from Sarah Lucas, but mostly (in the U.K. at least) because of the display of Marcus Harvey's Myra—a portrait of the child killer Myra Hindley, made up of infant handprints. Of all the artists on display, Hirst used the moment most successfully to launch himself and his work all the way to the very top of the international market. This culminated a decade later, in 2007, with For the Love of God, a platinum-cast human skull encrusted with thousands of diamonds. It cost Hirst roughly £14 million to make, and sold for £50 million to a consortium—though there has been persistent dispute of both the sale price and the identity of the purchasers.
Rumors also circulated that Hirst made the skull for the purposes of tax deduction and/or to get himself on the cover of every magazine in the world just before the opening of his spectacular exhibition Beautiful Inside My Head Forever. (For a typical work, see The Golden Calf, an animal with 18-karat gold horns and hooves.) This last collection represented the apogee of all things Hirst: a record-breaking two-day auction of new work at Sotheby's, which cut out the galleries as conduits to sales and raised a staggering £111 million—opening on the same day Lehmann Brothers announced bankruptcy and world stock markets plunged.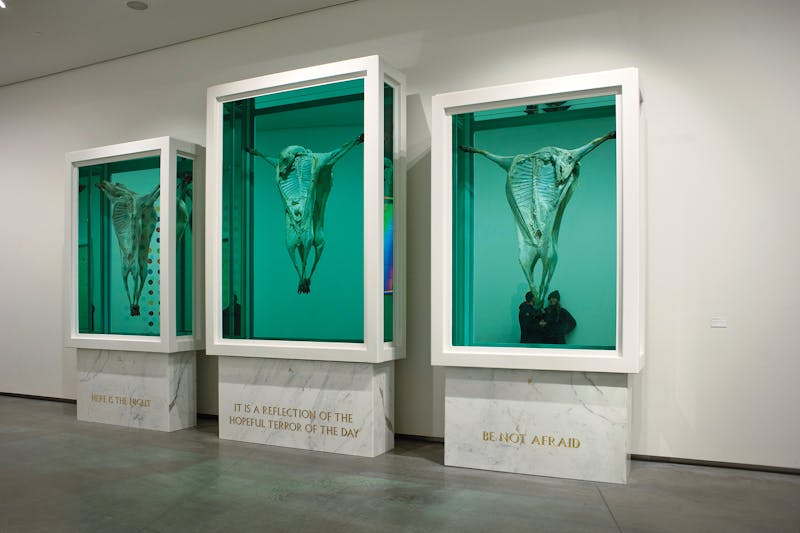 Since the crash, there has been No Love Lost, Hirst's show of actual paintings, which critics hated and the public ignored, and a 2012 mid-career retrospective at Tate, which many thought revealed his essential emptiness and thus was a de facto end-of-career retrospective. It also signaled the precipitous devaluation of his work in the art markets. After his 2008 peak, his works resold at a loss of 30 percent, Bloomberg Businessweek reported in 2012. And one-third of his works offered at auction since 2009 have failed to sell at all.
---
Originally used as studios for set designers for the London theater, the Newport Street Gallery is actually three Victorian-era red-brick warehouses to which Hirst has added new, unobtrusively styled buildings at the cost of £25 million. Above one entrance is written "Pharmacy 2" a reference to the Hirst-backed restaurant Pharmacy in Notting Hill, which closed in 2003 with the £11 million auction of all Hirst artworks therein. Meanwhile, one section of the roof of the gallery has a distinctive series of extra-tall, jagged teeth designs that point skyward—like half of an angry crown—for extra height and extra light. Entry is free.
Inside, the space is high and wide and white, and the rooms flow easily. There are three floors linked by elegant wooden spiral staircases at either end. Near-identical attendants stand in every room trying not to appear bored in black skinny jeans, black sneakers, black security-guard headsets, and olive-colored t-shirts. Now and then, a cleaner with an all-black dustpan and brush scrambles from some hidden cupboard to collect invisible molecular dirt from the pristine brushed concrete floor. At reception, more Hirstlings click at their state-of-the-art computer screens with an air of preoccupation, as if to intimate high creative purpose elsewhere. Hundreds of people are coming a day, they tell me. There will be individual and ensemble exhibitions, they say. Who knows what Damien will exhibit here in the future? The most surprising thing about the whole set up, though, is the collection that Hirst has chosen to open with: The entire gallery is devoted to the unfashionable and little-known John Hoyland, a British abstract artist who made his name in the 1960s.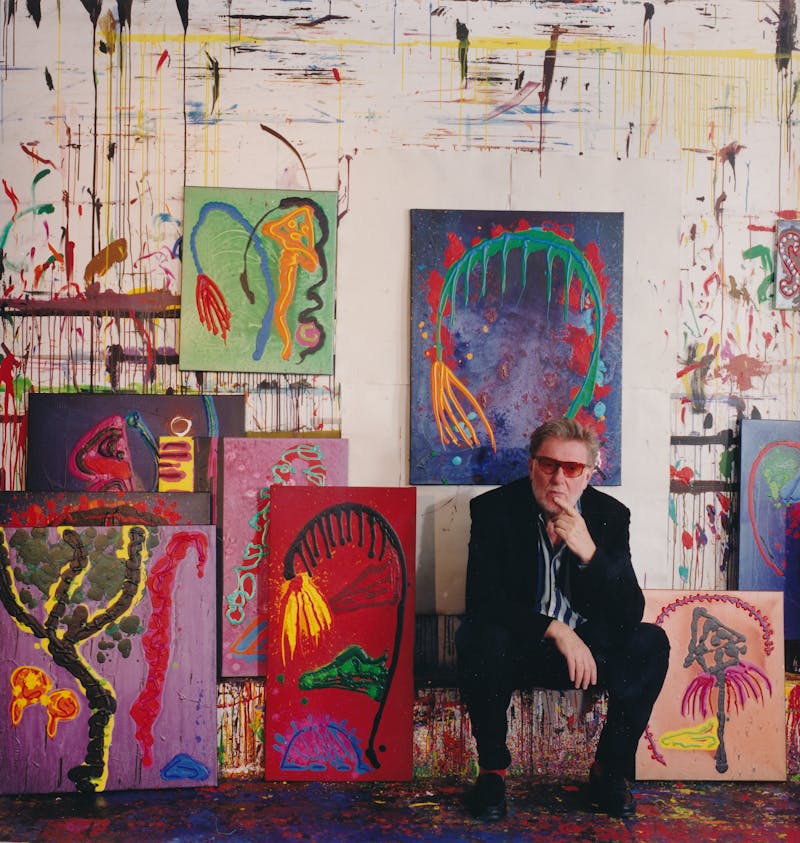 On the bigger question of why open the Newport Street Gallery at all, Hirst himself has said: "I've always wanted a gallery like Saatchi, the original Boundary Road." He is here referring to the first incarnation of the Saatchi galleries in North London where Charles Saatchi exhibited (and increased the value of) his own private collection in a disused paint factory. And there's much to be said for this simple explanation. Hirst, too, has acquired a lot of art, estimated now at well over 3,000 works and valued at more than £100 million, depending on the state of the market. He has also made lots of money. Frank Dunphy, formerly his accountant, claims that he is a dollar billionaire. So Hirst can afford to buy somewhere in central London and exhibit, show off, share, or price-inflate his collection as and when he likes.
Remember, too, that Hirst began his career as a curator. He was the organizing force behind Freeze, the 1988 exhibition that launched the YBAs, many of whom were still students at Goldsmiths College of Art. His own artistic contribution to Freeze was the risible Boxes, a wall-mounted assemblage of brightly colored cardboard blocks. But perhaps his real talent was to use all the other artists' work to create his first great masterpiece of artistic insurrection: the exhibition itself. Held in a warehouse building in London's Docklands, the aesthetic of Freeze mirrored the acid house and rave culture of places like the Hacienda nightclub in Manchester. The way in which Hirst stuck it to the British art establishment, which was at that time shy, suspicious, and even contemptuous of conceptual artists, guarantees his place in art history as one of the great agent provocateurs—even if the work itself fades.
Add to this that Saatchi was more than a patron to Hirst; that he was a father figure. Then consider that the name of the father on Hirst's birth certificate was reportedly left blank and that his mother and stepfather split when he was twelve years old, and you do not have to be steeped in psychoanalysis to see what the acquisition of a gallery might therefore represent to Hirst: the next significant stage on his slow journey to maturity as an older man.
---
The "why Hoyland?" question is harder to untangle, at least at first. Until Hirst took an interest, Hoyland was a largely forgotten minor artist—the Donovan to Mark Rothko's Dylan. The exhibition itself, named Power Stations: Paintings 1964-1982, featured Hoyland's trademark large canvases. They were muscular paintings, proud and richly engaged with color. But there was no great energy there, it seemed to me, no emotional torque, nothing demented or consuming or abiding.
Instead, the answer might well be that Hoyland is also a quasi-father figure to Hirst. The older artist was publicly contemptuous and dismissive of Hirst and the YBAs in the late 1990s. (Hirst, he said, was "becoming an entrepreneur. … Artists should not farm their work out.") But there was a rapprochement when they met in 2009. There exists a telling photograph of Hirst with his eyes closed and his head leaning on the senior British painter—the accepted baby-faced son, the accepting septuagenarian father—which is richly eloquent not so much of Hirst's appreciation of Hoyland but of Hirst's desire to be associated with him and to be photographed thus. In the last two years of Hoyland's life, Hirst financially supported him by buying many of his paintings. So one way of looking at this first exhibition at the Newport Gallery is as a kind of memento vivere from a son manqué.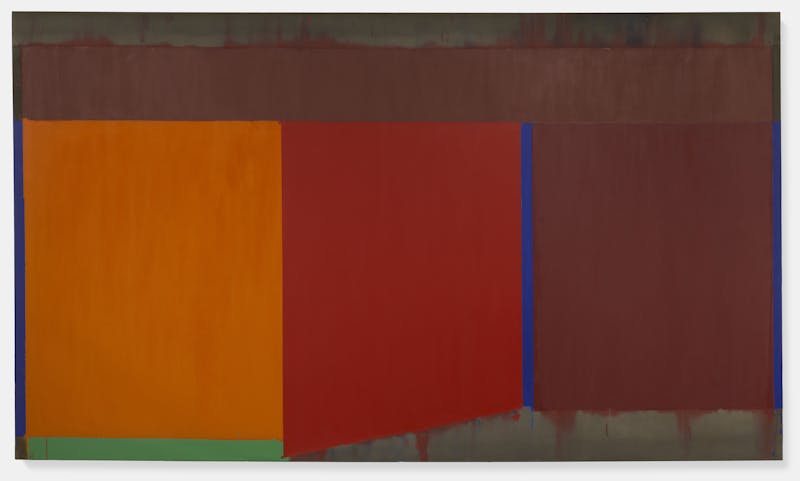 A widespread, if more cynical, explanation is that Hirst is deliberately creating new interest in Hoyland in order to inflate the price of an artist whose works he has collected. But one side effect of Hirst's wealth is that he doesn't have to care about a few thousand pounds here and there. And Hoyland's principal qualities—a razzamatazz-free and unfashionable artist who uses vibrant, bold color on big canvases that look good on white walls—make him the perfect artist for Hirst to trial his new space and see what works, how the public moves through the gallery , and what might fit well in the future.

---
There's a little-observed Hirst quote that I think is important when considering all things Damien: "Belief is a great thing to play with." It's revealing of his cast of mind and a good route toward a better understanding of his life and work. It suggests that Hirst sees the world as a series of man-made fictions and that he therefore has no compunction about traducing them, or adding to them, or, yes, playing with them. He's not bound by respect for, or service toward, any one human story over another—the story of money, say, or the fiction of the market, or of art, or religion, or originality. They are all parallel narratives to him and he has managed to sport with all of them.

And it is in this way that Hirst is able to exist as both an idiot and a genius, as phony and authentic, as provincial and worldwide, as an agent for change and as a sentimentalist; as instinctive, visceral, quick, exciting and yet also leaden-witted, pedestrian and grindingly obvious; as an artist with startling acuity and an unsurpassed public understanding and yet also as a self-relishing oaf; as both visionary and as plagiarist; as clumsily profound and as eloquently empty; as truth teller and as charlatan; as both artist and now as curator, as the maker of nothing more or less than his own moment instantly transformed into money and, in all of this, the single most successful embodiment of his time.