Life After the Ohio Train Derailment: Trouble Breathing, Dying Animals, and Saying Goodbye
After a train derailment in East Palestine, Ohio, leaked noxious chemicals, residents in the area are still trying to recover.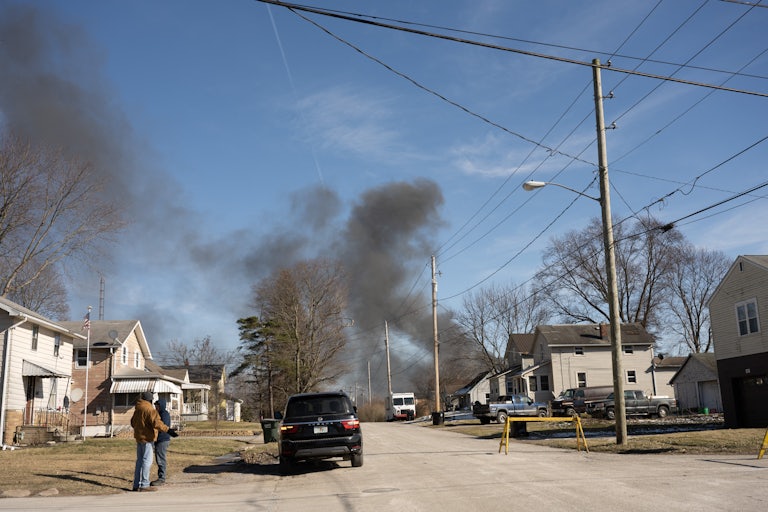 DUSTIN FRANZ/AFP/Getty Images
Smoke rises from a derailed cargo train in East Palestine, Ohio, on February 4.
On February 3, a devastating 150-car train derailment in East Palestine, Ohio, leaked noxious chemicals like carcinogenic vinyl chloride into the surrounding air, soil, and water. Officials say it's now safe for people to come home. But the harm has not stopped: People in East Palestine and neighboring towns are suffering from respiratory issues, skin reactions, and more, while animals have been found dead. And it's not clear what support residents have—or who even qualifies for that support.
After the derailment, the Norfolk Southern train had to undergo a "controlled burning" in order to safely release the cargo's toxic chemicals. Before this was done, Ohio Governor Mike DeWine issued a one-mile evacuation zone surrounding the crash site. Norfolk Southern has been tasked to clean up the mess. After an initial $25,000 donation to the community, the company said they would give $1,000 "inconvenience checks" to residents within the evacuation zone; the company also has offered to reimburse expense receipts for residents within East Palestine.
But residents have reported inconsistencies with the policy, and frustrations with the one-mile qualification bar, as many far beyond that zone had to evacuate and are suffering symptoms. While air tests commissioned by the rail company, and some conducted by the EPA, have thus far deemed chemical amounts to be at safe levels, some experts have warned that impacts could be enduring if and when the chemicals seep into the soil and groundwater. And people feel that neither Norfolk Southern, nor the government, offers clear guidance.
Amanda Greathouse, who resides near the crash site, evacuated about one hour after the incident. She only returned home on February 10, a full week later, to retrieve personal effects like bank and ID cards. Even then, as she and her family walked through the home donning N-95 masks and gloves, an ominous odor pervaded. After leaving, her eyes burned and itched, her throat was sore, and she had a rash; her husband and both her sisters had migraines.
The next day, the family went to Norfolk Southern's community family assistance center to obtain the $1,000 inconvenience check. After a four-hour wait, Greathouse was informed they needed more documents. The family was forced to return to their home again to retrieve additional documents, and left with renewed symptoms.
Reports of suffering animals, from dogs and cats to fish and chickens, continue to accumulate. Taylor Holzer, an animal caretaker, lost one of his foxes. Others are in poor condition with faces swollen, stomachs upset, and eyes watering. Holzer's dog, who hadn't returned home until after the evacuation order was lifted, has begun coughing and gagging. "He will go into coughing fits so hard his front legs bow and he looks so uncomfortable," Holzer said.
After the derailment, Andrea Belden noticed her two-year-old cat Leo lying motionless, heart racing and breathing labored. He remained that way overnight. Leo was found to have congestive heart failure. Fluid filled around his heart and lungs, and his liver enzymes shot up 690 percent higher than normal levels. Medication wasn't working. He seldom moved, ate or drank, or went to the bathroom. To continue treatment, Belden would've had to come up with up to $18,000. She sought help from Norfolk Southern, with a letter from the vet explaining Leo's issues likely to be connected to the vinyl chloride. The company said they would not pay for it now, but would possibly entertain it in the future. Belden couldn't afford to continue the treatment. Norfolk Southern's delay forced her to make an impossible decision. Leo was put to sleep. Belden still owed $9,678.23 for the treatment Leo received.

Chelsea Simpson, who also lives near the site of the derailment, has suffered from a sore throat while her 8-month-old baby has suffered respiratory issues. Urgent care doctors gave the baby a steroid while Simpson was prescribed an antibiotic. After Simpson visited her home for 10 minutes a few days ago, her eyes were bloodshot and burning.
Simpson was told by the company that she would receive reimbursements for expense receipts, but would not qualify for the $1,000 check despite residing within the one-mile zone and being among those forcibly evacuated. Meanwhile, a cleaning service the rail company has commissioned to serve those residing within the radius still reached out to Simpson—so it remains unclear why the company will not also offer her family the $1,000 check.
While Simpson has been denied compensation duly owed by Norfolk Southern policy, others outside the mile radius deserve just as much care.
On February 6, the day of the controlled burn, Therese Vigliotti, who lives 15 miles north of East Palestine, was having a cigarette and cup of coffee as she noticed a slight odor in the air. During her next smoke break, she noticed her coffee tasted strange. She then realized her tongue felt funny, and her lips and soft palate felt numb. Her throat began to hurt. Throughout the week, her throat continued to hurt and she felt a burning sensation on her tongue. She even found blood in her stool. "I appreciate the hell out of you for reaching out to me [because] I'm honestly really scared," Vigliotti said. "And please understand I am not losing my wits over the whole thing."

Many others TNR spoke with, in and outside the one-mile radius, reported similar symptoms: headaches, burning sensations, severe dehydration, and more. But the town's nearly 5,000 residents are left unsure about who qualifies for what support in the face of these ailments. Left with little guidance from local officials, and increasing reports of health concerns, paranoia and distrust is growing in the community, especially after authorities last week arrested a journalist covering the derailment. People now lean on the internet and mutual support, while feeling as if the government is not helping and instead just referring them to the good will of a corporation.
"It kinda sucks we're all getting the majority of our information from fellow residents on Facebook," said resident Liz Smith. "So it's hard to tell what's true or not."
It didn't have to be this way. Norfolk Southern is among the gargantuan rail companies that have lobbied against a myriad of industry improvements, like updating the same braking system that failed in East Palestine. Rail workers (who just had a rail contract imposed upon them) had already warned about how corporate malfeasance could lead to a disaster like this. A nearly identical crash happened in New Jersey in 2012, when a Norfolk Southern train carrying vinyl chloride derailed. Many community members reported similar symptoms at the time to those in East Palestine; some had symptoms even years later.
"I am concerned that the area has been deemed safe so quickly without extensive data to show the risk has been reduced," said Dr. Michael Koehler, member of the American Chemical Society's Committee on Chemical Safety. "As long as safety concerns remain, it is hard to understand how they authorized residents to return."
Though officials report conditions to be safe, an inordinate amount of suffering is taking place. Moreover, the cleanup after the derailment did not guarantee the soil would avoid contamination. A Norfolk Southern spokesperson conceded that "it's hard to tell what was burned off and what went into the soil."
In a letter to Norfolk Southern last week, the EPA noted "areas of contaminated soil and free liquids were observed and potentially covered and/or filled during reconstruction of the rail line including portions of the trench/burn pit that was used for the open burn off of vinyl chloride." The agency noted other toxic chemicals including butyl acrylate, ethylhexyl acrylate, and ethylene glycol monobutyl ether are also continuing to be released into the air, soil, and water.
So why are people being told it's safe to return before Norfolk Southern completes the necessary cleaning still left to be done? The controlled burning may have been the best option at the moment; vinyl chloride and other compounds are explosive, so it had to be dealt with carefully. But the cleanup doesn't stop there, noted Delphine Farmer, chemistry professor at Colorado State University. The burning released numerous other compounds and pollutants, some of which can sneak into people's homes without air monitors picking up on them in the specific moment they might be checking.
For her part, Greathouse doesn't feel confident about staying in East Palestine anymore. "As soon as we got in town the first time a train went through [my] chest got tight with anxiety," she said. "My 4-year-old is scared to be home, and honestly the possible long term health repercussions are not something I'm willing to risk with our toddlers." It's a decision she does not take lightly; Greathouse loves her community.
"My 4-year-old goes to the local Head Start in East Palestine. Every single one of his teachers and the family advocate have been in constant contact with us checking on him and our family in general," she said. "I honestly don't know how we would be making it through this without their love and support. While the government hasn't done much, if anything, to assist, and Norfolk Southern is making aid difficult to receive, our community and the Head Start program have pulled together and we will be forever grateful for that."