Even Alex Jones Has a Problem With Donald Trump's Calls for Protest
The far-right conspiracy theorist said Trump's call for protest, ahead of his potential indictment, is dangerous.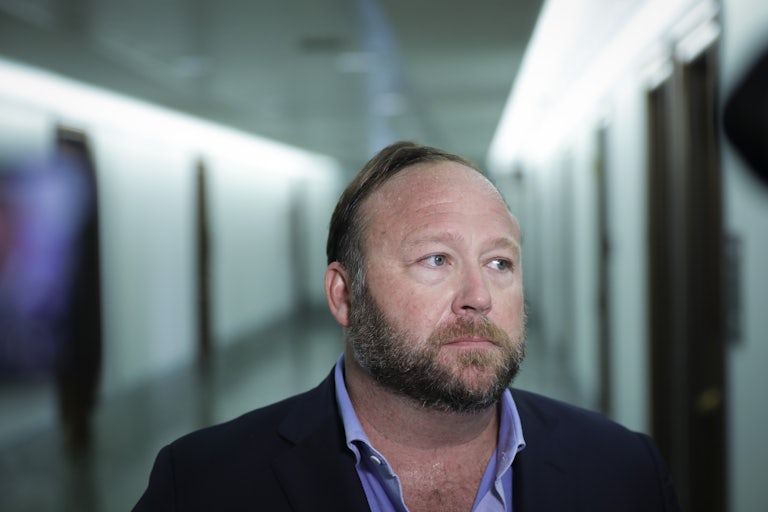 Drew Angerer/Getty Images
"I've got an issue with Trump," far-right provocateur Alex Jones said on Steven Crowder's show Tuesday, referring to the twice-impeached former president's call for protests in response to his potential indictment.

Jones disapproved of Trump's Truth Social posts urging people to "TAKE OUR NATION BACK!" and "PROTEST, PROTEST, PROTEST!!!" He compared the call to the January 6 attack on the Capitol (which Jones called a "setup"), arguing that "he's lighting up a cigarette while he's playing with gasoline," by potentially inciting "some people" to become violent once again.
Of note is that Jones's opposition appeared largely as strategic advice to Trump, not as condemnation.

"Someday, there may be a 1776 issue, where things are so bad we gotta get physical," Jones conceded humbly. "But I think we should exhaust all the remedies first, and I don't think, if there is a violent revolution, it should be randomly attacking police or Capitol buildings."
"Of course," Crowder chimed in, nodding and verbally affirming everything Jones said about how best to carry out "violent revolution."
Crowder continued with the baton, assuring listeners that he did not think Trump would have wanted violence. "He didn't word it, maybe, prudently," Crowder suggested, describing how Trump could have simply said, "'Protest, make your voices heard peacefully,' which he did, by the way, on January 6."

In the weeks leading up to, and on the day of, January 6, Trump continually instructed his supporters to "show strength," and "stop the steal." On December 18, he insisted that he won the election. "FIGHT FOR IT. Don't let them take it away!" Trump tweeted.
At a rally on January 6 itself, Trump dropped the word "peacefully" in once; otherwise, his remarks focused on directing his supporters to demand Congress overturn the election results. "We're going to walk down to the Capitol, and we're going to cheer on our brave senators, and congressmen and women," Trump said to his supporters. "We're probably not going to be cheering so much for some of them, because you'll never take back our country with weakness. You have to show strength, and you have to be strong."
This is what Crowder calls "peaceful," as if that instills any confidence that Trump certainly did not intend to call for violence this time around.