Florida Traffic Sign Reads "Kill All Gays," as State Completely Demolishes Queer Rights
Police noticed the sign the same day that Ron DeSantis signed multiple bills infringing on LGBTQ rights.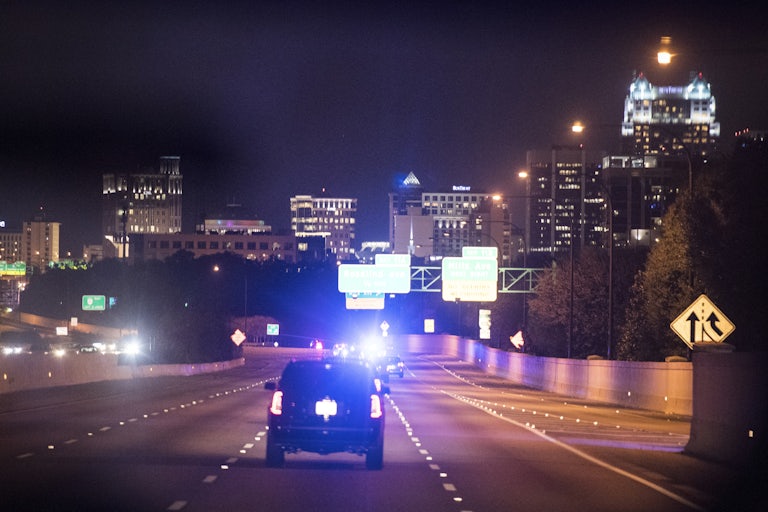 Jabin Botsford/The Washington Post/Getty Images
Downtown Orlando
A traffic sign in Florida was hacked to say "Kill All Gays," the same day that Governor Ron DeSantis signed a raft of anti-LGBTQ measures into law.
Orlando police officers received reports about the sign Wednesday morning. They arrived just before 5:00 a.m. and found the sign in the city's medical neighborhood.
Brandon Wolf, the press secretary for the rights group Equality Florida and a survivor of the Pulse Nightclub shooting in Orlando, tweeted a photo of the sign. "This is what emboldened bigotry and extremism look like," he said.
A city spokesperson told the local Fox channel that the original sign had been put out at the start of the week as part of preparations for an upcoming 5K race. It was removed Wednesday after it had been hacked to display the homophobic message. Orlando police are still trying to determine who is responsible.
In a cruel twist, Wednesday was the International Day Against Homophobia, Biphobia and Transphobia. It was also the day that DeSantis signed multiple bills curbing LGBTQ rights into law. The new laws expand "Don't Say Gay," ban discussion of personal pronouns in schools, and prohibit transgender people from using the bathroom that aligns with their gender on any public property (including schools).
One of the bills will let the state take trans children away from families if they are receiving gender-affirming care, and another could cancel all future Pride celebrations in the state from taking place.
DeSantis, who is expected to officially announce his presidential campaign next week, has made clamping down on LGBTQ rights a major part of his platform. He also recently signed a bill defunding diversity, equity, and inclusion programs at all state universities.
"The homophobia and transphobia needs to stop," tweeted Democratic state Representative Anna Eskamani, who represents the district Orlando is in. "The rhetoric is already bad, the policies dangerous—and all of it has and will translate into violence."