Trump Vows to End Birthright Citizenship on "Day One" if He Wins
Undoing the Fourteenth Amendment is not a joke.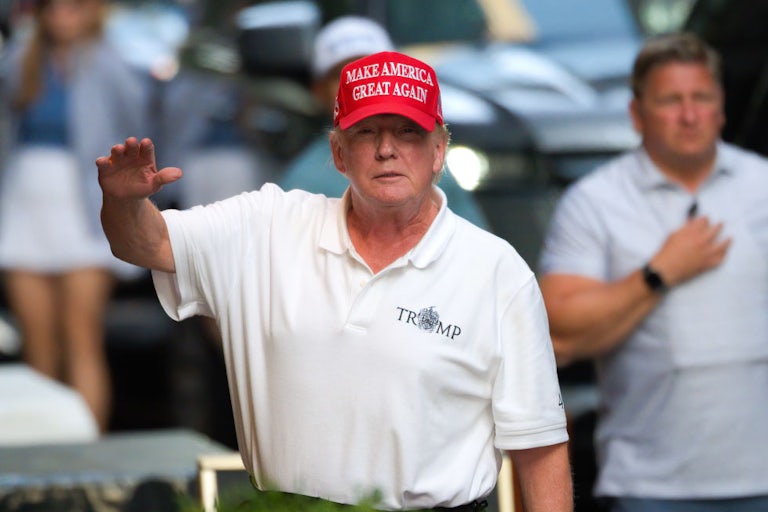 James Devaney/GC Images/Getty
Donald Trump announced Tuesday that if he is elected president, he will end birthright citizenship as part of an attempt to stop undocumented immigration to the United States.
Undoing the Fourteenth Amendment would be a lengthy and complicated process, which the former president does not seem to understand.
"As part of my plan to secure the border, on day one of my new term in office, I will sign an executive order making clear to federal agencies that under the correct interpretation of the law, going forward the future children of illegal aliens will not receive automatic U.S. citizenship," Trump said in a video posted on his Truth Social platform.
The Fourteenth Amendment was ratified in 1868 to help guarantee rights to Black Americans after the end of slavery. The measure grants citizenship to anyone "born or naturalized in the United States" and guarantees them "equal protection under the laws."
Trump had initially suggested ending birthright citizenship in 2018, telling Axios he was under the (false) impression that it was possible to do so via executive order, instead of by constitutional amendment. If he were to issue an executive order, it would most likely be immediately challenged in court.
The president does not have the power to unilaterally overturn a constitutional amendment, legal experts warned at the time. While some conservative scholars argue that the Fourteenth Amendment only refers to children born in the U.S. to lawful permanent residents, the general consensus is that you can't just stop applying that part of the law.
Trump-appointed Judge James C. Ho argued at the time that the U.S. legal system has to follow its own laws, which means applying them equally to foreign visitors (except diplomats) and immigrants. "Opponents of illegal immigration cannot claim to champion the rule of law and then, in the same breath, propose policies that violate our Constitution," he wrote in a 2011 op-ed for The Wall Street Journal.
Meanwhile, the actual process to amend the constitution is lengthy and complicated. One of the many steps requires a two-thirds vote from both the House and Senate—an unlikely event, given how divided Congress has become. So Trump's proposal is just another empty promise.