The Voting Rights Act Is in Big Trouble
Trump-appointed judges are to blame.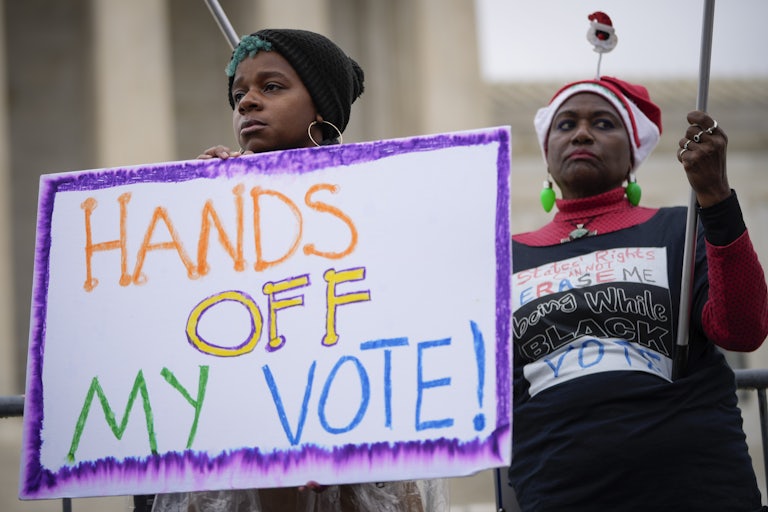 Photo by Drew Angerer/Getty Images
Pro-voting rights protesters outside the Supreme Court in 2022
Two rulings by Trump-appointed judges could gut the Voting Rights Act, dramatically reducing the protections it offers to millions of voters of color.
U.S. District Judge Lee Rudofsky ruled in February 2022 that only the U.S. attorney general, the head of the Justice Department, can bring lawsuits about Section 2 of the act, which forbids voting practices that discriminate based on race. Rudofsky, an appointee of former President Donald Trump, dismissed a case brought by advocacy groups on behalf of Black voters in Arkansas.
The Eighth U.S. Circuit Court of Appeals upheld Rudofsky's ruling on Monday, with Judge David Stras, another Trump appointee, writing the majority opinion.
"For much of the last half-century, courts have assumed that [Section 2] is privately enforceable," Stras wrote. "A deeper look has revealed that this assumption rests on flimsy footing." This suggests that no one had previously bothered to look closely at the Voting Rights Act for more than 50 years, an assertion that simply does not hold up to scrutiny.
Stras was joined by Judge Raymond Gruender, a George W. Bush appointee. Judge Lavenski Smith, another Bush appointee, dissented. He argued that nonfederal individuals should be allowed to bring Section 2 lawsuits until the Supreme Court or Congress formally changes the statute.
If allowed to stand, the two rulings would gut the protections offered by the Voting Rights Act. Civil rights groups, individual voters, and political parties would not be able to challenge discriminatory voting practices. This includes redistricting gerrymandered maps and voter ID requirements.
But Smith's dissenting opinion pointed to how the case is likely to go. The case is widely expected to be appealed to the Supreme Court. While it's never clear how the conservative-leaning court will land, the nine justices gave a major hint earlier this year.
The high court ruled in June that Alabama's Republican-drawn congressional districts discriminated against Black voters under the Voting Rights Act. Chief Justice John Roberts and Justice Brett Kavanaugh joined the three liberal justices for the 5–4 decision. It's possible they could do so again when the Arkansas case comes before them.