Winding through the city of Debaltseve, which sits on a highway between the separatist strongholds of Donetsk and Luhansk, Evgeny Gorbachev passed buildings pockmarked with shrapnel. He crossed intersections littered with shattered glass. At the eastern end of Communist Street, he noted a row of homes, now charred and roofless. And at 56 Vorovskova Street, he pointed to his house, or rather, to its remains: blackened sheet metal, singed rose bushes, and chipped bricks. "A rocket fell on my home and destroyed everything," Gorbachev said.
In theory, all should be quiet on Ukraine's eastern front. Government and rebel representatives arrived at a ceasefire in Minsk on September 5, signing a tentative peace plan for ending the Ukraine crisis, a plan endorsed by both Ukraine's President Petro Poroshenko and Russia's Vladimir Putin. Just over a week later, Gorbachev's home was hit. And shells are still falling (albeit in smaller numbers) in several cities across the Donetsk region. On September 19, negotiators agreed to a 30km buffer zone that stipulates both sides pulling heavy weaponry back from the front lines, but the effects seem limited so far. NATO's supreme commander Philip Breedlove recently called the situation a "cease-fire in name only." In Debaltseve, even the name seems gratuitous.
A town of roughly 25,000, Debaltseve juts into rebel-held territory like an outstretched thumb. Pro-Russian forces held the city throughout the spring, and Ukrainian troops retook it during an offensive in late July. Remnants of rebel rule linger along the road into town, like an old shack painted in black, blue, and red—the colors of the Donetsk People's Republic flag. Now, separatist forces stand to the west, east, and south, while a road to the north offers the lone lifeline to the Ukrainian forces.
Downtrodden even before fighting broke out earlier this year, the city has now been without running water for nearly a month. Electricity is out, too. Not a day has passed quietly since the ceasefire came into "effect," residents and soldiers reported. Roughly 100 locals, including Gorbachev, his wife, and mother, now live in a bunker located in an office building belonging to a train company. Two civilians died in a rocket attack on Sunday evening, and another the previous week, adding to a death toll that now exceeds 3,000. Ukrainian officials insist that it's the rebels who continue to violate the ceasefire. But inside Debaltseve, it's clear that separatist forces aren't the only ones firing. "Just as the war went on, so it has continued," Gorbachev said, when I met him outside the bunker on Monday afternoon, outgoing artillery fire echoing overhead.
The situation is in Debaltseve is disturbingly reminiscent of the situation in Ilovaisk, where Ukrainian forces were surrounded in late August and suffered a devastating defeat, shifting the tides of the war. A similar disaster in Debaltseve could lead to the complete collapse of the Minsk accords. The highway to the city runs across two crucial bridges. If the Ukrainians lose those bridges, a retreat will be near impossible, and troops could be trapped, left to fight to the death or surrender en masse. Ukrainian officials nonetheless insist their men in Debaltseve are safe. "They have a way out," Andriy Lysenko, spokesman for the Ukrainian National Security and Defense Council, told reporters last week. "A repeat of Ilovaisk will not be allowed."
Control over the exit route, however, remains tenuous. The first bridge is already partly blown up, its innards exposed, a thorn bush of rusted cables. To pass, cars must drive over two rickety metal plates that lie across the gap. At the second bridge, Ukrainian soldiers keep close watch—dozens of them are spread along the road and through the surrounding fields. Kids' drawings plaster their checkpoint. "God save and protect our mother Ukraine," reads the message on a picture of two white huts surrounded by picket fences. "Return alive, be careful," says a second, a pencil drawn sketch of a soldier.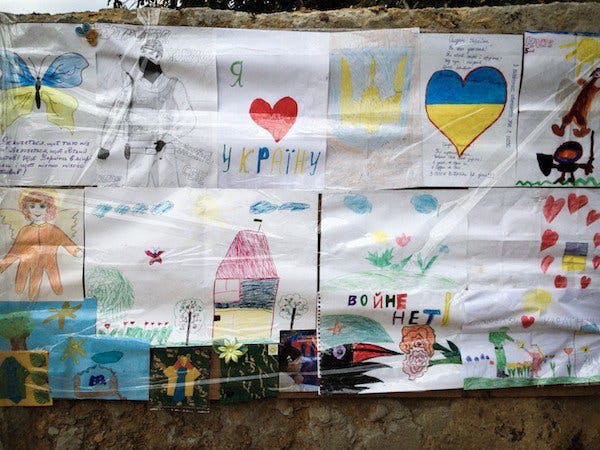 The senior commander at the bridge, Petrovich, has been on duty for a month. The fighting in Debaltseve has not stopped since he arrived. "It's impudent and bold-faced," he said, as three Ukrainian tanks rolled up from the direction of Debaltseve. "[The rebels] don't have a unified command, so they do what they want." One of the tanks had a license plate with a phrase now ubiquitous across Ukraine: "Putin is a dickhead." The soldiers pumped their fists in approval.
Late on Monday afternoon, two young boys from a nearby village watched the troops sheepishly from beneath a tree. Daniil, 11, began 6th grade at School No. 9 just three weeks ago. His teachers have to remind students that when they hear sirens, it means go to the shelter. "It's quiet here," he said. "For now."
---
In the Debaltseve central square, a distressed Ukrainian soldier named Sasha stumbled along, AK-47 slung over his shoulder. "Putin wrote that they wouldn't shoot, but yesterday alone we took incoming Grads, Hurricanes, and Tornadoes," he said, ticking off three of the most powerful rockets in the Russian arsenal. Then he took a swig from a bottle of beer and nestled it to his chest next to three fresh magazines. Artillery boomed across the city on Monday afternoon, mostly outgoing rounds. Residents barely flinched—they're long used to the sound.
At the city administration building, the windows have been blown out, and a sign stands in the foyer: "The executive committee isn't working." Only one orderly remains on duty, waiting at a desk with a teal rotary phone. The other employees work until 2 p.m, and then leave, hoping to beat the rockets home. "They shoot everyday," said the orderly, Alexander. "The ceasefire didn't change anything."
Observers from the Organization for Security and Co-Operation in Europe (OSCE) visited the city earlier on Monday and observed heavy shelling. "By now we would've expected more calm," said Michael Bociurkiw, spokesman for the OSCE Special Monitoring Mission to Ukraine. "Debaltseve was a surprise."
The rounds come from both directions, leaving locals fearful and uncertain of who to trust. "We don't understand who's shooting what," Alexander added. Though he sent his kids away from the city, 64-year-old Alexander insists on staying. "Where can I go? I'm a pensioner, I can't abandon my house, my dog, my cat. I've already lived." Gorbachev, too, has no plans to leave, even though, confined largely to basements, he said, "We live like rats here."