The best actress Emmys last August were won by Julianna Margulies and Julia Louis-Dreyfus, two women who could be mirror images if you looked out of the corner of your eye—slender, polished actresses of a certain age. Margulies and Louis-Dreyfus each won their first Emmy in the 1990s as part of ensemble casts but have more recently done their best work as the stars of their own shows. In "The Good Wife" and "Veep," the two women share something else: hair that's dark, glossy, and straight. For frizzy-haired children of the 1980s (like me), seeing the tamped-down manes of Alicia Florrick and Selina Meyer can feel like a minor personal tragedy.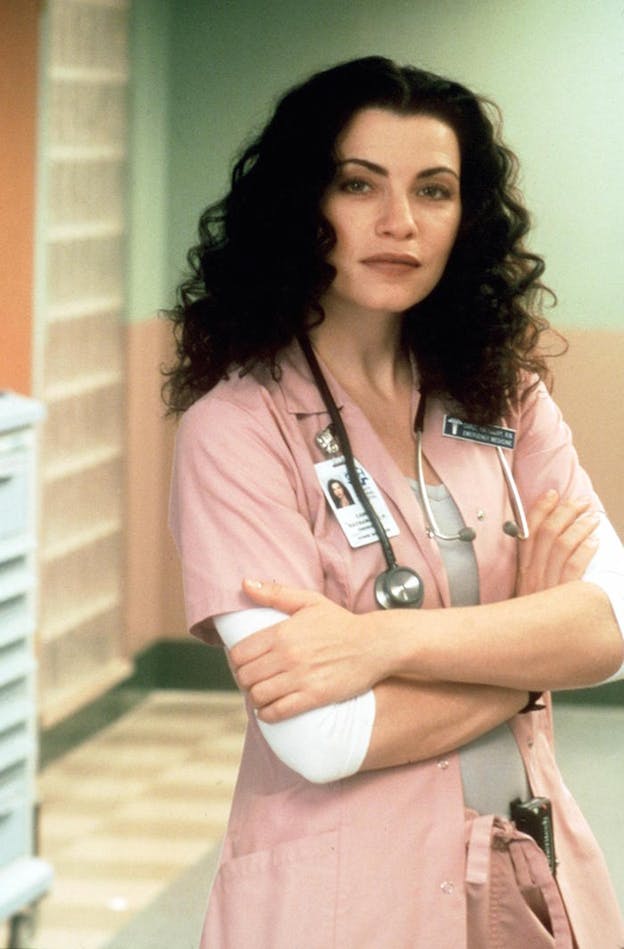 As Elaine Benes in "Seinfeld," Louis-Dreyfus was loud, brash, and neurotic, traits that were signaled by the untamed pouf atop her head (what George Costanza, in one episode, called her "wall of hair"). She was sexy and unabashedly sexual without caring much for fashion. Carol Hathaway, the Country General nurse Margulies played in "ER," was warm and vulnerable—and the George Clooney character's longtime love interest—wearing her hair in soft, undefined spirals that grazed her shoulders. As curly-hair icons, they were joined at the end of the decade by Keri Russell, whose hair was more famous than anything else about "Felicity." Felicity Porter arrived in New York City as an earnest, unsettled 18-year-old, mooning over a boy and hiding behind chunky sweaters, nervous energy, and all that hair. In the summer of 1998, Russell's mane (accompanied by her face) was plastered on magazine covers before the show even debuted. When the character chopped it all off at the start of season two, the reaction was so heated that network executives vowed that no one could change a hairstyle without permission.
What all these '90s women shared was a directness, an unguarded approach to the world. Their twenty-first-century incarnations reflect the opposite. Where Felicity was dithering and impulsive (after all, she followed a boy across the country after he wrote a kind note in her yearbook), Elizabeth Jennings, the character Russell currently plays on "The Americans," is coolly competent, a determined KGB spy with an arctic mien and a dangerous back kick. Elizabeth is a master of composure, and her shampoo-commercial hair is a sign of that command. You could say the same of Margulies's chilly lawyer, Alicia Florrick, on "The Good Wife." The crass Selina Meyer (Louis-Dreyfus) of "Veep" doesn't have quite the same poise and self-possession, but she shares these characters' hardened exterior, professional ambition, and need for control. And in today's TV landscape, that means straight hair. Television has become increasingly populated by lovable messes—Lena Dunham on "Girls," Zooey Deschanel on "New Girl," Gaby Hoffman on "Girls" and "Transparent"—but our most admirable and impressive female characters are sleek and subdued. What does this say about what we want from our TV heroines?
---
It's not that curly hair is out of style. If anything, curls are trendier than they were in the flat-ironed late '90s and early '00s, when any volume brought reminders of garish '80s excess. Last summer The New York Times Thursday Styles celebrated a curly cultural moment, citing celebrities like Lorde. (Disclaimer: Styles seemingly recycles these trend articles every few years). The curl industrial complex—salons and brands that cater to curly and ethnic hair, like New York's Devachan chain and the Carol's Daughter line of products—has gone mainstream. But if curly hair is now common on the shelves of your local Target, it's far harder to find on television.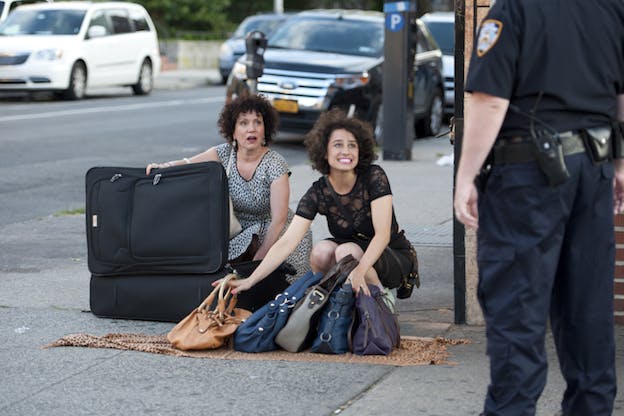 Curls aren't totally absent from the contemporary television screen, of course. But they mainly appear on sidekicks or characters who offer comic relief—personalities who are unbuttoned and uninhibited. In addition to some of the frizzy-headed heroines mentioned above (Deschanel, Hoffman), there's Ilana on "Broad City" (Ilana Glazer), her untamable hair signaling her anarchic spirit and "don't give a fuck" attitude—a sharp contrast to the smooth locks of her comparatively straight-laced best friend Abbi. On "Hannibal," Rebekah Brooks–lookalike Freddie Lounds (Lara Jean Chorostecki) is a ruthless tabloid reporter, rude and sleazy and excessive; she's too much of everything, hair included. As Taystee of "Orange is the New Black," Danielle Brooks sports hair as big as her boundless energy.
Of course, that last example points to the fact that the choice is—and has always been—much more loaded for black and multi-racial actresses. Increased diversity on television has brought with it more precise, textured representations, and that has meant a wider range for what a professional, put-together black woman can look like. On this matter, 2014 was something of a turning point. Networks began to realize that people might actually want to watch shows with non-white casts. Shows starring black women aren't exactly proliferating—but they exist! Multiple examples! And on those shows, there have been some striking moments lately.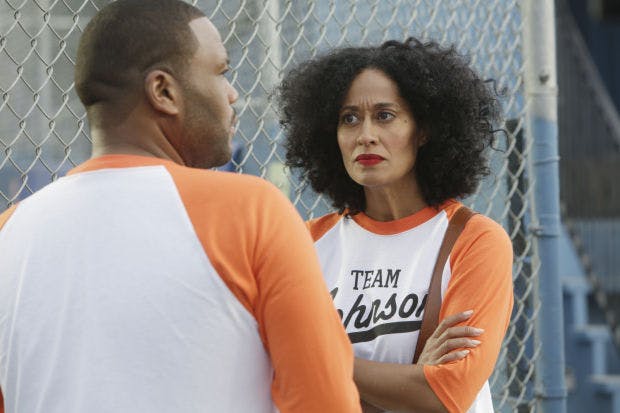 On "black-ish," Tracee Ellis Ross plays a crunchy upper-middle-class mom with a career as an anesthesiologist and full, natural hair. Ellis Ross speaks openly about refusing to wear a weave for roles and the importance of seeing black women with natural hair on television. ("You hire me, you hire my hair," she told Entertainment Weekly in December.) Twice now this season, we've seen Olivia Pope (Kerry Washington) with natural curly hair on "Scandal." In the season premiere, she had escaped to an island 100 miles off the coast of Zanzibar, where she spent all day lying in the sun, drinking wine, not straightening her hair, and having sex with Scott Foley.
But nothing on "black-ish" or "Scandal" was as remarkable or as talked about as a single scene from "How to Get Away with Murder," Shonda Rhimes's newest show. In an October episode, Annalise Keating (Viola Davis)—the commanding law professor played by Davis—learns that her husband had been sleeping with a student and may have murdered her. Preparing to confront him, she sits in front of her bedroom mirror, wipes off her makeup, removes her false eyelashes, and pulls off her wig. Then she stares at her bare face and kinky hair. It's a nightly ritual that has probably never been depicted on network television.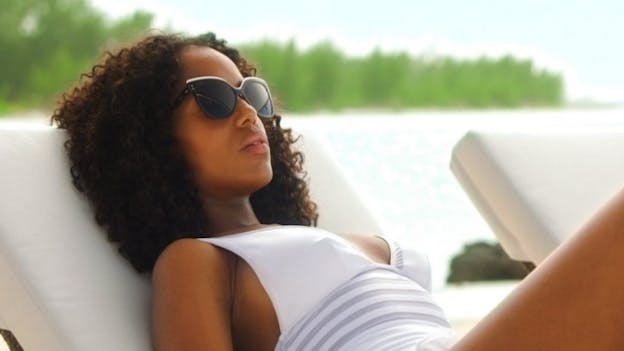 But while there were many more curls on network TV in the last year, most black female characters on television still wear their hair straight: Cookie (Taraji P. Henson) on "Empire," Gabrielle Union in BET's "Being Mary Jane," Olivia on "Scandal" (for the most part), Abbie Mills (Nicole Beharie) on "Sleepy Hollow." And for these women, too, straight hair is a sign of power—and the work it takes to maintain that power.
Island Olivia was relaxed, unburdened, and curly. But as soon as she returned to Washington, her hair went flat. Like Elizabeth Jennings and Alicia Florrick, Olivia Pope is uber-competent, operating under a veneer of control. Her confident speeches, her assurance that "it's handled," and her hair are all parts of that performance. (In the season's second half, when Olivia is kidnapped and imprisoned, her hair is curly again, this time an example of unwilling loss of control.) With her wig and makeup, Annalise Keating is imposing and calculating, suppressing any unruly or inconvenient emotions. In front of a jury or a classroom, she's almost unimaginably powerful; standing in her bedroom with only her natural hair, she's an open wound.
"[Chelsea Clinton]'s always been one of my heroes," Shoshanna (Zosia Mamet) tells a job interviewer in a recent episode of "Girls," "because she is such a strong woman struggling so nobly with her very curly hair." It's a ridiculous statement, of course—Shoshanna is the show's most cartoonish character, her eager superficiality the closest to sitcom humor. We've never seen her straighten her hair, but it's not hard to imagine her struggling nightly to tame an unruly mane that would betray her Jewish roots and personal failings. But she's not wrong exactly, about Chelsea's transformation to blown-out professional polish and American culture's attitude to curls. Alicia, Selina, Elizabeth, Olivia, and Annalise—all these composed, straight-haired women are performing a kind of control that they don't always have. These are the sought-after "strong female characters," except they show the lie of strength, the constant struggle to not let your guard down.
In a recent episode of "Broad City," a high-strung, spandex-clad physical trainer asks Ilana if she ever straightens her hair; Ilana scoffs—why would she ever do that? Radical self-acceptance is part of Ilana's schtick; she's far too busy having fun to worry about labor-intensive beauty rituals. She lays all her impulses bare, moving through the world with her limbs akimbo, her hair everywhere. This utter lack of self-consciousness is its own kind of aspirational strength—and perhaps something we could use more of on our TV screens.
This piece has been updated.