In 2012, Gabby Douglas was an adorable tiny underdog who won the all-around gold medal in gymnastics at the London Olympics. This weekend, at the City of Jesolo Trophy in Italy, she was the veteran trying to make a comeback.
In American gymnastics, comebacks are nearly impossible. But Douglas looked incredibly good at her first competition in more than two years. This week, the gymnternet is cheering her amazing accomplishment: finishing fourth in a small competition at which all of America's biggest rivals were absent—more than three points behind a newer incredible American talent, Simone Biles.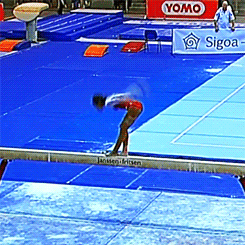 The shining moments of a gymnast's career are cruelly brief. Consider Douglas and Biles: Douglas was born on December 31, 1995, making her eligible not just for the London Olympics (you have to be 16 in the competition year) but also, by one day, made her eligible to compete in international meets the year before—essential preparation for the 2012 Games. She was at the peak of her abilities then—when she won the most important gymnastics event, the all around—even though she'd never won an individual world championship medal.
Biles was born 15 months later, on March 14, 1997. She was too young for London, but has won nine world championship medals in two years. She dominates every competition she enters. At the Jesolo meet where Douglas began her comeback, Biles won almost everything. She won the all-around by a massive margin, and she qualified in first place for the finals in every single event. Biles opted not to compete in bars finals, likely to rest, but won the other three. Despite her record, though, if Biles isn't able to hang on for 18 more months—which, in gymnast terms, is forever—she'll miss her chance for Wheaties-box fame.
"I'm stronger than I was last time around," Douglas said late last year, when asked about training for the 2016 Olympics. "When I'm tumbling, I'm like, 'Wow. This is so much easier than before.'" Douglas, now 19, is more muscular and a few inches taller she was in 2012. (In the GIF above, via this Tumblr, she's doing one of the most difficult skills on beam, a back tuck with a full twist. It looks just as good as it did in 2012.)
This is very unusual in women's gymnastics. The most talented kids, the ones with Olympic potential, start getting really good as tweens. By that time, they're training crazy hours—some of them are home schooled and do two intense workouts a day. There's one thing they can't control, however: The gifts that the "puberty fairy," as the gymternet calls it, will bring. Maybe she'll bring more strength. Or maybe a few inches in height. Or maybe huge boobs. Gymnastics teaches one of the most important lessons of womanhood: Your competition is mostly younger and thinner than you.
Any significant physical change screws up a gymnast's game. More weight means you need to be stronger to jump high enough to flip around without landing on your head. More height makes it worse, because you flip more slowly. I've just started taking adult gymnastics classes, and now that I'm eight inches taller, when I do back flips, I feel like I'm moving in slow motion—even though the ground is still moving in regular motion, towards my face. In 2008, American Nastia Liukin won the all-around gold medal at the Beijing Olympics. In 2012, she tried to come back. She was taller, and she looked exhausted. She fell on her best event, bars, and that was the end of her career.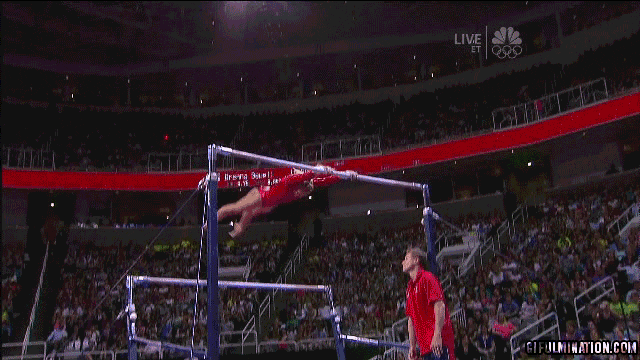 Liukin is currently competing on "Dancing With The Stars." Other American champions who weren't able to regain their earlier glory include: Shawn Johnson, Dominique Moceanu, and Kim Zmeskal. Some older Russian gymnasts have moved to Azerbaijan, which is trying to build up its gymnastics program by scooping up gymnasts who couldn't make their national team.
To be sure, the number of non-teen gymnasts is rising. Uzbekistan's Oksana Chusovitina is training for the Rio Olympics and turning 40 this year. Russia's Ksenia Afansyeva is 23. But those countries have weaker programs than the U.S. If it's very difficult to sustain the level of fitness required for an elite gymnast as a youth, it's even harder if you've taken some time off to live like the rest of us.
America's 2016 Olympics squad is so deep that it could field two medal-worthy teams. Douglas's 2012 teammate, Aly Raisman, also competed in Jesolo, coming in third all-around. The highlight of Raisman's performance was a repeat of her extremely difficult tumbling pass, which looks like this: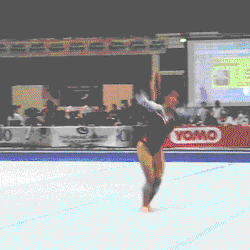 Raisman is the 2012 Olympic floor champion, but she came in third in that event. (Biles was first.)
Gymnasts are usually one of two types: Those who do the hardest tricks, and those who do easier tricks but make them look pretty. Raisman belongs to the first group; Douglas, the second. But Biles makes the hardest flips look beautiful, as if she were tumbling on a lower-gravity planet. For her, difficult tumbling looks easy—like the thing below, which is called the Biles. Because she invented it. She is tiny and jacked. She smiles a lot.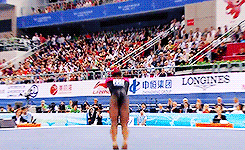 In February, Douglas made her ambition clear: "I want to make it big and make it better than last time... What's driving me is, I guess, 'cause no one's ever done it before," she said, referring to, it appears, winning back-to-back Olympic all-around gold medals. If Gabby wants to do that, she can't just be as good as she was in London. She'll have to beat Simone. Or some other teenager we haven't even heard of yet.