On Monday, Save the Children, an international charity, released its 16th annual "State of the World's Mothers" report on the best and worst places to raise children. The data is harrowing, especially for the United States. Of 25 high-income capital cities, Washington, D.C., has by far the highest infant mortality rate, with 7.9 deaths under the age of one per 1,000 live births in 2012—well above the national average of 6.1. In Stockholm, Prague, and Oslo, the rate is under 2.
Within the District there is also considerable variance. "In 2012, for example, infants in Washington, DC's Ward 8, where half of all children live in poverty, died at a rate more than 10 times higher than the death rate of infants born in Ward 3, the richest part of the city," the report says. Across the United States, the child mortality rate varies as well. In Cleveland and Detroit, the child mortality rate was 14.1 deaths per 1,000 live births and 12.4 deaths per 1,000 live births, respectively.
There's reason for cautious optimisim in D.C., though. According to Save the Children, preliminary data for 2013 shows a decline to 6.6 deaths per 1,000 live births, which would be an all-time low. Other cities have far lower rates. Las Vegas's rate in 2011 was just 2.4 deaths per 1,000 live births, according to KIDS COUNT Data Center, which Save the Children used for its report.
Here's the ranking for all 25 high-income capitals: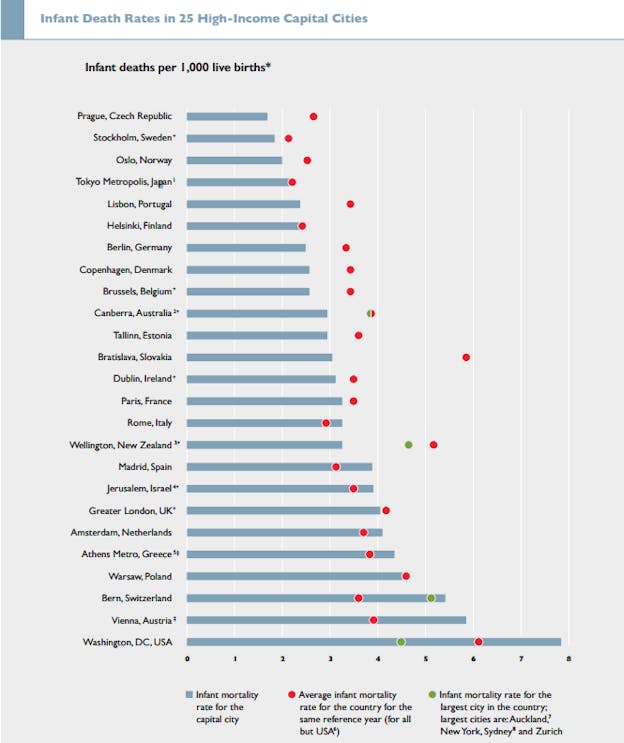 (h/t New York Times)