In the course of reporting "A Liberator, But Never Free," about the recent discovery of the late Dr. David Wilsey's letters home from the liberation of the Dachau concentration camp, one intriguing semantic anomaly transfixed every expert consulted: the Spokane anesthesiologist's persistent use of the word "holocaust" to describe the horrors all around him.
There has long been a rigorous debate among etymologists and historians as to when the lowercased "holocaust," generically defined as a large-scale calamity usually involving fire, became the proper noun used specifically to name the period of Nazi genocide against European Jews. Yet there is little debate that that formalization occurred years after the war's end.
"I immediately wrote it down the first time I saw him using this word," said historian Patricia Heberer-Rice of the United States Holocaust Memorial Museum in Washington, D.C. "There's a bit of a conundrum about when this word was first used." Harold Marcuse, a Holocaust historian at University of California San Diego and author of Legacies of Dachau, said, "The fact that he's using it right then, in that context, makes it a very interesting historical fact that will contribute to scholarship."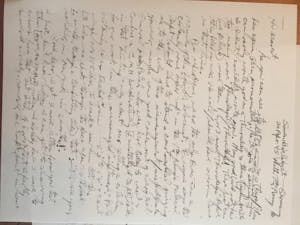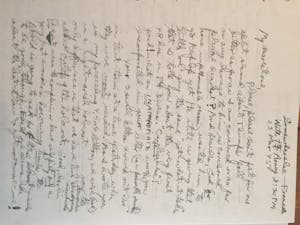 "We were (are) in a nightmarish holocaust," Wilsey wrote on March 23, 1945, as his U.S. Army unit, the 116th Evacuation Hospital, moved across France into Germany behind the advancing Allied line. "Gosh, darlin, a guy just wonders how many times the world is going to ask for the holocaust-messes to be gone through. Each one seems about the 'last straw' and yet more and more come." Then, two days later: "Holocaust! After holocaust! After holocaust! is just wearing me to a nub." On April 20, as the 116th approaches Dachau and rumors circulate about what might be found there, he wrote, "We are the only [Evacuation Hospital] within a 100 miles of this horrible holocaust." Four days after that: "We had a least wee hopes of not stepping right up into another holocaust — but preliminary reports at least indicate it might well be that 'nightmarish holocaust' all over again from this site." The references taper off in his letters from Dachau itself but pick up again later in the year, as in a November 14 passage that referenced "this world holocaust."
The word itself is of Greek origins: holos is "completely" and kaustos is "sacrificial offering." It had largely been used to refer to massive destructions by fire, most prominently in the title of a dystopian 1844 short story by Nathaniel Hawthorne, "Earth's Holocaust," in which all the world's literature and artwork is deliberately burned. That was, in fact, the context of the first known use of the term in reference to the Nazis, a 1933 Newsweek story about a book-burning campaign in Germany. According to a 2005 Jewish Forward piece, a top rabbi in what was then Palestine wrote to a colleague in a telegram about the need for a "day of mourning throughout [the] world for holocaust synagogues [in] Germany" after Kristallnacht, a November 1938 night of terror in which Jewish homes were ransacked and windows broken across Germany.
There were smatterings of usage prior to World War II to refer to mass slaughters, too, including with regard to the Armenian Genocide. And a 1943 New York Times piece about talks regarding Palestine references "the hundreds and thousands of European Jews still surviving the Nazi holocaust."
Yet for decades after the war, the genocide lacked any formal title in English except, perhaps, "The Final Solution," the term the Nazis used. In Hebrew, the calamity quickly became known as "Shoah," which means "the catastrophe." But it wasn't until the 1960s that scholars and writers began using the term "Holocaust," and it took the 1978 TV film Holocaust, starring Meryl Streep, to push it into widespread use.

Wilsey's usage, then, is curious. It wasn't a particularly common word, but he was a well-educated man of 30 using it to describe his surroundings to his well-educated wife, Emily. More than likely, says William Donahue, a linguistics professor who focuses on Holocaust literature at the Center for Judaic Studies at Duke University, Wilsey used the term generically and almost certainly not specifically to refer to the slaughter of Jews. Even when Dachau was liberated on April 29, 1945, and the Germans surrendered on May 8, 1945, it wouldn't have been clear to a man like Wilsey the extreme extent of the genocide and the Jews' brunt of it, he said.
Allied governments, Donahue said, downplayed the extent of the peril to Jews in their rally-the-homefront propaganda materials, for fear that many non-Jews wouldn't be willing to fight and die for what was still a marginalized religious minority regarded suspiciously even in the U.S. Wilsey himself reflected those attitudes in a letter on April 4, 1945, in which he complains about a Jewish anesthesiologist he was forced to bunk with. " Dear, medicine is so full of them, so usurped by them, so progressively becoming ruled by them — that we white men just must not do all we can to help them." A paragraph later, in fact, he blames his Jewish colleague's "Prussianism"—his Eastern European background—for "exactly what has caused 3 holocaustic wars."
It's impossible to know from Wilsey's letters alone why he used the term, who influenced him to use it, or who, perhaps, he influenced. At Dachau, as documented in his letters, he was present for visits by a parade of world dignitaries, from Gen. Dwight D. Eisenhower to members of Congress and the British Parliament. Might he have used it in a conversation and inspired others to do so? Or do his letters reflect a more common usage among the intelligentsia in the European Theater of the war than was previously understood?
"It's another data point for those interested in this particular historical mystery," Marcuse said.