LOCATION: Paris, France
Date: June 26, 2014
Photographer: Pierre Terdjman
What if news photography was liberated from the news? What if it spoke from the sidewalks? If it did, would we listen?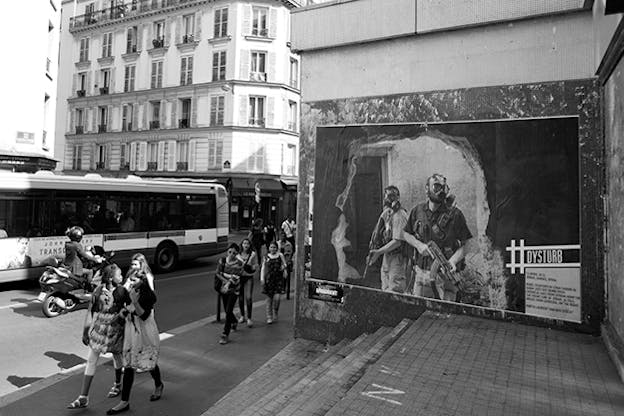 Posted outside a Paris Metro stop, this photo of a photo, originally taken by Laurent Van der Stockt for Le Monde, shows fighters in Damascus, Syria during a government gas attack. Enhanced by the framed dark background against the lighter tiled surface, the fighters—seen through a hole in a concrete wall, wearing gas masks and carrying automatic weapons—look as if they are breaking through their world and entering ours.
Juxtaposed with a traditional Parisian apartment block, the reality of war-weary Damascus feels more urgent and jarring. The fighters, syncing their movements as a matter of life and death, echo the two girls walking in step at lower left. The bus passing through the frame encloses the scene, much like the transitory walls of an art gallery. Within the confines of that temporary pavilion, the ad on the bus—a sci-fi movie starring Johnny Depp, something to do with terrorism, the future, even chemical warfare—competes with the poster for the public's regard and moral engagement. The quotidian action on the street enters into a dialogue with the news photo: In the context of gas masks, a motorbike helmet becomes almost laughable.
The image here, which was also published on Instagram, was taken by a photographer from #Dysturb, a collective of photojournalists responding to the declining readership, credibility, and financial resources of traditional media. In wealthy Western cities, they paste large international news images on the walls of public buildings, using them as street art to raise awareness of what goes on in other parts of the world. As part of its "Photography, Expanded" symposium last year, the Magnum Foundation—a nonprofit that promotes documentary photojournalism—invited #Dysturb's co-founders, Benjamin Girette and Pierre Terdjman, to give a case study presentation in New York on contemporary methods of disseminating news. "In the age of screens, #Dysturb sees our streets as still being the greatest social media, and they're clearly on to something," wrote Krystal Grow, a Getty Images editor who covered the event for Magnum.
The attention (or lack thereof) paid to the poster by pedestrians also serves as a sort of poll, one that could be said to gauge global compassion. The young woman's backward glance at the charged image, in contrast to her companion's forward gaze, is its own form of comment on international crisis and inattention. I find myself hoping the other citizens who pass by will, in a few short steps, defy ignorance and be disturbed too.