Lincoln Chafee, who has served Rhode Island as a Republican senator and governor, on Wednesday announced his Democratic presidential campaign to a nearly empty room at George Mason University. It wasn't introduced as anything all that special, either—just as part of a routine "speaker series" on campus.
To be fair, Rebecca Sinderbrand of The Washington Post did point out the first photo was taken almost an hour before the event started, but it would be difficult to overstate how underwhelming Chafee's campaign has been so far.
It started in April, when Chafee announced he was exploring a presidential run. According to Politico, his local paper has given the story scant attention, "nothing more than wire reports and a stinging editorial suggesting that his bid will give Rhode Island a bad name."
Even Chafee's wife, Stephanie, reportedly found the lack of campaign coverage disappointing, posting on Facebook several weeks after he said he was considering a run, "No one has contacted him… so SAD!"
The media could be forgiven for not taking Chafee's announcement too seriously. In an interview with the Associated Press last month, Chafee admitted that fundraising, the key to any presidential campaign, wasn't exactly a priority. "The time will come, but it's not now," he said. "Perhaps after I announce."
Chafee's reasons for running are confounding, even to those closest to him. In his announcement, he presented a handful of issues motivating his run, including the fact that he voted against the Iraq war, that he is against torture and capital punishment, and that he is in favor of … the metric system.
And Chafee doesn't exactly have a grassroots movement behind him, or an impressive social media presence. As Rhode Island governor, his approval rating was so low that he declined to run for re-election, leaving office in January. Meanwhile, his Facebook page as governor was, according to Bloomberg Politics, "attracting more attention than the page he has set up for 2016," prompting Chafee's wife to post on her own Facebook page, "Does anybody from my Husband's staff remember his FB page access?" Her Facebook page was no longer publicly accessible on Wednesday afternoon, shortly after Bloomberg published its story.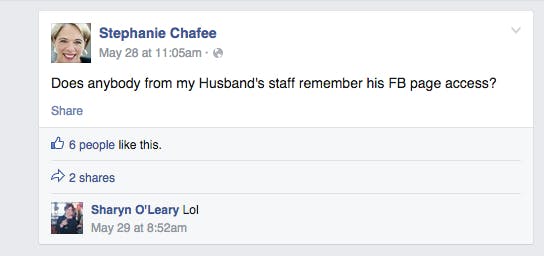 In Chafee's announcement Wednesday evening, he called the job of the president a "challenge"; the same is true, clearly, about the rolling out of a presidential campaign. The New Republic's Rebecca Leber has speculated on why longshot candidates still declare their campaigns. But Politico's Ben White perhaps tweeted it best: