Former University of Cincinnati officer Ray Tensing pleaded not guilty on Thursday for killing 43-year-old Samuel DuBose during a routine traffic stop over a missing front license plate. When he turned the ignition, Tensing shot him in the head. Which raises the question: Why was an armed university cop pulling over a motorist for a minor infraction off campus?
"I don't think a university should be in the policing business," Hamilton County prosecutor Joe Deters said Wednesday in announcing the murder charges.
At the University of Cincinnati, the problem isn't that officers receive less training than area law enforcement. Sworn campus officers, who are allowed to be armed, have the same training 605 hours of training as police in Ohio—about 200 hours of it dedicated to when to use deadly force, and 60 hours on handling firearms. "Campus is just the environment we work," UC Police Captain Rodney Chatman said in a news conference this week. "To be a police officer in the state of Ohio we all have to have the same training, through the Ohio Peace Officer Training Academy. We all have to meet those same requirements."
They also have many overlapping duties. According to a 2014 UC Public Safety report by the school, "University police officers may make arrests for criminal activity both on and off campus (under relevant mutual aid agreements)." And under "the mutual aid agreements, UC police officers may take law enforcement action in the relevant surrounding communities, and those communities officers may provide assistance on campus."
This isn't unique among large state schools. Two-thirds of all four-year college and university campuses with more than 2,500 students have armed officers, according to 2011-2012 Department of Justice data; 91 percent of public universities have armed officers, versus 36 percent for private schools. About 70 percent of public and private campus law enforcement can patrol off campus.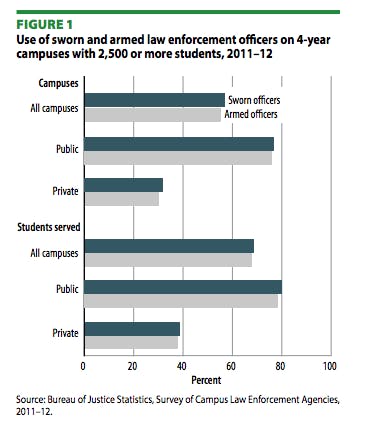 Even though they have some of the same duties as police, making arrests and traffic stops, campus police generally haven't faced the same scrutiny. The University of Cincinnati, for instance, chose not to join reforms mandated by a federal monitor as part of a consent decree after a 2001 police shooting roiled Cincinnati. As The Atlantic details, the Cincinnati police promised faster investigations of officer-involved shootings, thorough investigations of officers with a high number of citizen complaints, adopted more transparency, and changed its use-of-force guidelines. Cincinnati PD also adopted community-oriented policing, using direct outreach to violent gang members and their families to try to prevent violence. Reform in Cincinnati has been slow and painful, but 13 years later, the city is seeing real results: By 2014, there was a 69 percent decrease in police violence, a 42 percent decline in citizen complaints, and 56 percent drop in citizen injuries in police encounters. As part of a court settlement over the 2001 shooting of Timothy Thomas, the city agreed to set up a collaborative program that forced the department to shift focus from arrests to improving community relations. Only last week, in response to outrage over DuBose's death, did the University of Cincinnati announced it would voluntarily joining the initiative.
Isolated reports show how UC police might have benefited from reforms much earlier. BuzzFeed reports on three other incidents: In 1997, a university officer and city officer shot and killed 24-year-old Lorenzo Collins, who was reportedly armed with a brick and fleeing the university's hospital. In 2010, campus police used deadly force against Kelly Bernard Brinson. And in 2011, police stopped using tasers after one killed 18-year-old Everette Howard.
Over the same period, campus police have seen their military arsenal grow. The Pentagon grants police departments, including those at universities, military-grade weapons. According to federal data, the University of Cincinnati has received $1,320 worth of 5.56 millimeter rifles.