There may have been nine other men on stage beside him, but make no mistake: Thursday night's prime time Republican presidential primary debate on Fox News was the Donald Trump Show, with a particularly wonky supporting cast.
The debate, the first of 11 scheduled for the large Republican field, attracted an audience of 24 million people, according to early estimates. For reference, the first Republican primary debate in the 2012 campaign drew a viewership of just 3.3 million people, and none of the 20 GOP debates topped 7.6 million viewers, even on network channels. Even debates during the historic Democratic primary in 2008 failed to draw audiences larger than 10.7 million.
So massive was the audience on Thursday night that it now ranks as the largest of Trump's hefty portfolio of reality television appearances.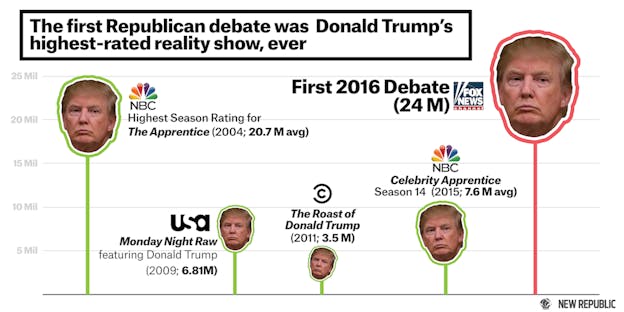 The Apprentice, the boardroom-themed contest Trump hosted from 2004 until this year, debuted to strong ratings. In that first season, the show averaged an audience of 20.7 million people, but the numbers have steadily fallen since then. The most recent season of Celebrity Apprentice, NBC's spinoff of the original that wrapped its seventh season in February, managed just 7.6 million viewers.
That dropoff hasn't stopped Trump from anointing Celebrity Apprentice as "the number one show on TV," a proclamation so outlandishly false that a room full of television insiders burst out laughing when he repeated it in January. Celebrity Apprentice finished the season as the 67th most popular show, behind such hits as the Dancing With the Stars results show, The Big Bang Theory repeats, and encore presentations of NCIS: New Orleans. It wasn't even the top business-themed reality show, placing well behind Shark Tank and Undercover Boss.
The Apprentice is but one of Trump's television offerings though. How about his collection of pageants?
Miss USA, which lost its broadcasting deal with NBC earlier this summer after Trump's racist comments about Mexicans, netted less than a million viewers this year after a relatively small cable network called the Reelz Channel snatched up the rights for a paltry $100,000. But even when it was broadcast on network TV, the show was far from a ratings smash. In 2014, 5.6 million people tuned in to the butt glue infomercial, and 4.6 million the year before.
What about cable? Trump has made several appearances on various reality shows, but none come close to his debate performance. In 2009, Trump was a celebrity MC on Monday Night Raw, the weekly pro wrestling ratings juggernaut. That brought in an audience of 6.8 million people.
He was also subjected to one of Comedy Central's notorious roasts in 2011. An estimated 3.5 million people watched Trump get flambeed by a roomful of comedians (side note: if you thought Megyn Kelly was aggressive in going after Trump, you should watch Lisa Lampanelli's vulgar takedown).
Compared to the debates held during the general election, the 16 percent share of the television audience that Thursday's debate won is relatively small. But those debates are broadcast on several channels at once. For a single-network debate, Fox News' audience was three times that of any GOP debate in 2012 and more than twice the size of the previous record-holder, a Democratic primary debate in 2008.