On April 26, Sherman Lea Jr. tweeted a photo taken at Benny Marconi's, a pizzeria in Roanoke, Virginia. He's seated between two journalists from WDBJ, the city's CBS affiliate: reporter Alison Parker and anchor Chris Hurst, who had recently fallen in love.
That photo made the rounds online Wednesday after Parker and cameraman Adam Ward were gunned down during a live broadcast by disgruntled former WDBJ reporter Vester Lee Flanagan (who went by the name Bryce Williams on air, and later killed himself during a police chase). While Flanagan was still at large, at least half a dozen news websites—some more reputable than others—published the pizza parlor photo and claimed that the man seated between Parker and Hurst was Flanagan. They include The Wrap, PhillyVoice, Coed, and The Hollywood Gossip, as well as the Facebook page of Matt Scott, a meteorologist with FoxCT: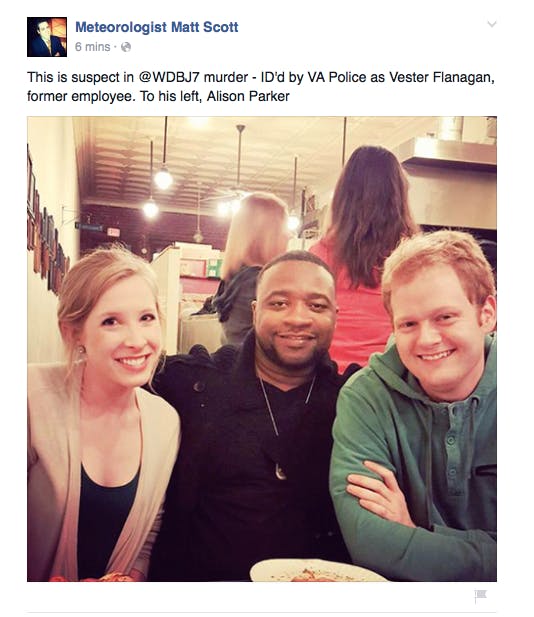 Here is a confirmed image of Flanagan, via CBS News:
Needless to say, Sherman Lea Jr.—the executive director of New Hope Support Services—was not pleased. (His voicemail was full, and he did not respond to an interview request sent via Twitter.)
Scott, and all of the aforementioned websites, have taken the image down. (As of this writing, at least one site, College Candy, was still using it.) Scott and PhillyVoice's Christina Lobrutto did not respond to requests for comment, but several others did:
If you're going to use the "breaking news" defense, however, at least have the courage to do so in the article itself. Instead, not one of these outlets explained the removal of the photo or otherwise admitted that an error in their piece had been corrected.
As someone who runs a website, I understand the pressure to capitalize on breaking news to increase traffic. But this has happened too many times now. Misidentifying a suspect can ruin—and even cost—lives. After all, Sherman Lea Jr. lives in the very region where police were chasing Flanagan. It is not hard to imagine someone in Virginia seeing the photo of Lea, and then running into Lea himself at, say, a gas station. It is also not hard to imagine, given the state's gun laws, that this person might be armed, and that he might decide to be a hero. Then we'd have our second tragedy of the day, one that certain websites would surely rush to aggregate.