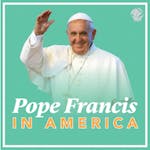 Philosopher Hannah Arendt, in the preface to her essay collection Men in Dark Times, wrote that "even in the darkest times we have the right to expect some illumination, and that such illumination may well come less from theories and concepts than from the uncertain, flickering, and often weak light that some men and women, in their lives and works, will kindle under almost all circumstances and shed over the time span that was given them on earth." She was referring in part to Pope John XXIII, one of the figures addressed in her collection. His diaries, Journal of a Soul, were the subject of her 1965 essay "Angelo Giuseppe Roncalli: A Christian on St. Peter's Chair from 1958 to 1963," which was arranged around a Roman chambermaid's question to her—"This Pope was a real Christian. How could that be?"—and the implication that previous Popes had seemed less so. Arendt's exploration of John XXIII's diaries addresses the simple Christianity of Good Pope John, a curious contrast both to the dark days in which he lived, and to his legacy as a major Church reformer.
Our age is not quite as disturbing as John XXIII's, but Arendt's words could just as easily apply to Pope Francis. Europe is facing its largest refugee crisis since World War II. In the United States, nativist sentiment is ascendant. With his screeds against Mexican immigrants and attacks on fellow politicians for speaking Spanish, Republican presidential hopeful Donald Trump has been a surprise hit with the party's base. As the billionaire co-producer of The Apprentice fantasizes about lining the country's southern border with a massive contiguous wall, inequality within the United States is wide and growing. Worldwide, the past year has witnessed the deadliest Ebola outbreak in history, which claimed more than eleven thousand lives in West Africa; and the murder and rape of thousands of civilians in the Middle East, with the Islamic State evidently bent on genocide.
Amid the uncertainties of our time, Francis has emerged as a source of moral leadership, and has been widely hailed as a thoroughgoing Christian reformer in the style of John XXIII. Francis's reputation as a radical reformer has earned him as much adulation as reproach, and the world still seems—on the eve of his visit to the United States—fixated on his every word, as he stands poised to provide steady moral direction in troubled times. The light that Francis has managed to offer the world in our troubled times is the subject, in different ways, of several recent books: This Economy Kills, by Andrea Tornielli and Giacomo Galeazzi
; The Tweetable Pope, by Michael O'Loughlin, and The Francis Effect, by John Gehring. All three seek, in different ways, to answer the question that many are asking: Can Francis help to guide us through turbulent times? And if he can, where will his guidance lead us?
---
Much of Pope Francis's mass appeal appears to be rooted in his simple authenticity, evident in his modest dress and easygoing demeanor as well as his penchant for off-the-cuff remarks, such as his now famous "Who am I to judge?" quip in response to a question about gay Catholics seeking communion with the Church. Michael O'Loughlin, a young Catholic reporter based in the Boston Globe's Catholic vertical Crux, wrote The Tweetable Pope not so much to explain how Francis reaches millions daily with his spiritual insights—though the book does contain a short, gentle primer on Twitter for the uninitiated—but why the millions of users who follow and retweet Francis find his tweets so compelling. Francis, O'Loughlin writes, is "able to make the seemingly ordinary experiences of everyday life seem graced and meaningful," inviting his millions of readers to "pause a moment during their hectic lives and consider something deeper."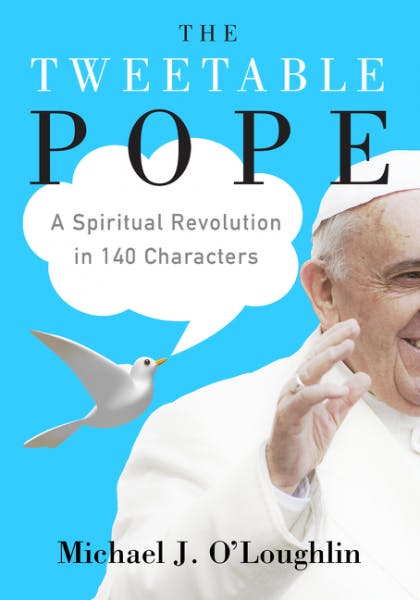 When Jorge Mario Bergoglio ascended to the papacy in March of 2013, O'Loughlin writes, he inherited the Twitter handle @Pontifex—bridge builder in Latin—of his predecessor Pope Benedict XVI, along with its three million followers. Today, Francis has more than doubled that number, racking up 7.12 million followers and an impressive retweet rate. Francis does not, as one would expect, tweet his own thoughts off the cuff: In true Vatican fashion, proposed tweets are instead printed in Italian or Spanish and presented to his holiness for approval. The tweets he selects and affirms are then sent out to the world, with messages spanning the gamut of his interests: mercy, creation care, inequality, war, work, service, and the sanctity of life, to name a few.
Which in itself would perhaps not be very interesting. But Francis's use of Twitter to preach underscores his interest, O'Loughlin says, in reaching the average person precisely where they are. "Though his humility, authenticity, and charity attract attention, it is Francis's ability to connect with everyday people that sustains the popularity of this papacy and gives him this opportunity to revitalize the Church." What vitiated the Church that's now in need of revitalizing? O'Loughlin notes that many in the United States and United Kingdom still tweet about the Church's sex abuse crisis, which unfolded publicly under Francis's immediate predecessors, while users in Spain and Italy complain about the "excesses in the Church." The perception of the Church as a secret web of indulgence and hypocrisy has a long history, unfortunately not without reason; what O'Loughlin demonstrates so aptly is the extent to which Francis's papacy has been focused on undoing not only the image of the Vatican as such, but the nature of it as well.
Tweeting, for Francis, helps to lift the shrouds of secrecy hanging over the interior world of the Vatican by making his intentions open and accessible, a goal he has sought out in other aspects of his papacy as well. O'Loughlin credits this openness with occasioning the daring reforms suggested during last October's Synod on the Family, a conversation that will continue this autumn.
Francis's appeal, in other words, appears to be linked with his earnest investment in the moral credibility of the Church. He is someone we can trust, a transparent pope with aspirations like those of Jesus, whom he is commissioned to imitate—to lead humankind into goodness. Imitation of Christ means, of course, replicating the upset and agitation induced by Jesus as well as his radically unpretentious lifestyle, and Francis has succeeded on both counts, for better or worse.
---
But just how far has Francis's famed radicalism gone in reforming the Church and world? In The Francis Effect, John Gehring, director of Catholic outreach at the advocacy group Faith in Public Life, seeks to explore what the outcome of Francis's papacy have been so far, and what the barriers to the accomplishment of Francis's long-term goals might be. Despite early inklings of a "Francis effect"—a commonly discussed but vaguely defined term—Gehring notes that "a well-oiled conservative Catholic movement in this country took more than three decades to build and won't fizzle easily." For Gehring, the major obstacles to Francis's teachings shifting American values toward the poor and vulnerable are those politicians who still operate within the framework of the culture wars, centering their attentions on abortion, birth control, sexuality, and limited government, to the exclusion of entertaining solutions for poverty and oppression among the lower classes.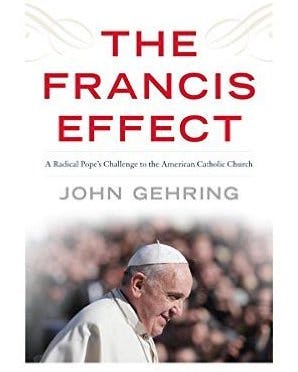 Despite the inclination of the political machine to suit the interests of the wealthy by ignoring the needs of the poor, Gehring senses that Francis's impact on politics is already visible. For starters, those committed to libertarian economics have been entirely unable to come up with a compelling rebuke for Francis, though they have tried. Gehring notes that even a mild gesture like a House resolution to honor Francis's "inspirational statements and actions" stalled in the summer of 2014 because Republican representatives refused to back it based on the pope's rhetoric on inequality. (As of this writing, a congressman from Arizona has threatened to boycott the Pope's address to congress because of his focus on climate change.) But Gehring points out that "the pope's encyclical is another opportunity for Catholic leaders in the United States to put more institutional weight behind an urgent moral issue." In other words, Francis's mandate on the climate and its relationship with human life issues and inequality has gifted activists with a kind of moral gravitas and institutional warrant to pursue change more confidently than ever before. "Prominent Catholic politicians who are climate change skeptics," Gehring writes, "now find themselves in the unenviable position of not only disputing the overwhelming scientific consensus on this issue, but also standing on the opposing side of the world's most influential moral leader." It is too soon to judge whether the energy Francis has introduced into the debate over the climate and general care for the poor will have tangible political outcomes, Gehring acknowledges, but if nothing else, circumstances are now primed for change.
The majority of Gehring's book is on the Church itself, and Francis's efforts at reform from within. The author does an excellent job of rendering clearly what might seem to outsiders like so much inside baseball, tracing the movement of prelates according to Francis's appointments and removals, explaining the extent of his work bringing women into contributory roles within the Church's leadership, and examining his impact on the welcoming of lesbian and gay Catholics into the life of the Church. Perhaps each of Francis's reforms inside the Church is, in itself, small; even Gehring worries that some will view the Francis effect as nothing more than a "change in tone." But by taking all of his reform efforts thus far together, Gehring builds a compelling, readable case for viewing Francis as a Pope uniquely equipped to struggle against the vices of his age.
---
Perhaps the greatest vice of our age is the belief that certain domains are simply amoral—economics, for instance. Republican presidential candidate Jeb Bush recently joined a long line of conservatives who believe matters of money are excused from the directives of faith, contrary to centuries of Christian teaching. For this reason, making the case that Francis's teachings on the economy are not only theologically sound but appropriate for a Pope has been an important task for those hoping to see a Francis effect in politics. Andrea Tornielli and Giacomo Galeazzi
's compact book This Economy Kills does precisely that.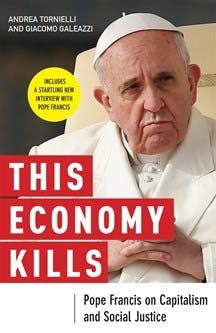 Tornielli and Galeazzi are each longtime observers of the Vatican, and put their experience to use in outlining the Church's longstanding skepticism of the excesses of free market capitalism, a stance which seems better understood in Europe and Latin America than within the United States. For Tornielli and Galeazzi, correcting the "forgetfulness that sometimes seems to exist in the Catholic world regarding some relevant and surprising pages of the social doctrine of the church" is key to making the case for the legitimacy of Francis's economic message. Their book brings together a slew of experts with different perspectives on Francis's economics, though their views seem to converge in that all view Francis as committed to a more equitable world, in which gainful work and adequate public resources are made available to all.
One of the most fascinating aspects of Tornielli and Galeazzi's book is an interview they managed to conduct with Francis himself. In the latter pages of the volume, Tornielli and Galeazzi ask Francis to demonstrate the continuity of his vision of a just economy ("We need programs, structures, and policies leading to a better allocation of resources, job creation, and the integral advancement of those who are excluded," the pontiff says) with that of Church tradition. To do so, Francis cites none other than Pope John XXIII:
A month before the opening of the Second Vatican Council, Pope John XXIII said: "The church reveals itself as it is and as it aspires to be, that is, everyone's church, and particularly the church of the poor."...The church's invitation to overcome what I have called the 'globalization of indifference' is far from any political interest and ideology. Animated only by Jesus' words, the church wants to make its contribution to build a world where we look after one another and care for each other.
It really is as simple as that: Francis's message underscores the Christian mandate to genuinely care for one another in all domains of life, in whatever office or capacity a person finds herself. Maybe this is why the edifices of power have such difficulty contending with Francis: His brand of reform is truly to re-form, to reconstitute what has long been true of the Church and valued in the Catholic tradition, and to present the core message of Christian teaching simply and authentically. Whatever he says when he addresses Congress this coming week will be historic not only for the singularity of the occasion, but because the message of Jesus is still uncomfortably revolutionary, even in our enlightened age, which by the day seems darker.
In Men in Dark Times, Arendt admits it is hard to say without retrospect whether the light cast by our contemporary luminaries "was the light of a candle or that of a blazing sun." That, she decides, is a job for posterity. Indeed it is impossible for us now to know whether or not Pope Francis will be memorialized as an outsize figure either within the Church or without; what we can more soundly say is that his teachings and example routinely defy the notion that we are doomed to the darkness of our times. As Saint Augustine said in a fifth century sermon, "We make our times; such as we are, such are the times." If the "Francis effect" has an immediate or lasting effect, it will show itself not in how we cope with our times, but in how we change them.