When U.S. national team coach Jürgen Klinsmann declared ahead of the 2014 World Cup, "We cannot win this World Cup, because we are not that level yet," it sparked howls of outrage across the country. Landon Donovan, who had recently been cut from the team by the German-native, took to television to disagree, while ESPN commentator Michael Wilbon was so incensed he told Klinsmann to "get out of America."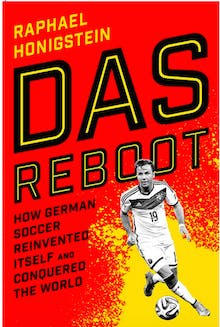 Klinsmann wasn't wrong—the U.S. lost in the round of 16—but his cold pragmatism was unwelcome in a country that not only regularly makes heroes out of underdogs but that likes to sees itself as one. Sure, there are tournament favorites, dark horse teams, and underdogs, but Americans hold dear the belief, on and off the pitch, that if you work harder, run faster than the other team, anything is possible. The World Cup seems to justify this belief; after all, tiny Costa Rica made it all the way to the quarterfinals in Brazil, and every tournament has its Cinderella team.
But the Germans have a different story to tell. Winning the World Cup, as they did in superb fashion last year, wasn't really about hard work, or star power, or even luck. It was the spectacular payoff of a long-term investment, the result of two decades of institutional changes, tactical evolution, and structural tinkering. The Germans don't just hope that superstars will emerge; they create them. Sure, there's always an element of luck involved, and Germany could have been knocked out by a smaller team like Algeria, who pushed them to extra-time in the round of 16. But in Das Reboot: How German Soccer Reinvited Itself and Conquered the World, Guardian writer Raphael Honigstein doesn't care too much about all that. Imbued with a sense of destiny, he charts his national team's path to victory, but he's also concerned with something bigger: the future of the sport.
Alternating between the 2014 World Cup and the past, Honigstein weaves a narrative that pulsates with the tension and energy of the tournament, threading together the many events and changes that led up to it. We relive the tournament round to round, chapter by chapter, while coming to understand how it all came to be. It's a masterfully conceived structure, peppered with mini-profiles of key players like gangly goal machine Thomas Müller and elegant center-back Mats Hummels. Honigstein brings together decades of expertise so that Das Reboot feels fluid and comprehensive, a thorough survey of German soccer over the last fifty years that's also light on its feet.
Germany has always been a soccer superpower, of course; even before 2014, only Italy and Brazil had won more tournaments. But there had never been a winning squad quite like this one, filled with clean-cut, well-spoken young men who, as Honigstein puts it, make "perfect sons-in-law." For all their success, the Germans had never been known for the quality of their football. Instead, they were famous for slowly and steadily squeezing out the opposition's attack to win 1-0, earning them the nickname "the Panzers," after the World War II tank. The Germans' physical style, along with a 1982 scandal in which they colluded with the Austrians to knock the Algerians out of the World Cup, endeared them to no one.
Not so this German team, whose stylish attacking play and friendly manner off the pitch made them fan favorites the world over. In their infamous 7-1 victory over Brazil in the semi-final, the Germans beat the world's greatest footballing nation at their own game. But what was even more awe-inspiring than the victory itself was how the players promised each other at halftime, when they were up 5-0, that they wouldn't try to humiliate the Brazilians with flamboyant play. Gone were the days of nasty players going in for dangerous tackles and trash talking on camera. This German team was classy, on and off and the pitch.
But this dramatic makeover from Panzers to perfect sons-in-law didn't just happen overnight. It was the climax of a deliberate, measured effort to transform German soccer from the ground up. American fans will be happy to know that it all started, to a certain degree, with Jürgen Klinsmann. The World Cup winning striker was appointed head coach in 2004 after Germany was disastrously dumped out of the group stages at the European Champions that year. Klinsmann's changes were swift and wide-ranging: He dropped formerly untouchable keeper and captain Oliver Kahn, brought in American consultants to work with the players, hired a sports psychologist, and emphasized youth development. Many of these changes have become so commonplace in elite soccer that it's easy to forget they were once innovative—and highly controversial. Klinsmann was attacked in the papers, his every decision questioned and criticized, so much so that a few members of the German Parliament even threatened to drag him in to a parliamentary committee hearing.
He wasn't alone, though. Six years earlier, the German Football Association had established national youth development centers across the country, so that no young talent would slip through the cracks. While Germany's top-flight clubs have had their own youth setups for decades, these are overwhelming located in western Germany. "Everyone was supposed to have access to a regional center within 25 kilometers of his home. That was the idea," said Dietrich Weise, a coach who spearheaded the movement. That was in 1998, and 16 years later, 21 out of the 23 players who lifted the World Cup in Brazil were graduates of the academy system. (The other two were already professionals by the time the reforms were made.)
The German government also helped, inadvertently. A new law in 2000 gave hundreds of thousands of immigrants citizenship, and therefore, the right to represent Germany. Suddenly, the likes of Sami Khedira and Mesut Özil, stalwarts of the 2014 team, were just as German as Thomas Müller or Mario Götze. Nearly half of Germany's winning squad came from an immigrant background. If soccer really is a reflection of the world, as some have posited, then this Germany was open-minded and cosmopolitan.
Das Reboot goes over many other structural changes that contributed to Germany's victory, including the development of the high-tempo pressing game made famous by Jürgen Klopp's swashbuckling Borussia Dortmund side. There's also a chapter dedicated to the Footbonaut, a machine invented by a Berlin engineer that shoots the ball at players at different speeds and from different angles so that they can hone their ball-handling technique. The player then has to control the ball and pass it as quickly as possible into the correct goal. "The players get more touches in 15 minutes than in a whole week of team training," said inventor Christian Güttler. That precision was on show in Brazil.
If this all sounds too technical for the casual fan, Honigstein's charming, personable voice keeps the book absorbing even for those uninterested in tactics and formations. And, while there are funny anecdotes and quotes from players throughout, two chapters are actually narrated by two former players, Thomas Hitzlsperger, the most high-profile footballer to come out to date, and Arne Friedrich. Hitzlsperger's entry, which recounts his experience in the 2006 World Cup with a sincerity rare in an age of consummate professional athletes groomed by PR coaches from a young age, is particularly memorable.
International tournaments, for all their global popularity, have always suffered from a lack of cohesion. Superstars like Lionel Messi and Cristiano Ronaldo play far better for Barcelona and Real Madrid than they do for Argentina and Portugal because they spend the whole year playing for those clubs. Many national teams feel cobbled together, a hodgepodge of the best players who happen to share the same passport. But as Honigstein demonstrates here, it doesn't have to be that way. Players may only represent their countries occasionally, but every country can lay the groundwork for international success. Above all, Das Reboot is a template for such success, a path forward for any country with dreams of glory. Lucky for the Americans, they've got one of the guys who started it all.