In November 2013, two days before Thanksgiving, something exploded in the adjoining backyards of two homes in rural Flippin, Arkansas and an eight-year-old girl named Debra Rackley was rushed to the Arkansas Children's Hospital in Little Rock by helicopter. Her two shoes lay strewn across the grass where they were blown off her feet, a police officer noted in his report. Debra's mother, Dana, says she was working at the assisted living home nearby. Her father, Robert, was also working at the Butterball turkey packing plant finishing last minute orders for the holiday. The children—seven of them in all—came home early from school that day for Thanksgiving break. The family was to leave for the three-hour drive to Robert's mother's house the next day and the kids were supposed to help clean the house to get ready to go.
Instead they were playing outside with their friends from the Thompson family next door, who were close in age to Debra and her brother Gary. A witness later told police that the gray residue found on a cinderblock near Debra's shredded shoes was from an exploding target, a device supposed to detonate only when struck by a bullet or another high velocity impact, making it clear to a plinker 100 yards away whether or not his target has been hit. It's instantly gratifying—and much easier than reeling in a paper target after every round.
If you don't own a gun or shop often at stores that sell guns, you may have never heard of exploding targets before. But the list of brands under which they're sold— Southern Thunder, Shockwave, Sure Shot, and ZOMBOOM!—is large and growing. The question of whether exploding targets should be restricted or banned is similar to the question of gun ownership in general: it pits people who believe they are using the targets legitimately against those who use them recklessly or illegally. Several jurisdictions have already restricted them, including the state of Maryland, several counties in California, and all National Forest Service land.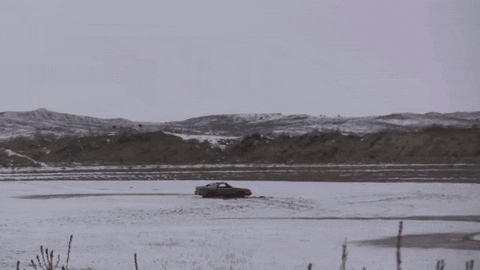 According to one witness cited in the police report of the incident, the Thompsons had been using exploding targets in their backyard the morning Debra nearly lost her foot. At some point later that afternoon, Charles Thompson heard a loud pop from inside his house. "It sounded like a rifle," he said. When his wife, Janine, went out to investigate, Debra's older brothers were already carrying her across the two-acre expanse back to their house. Dana got a phone call from one of her older daughters and sped home in time to see first responders loading Debra into an ambulance. She rode with her daughter to where a helicopter picked her up and then watched as Debra was lifted up into the air and away.

---
For someone with a little determination, exploding targets are simple enough to make. You can do it at home using common household items known to contain the necessary ingredients. One is basically fertilizer and the other is a catalyst, like aluminum powder. There are slight alterations to the recipe—such as substituting potassium perchlorate as an oxidizer or adding in a bit of magnalium—that make the mixture even more volatile so that it will likely explode even if you use mere rimfire ammunition from a .22 pistol. Sold unmixed, each of these ingredients is inert and perfectly legal. Only when you mix them together are you manufacturing an explosive, which many have never been tempted to do, in the same way they aren't tempted to mix bleach and ammonia.
No one tried to make a business out of making exploding targets until John Dapkus invented Bullz-I targets in the basement of a firehouse in Hartford, Connecticut in the 1950s. According to his son, Michael Dapkus, John developed a fondness for pyrotechnics while serving in World War II that he was never quite able to shed upon his return home. His goal was to experience anew the rush he got from blowing up enemy ammo dumps. His product, called Arrowana, had a short run; it wasn't until he reinvented it and began marketing it as Bullz-I in 1985 that exploding targets found their niche. Dapkus obtained permission from the federal government to transport and sell pre-mixed targets as a Class C Explosive—the same classification as firecrackers. The company estimates it sold 27.2 million of them during the next 17 years.
But Bullz-I met its demise in the early 2000s. In 2001, a man in a military supply shop in Newport, Ohio accidentally dry fired his gun into a shelf stocked with the targets, triggering an explosion that injured four and nearly leveled the building. John Dapkus stopped selling his Bullz-I Targets two years later.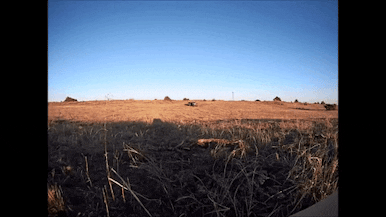 It was not long after that the Oregon entrepreneur Dan Tanner patented a product he called Tannerite. It wasn't an explosive at all, but a kit containing the ingredients necessary to concoct one's own exploding targets at home. Since the ingredients are each perfectly legal when sold unmixed, it's only when they are combined that handlers need to be licensed by the Bureau of Alcohol, Tobacco, Firearms and Explosives (ATF) in order to transport and sell it. With this innovation, Tanner had found a way to cut the ATF entirely out of the picture, and for a long time this way of operating has been fairly successful, not just for Tannerite but a range of target companies. Today Tannerite has a line of exploding targets that differ slightly in sensitivity and the color smoke they give off. Exploding targets are also available under at least 21 brands that I've found. I even found off-brand targets for sale on eBay from a user named "skeetscreek," who said they would ship from Indiana, but declined to give a company name or associated website.
But exploding targets have been on shaky legal footing in the last ten years or so. They are, after all, high explosives that detonate at upwards of 13,000 feet per second. Ammonia dynamite, by comparison, typically detonates at 6,300 to 12,500 feet per second. And not surprisingly they have been the cause of many serious accidents, many of which are a result of that fact that targets can easily be combined into 10- or 20-pound jumbo targets and blown up for the mere thrill of it. USA Chemical Supply, for instance, sells a 50-pound bulk exploding target kit using what its former founding partner described as "farm-grade" ammonium nitrate. On YouTube, one of the contenders for the largest exploding target blast is Andrew Boetjer, who runs the firearms entertainment channel GY6vids. (Its logo is two assault rifles hovering in a heraldic cross.) In the four and a half minute clip, he fills a man-made mountain with 350 pounds of exploding targets and shoots at it from a safe distance. The result is very impressive. Sand and grass shoots high into the air. An orange plume rises and slowly settles to reveal the mound with its entire front face now removed.
Elsewhere on YouTube, you can also find videos of exploding targets demolishing a wooden outhouse, a lemon cake, a red oak tree, a gable barn, a broken dryer, and a range of other useless objects and nuisances. There's also a whole genre devoted to old cars: a Ford Bronco, a Volkswagen Jetta, a Chrysler LeBaron, a Chevy pickup truck.
The string of stunts can be traced back at least to 2008 when a Minnesota man shot at a dump truck he had filled with exploding targets on his own land, which triggered the alarms at a nearby nuclear power plant. He ultimately pleaded guilty to two felonies and agreed to pay $3,471 in fines. In 2010, someone attempted to level a beaver dam using exploding targets. In 2011, VoodooTactical1 posted a video of a metal sink being jettisoned into the sky to a song by the nu metal band, Saliva, from the The Fast and the Furious.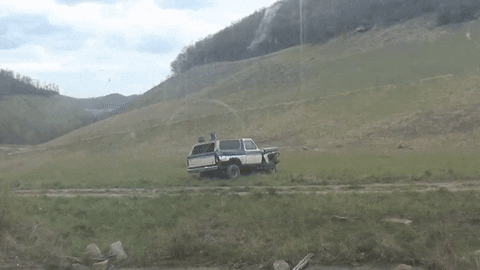 For every explosion captured on YouTube, there are many more in backyards and ranches and clearings in the woods around the country. Not all of them go as planned. They've raised the ire of the US Forest Service as a common cause of wildfires. And several that I've found have gone horribly wrong in other ways. In May 2012 in Ohio, Jennifer Plank-Greer lost most of the function in one hand when struck with a piece of shrapnel from what was believed to be an old refrigerator. She negotiated a settlement with the manufacturer H2Targets this year.
In his deposition, the owner of H2Targets said he began mixing exploding targets at his parents' house, but moved into a garage when he started selling the product, and then into a 6,000-square foot commercial building. During these experiments, he tested the safety of his product by placing white sheets of paper around the target to observe whether there was any flying debris. "And when you put these pieces of paper at 50 yards," Plank-Greer's lawyer asked, "did you experience any kind of debris?"
"No, there was never anything," he replied.
They didn't test what happens when the targets are placed inside a metal appliance like a refrigerator.
In April 2013 in Oregon, a 12-year-old boy's right hand was severed in a blast that occurred while he was handling an exploding target near a campfire. In a similar case, a 20-year-old man named Dylan Dodd in Idaho sprinkled some powder from a Star Targets exploding target on a smoldering campfire and the entire bag detonated. In an instant, he lost his right hand and part of his forearm. Dodd's case against Star Targets and Cabela's sporting goods wholesaler was settled out of court last month. A man in Montana is also suing Star Targets for a mixture that exploded in his hand in Yellowstone County in 2012 while he was mixing it a few feet from his pick-up truck. He lost his index finger and half of his middle finger in the accident.
There is also at least one man who used exploding targets in an apparent suicide in March this year in Mount Hood National Forest in Oregon. And in February a boy died and another man was injured after metal fragments from a stove with exploding targets placed inside struck them both. A 22-year-old man accused of firing the shot that triggered the explosion is now facing charges of first-degree manslaughter.
"You can't save people from themselves," is a refrain I often heard when talking to exploding targets manufacturers and retailers who stock them. Rob, who works at a gun shop in Naugatuck, Connecticut, exemplified this line of reasoning: "I respect that you're trying to be objective," he told me. "But somebody who grows up on a farm is going to be exposed to machines. Somebody from the city who climbs on a tractor won't know how to use it falls off. Does that mean we have to ban and regulate the tractors?"
The ATF treats exploding targets much the same way they treat firearms. "We say [to retailers] if for whatever reason you don't feel comfortable, don't sell them," ATF Special Agent Jennifer Cicolani said. Some stores choose to impose an age restriction on the explosives, like 18 or 21. The ATF has no way of keeping track of injuries or misuse, in part because the precise circumstances leading up to accidents can be difficult to ascertain. "There could be more people being injured but no suits because the ones injured are the ones that pull the trigger of the gun," one victim's attorney said.
---
I decided I ought to see an exploding target for myself. Finding a way to set one off when a rifle is not easily at hand can be difficult. My guide in this task was Bill Bahr, the owner of Red Dragon MFG, a company run out of a low bungalow in northern New Jersey. He manufactures 37-milimeter grenade launchers for law enforcement along with his own brand of exploding targets called Dragon's Breath. To test-run his products Bill drives fifteen minutes away to a moto-cross park known as Lepis Land. Behind an inconspicuous driveway on Birdsall Road in Howell Township, there is a junkyard of miscellaneous contracting equipment, behind that, a maze of 20-foot dirt jumps and metal ramps, and behind that, a long, flat clearing perfect for target practice.
No one makes targets the way he makes them, Bill explained to me from behind the wheel of his pickup truck as we made our way to Lepis Land. I balanced his Bushmaster AR-15 on my lap, which we'd be using to set off the targets when we arrived. They're not just made from fertilizer "out of the bag," which comes in prills the size of peppercorns. Bill's ammonium nitrate is much finer, like coarse salt, so it precipitates fire faster.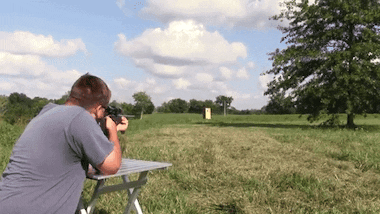 Bill doesn't shoot much himself anymore. At 82, he's retired several times from various posts at the Pyrotechnics Guild International, first as second vice president, then president. But he can't seem to keep away from his pet project of the past 25 years, Red Dragon. He also busies himself tending a motley crew of animals he and his wife have rescued—a miniature horse, a Sicilian burro, about 15 or 20 muscovy ducks, and a turkey that follows them around like a dog. Five years ago, macular degeneration claimed one of Bill's eyes and he can no longer see well enough to look through the scope on his Bushmaster. Fortunately, we ran into his friend, Carl, at Lepis Land, who was happy to step in as the marksman for the day. We pulled into a ditch and got to work shooting a series of half pound targets. Bill brought four boxes of Dragon's Breath with 18 kits in each box, totaling 36 pounds of targets. But we'd be setting them off individually of course.
The aluminum perchlorate is packed into plastic duck sauce containers Bill purchases from a restaurant supplier and the ammonium nitrate in slightly larger plastic Tupperware. Bill pours one into the other and the alchemy is complete. By the time we're ready to set them off, a small crowd has gathered and someone decides we should place the first target on top of a headless mannequin that's apparently been salvaged from the trash for such purposes. I hoot along with everyone else when Carl shoots it, a plume of smoke and dirt rising to the lowest branches of the surrounding trees. If anything, the experience is slightly anticlimactic and I can understand why one might want to place the target inside a cake or a broken toaster to increase the drama.
Just as this thought crosses my mind, Carl disappears for a few minutes and returns carrying two large buckets in either hand and a smile cracks across Bill's face. "Ahh, we're going to have cherry juice all over the place after this." Someone had dropped off a truckload of fermented bing cherries, he explains. They're no good for making pies anymore, but we can blow them up. "If we put it high enough we might get hit with some," Carl speculates. "We'll be taking a cherry shower."
With the cherries and target placed down range and everyone accounted for behind Bill's pickup, Carl takes aim. It takes him a few shots this time, but finally the bullet strikes the target and cherries rain everywhere. The range now smells strongly of fermented matter, like sauerkraut. The bucket has flopped over on one side and broken into a few large shreds. "Yee-haw," one of the guys says.
The cherries are followed by another round with the mannequin. Then they decide to blow a hole in a mound of dirt. After we've shot a handful more, Bill calls it a day. He offers me the rifle in case I want to see what it's like to pull the trigger but I decline. There are still three boxes of Dragon's Breath remaining and a few of the guys unload them and carry them off to a shack for later use.
Unlike Star Targets or most other brands of exploding targets, I haven't been able to find Bill's product available online. He sells them mostly at gun shows on the weekends and to people he knows. He's convinced that sooner or later they'll be banned or restricted in every state, as they already are in some locations around the country.
Maryland state legislators banned the sale of exploding targets to anyone without an explosives license in 2012. Joe Flanagan, a Maryland state fire marshal who lobbied for the bill says his team had been keeping their eye on exploding targets since 2008 when they started popping up in gun shops like Gander Mountain and Cabela's. "The industry was self-regulating," he recalls about those days. One of the bill's opponents was a Maryland State Delegate named Mike Smigiel, who shared his views on the right to bear arms in last month's issue of the Maryland Bar Journal: "For some, the second amendment is viewed as a restriction on the powers of government, while for others, it is treated as a political impediment to overcome."
Some District Attorneys in California started prosecuting possession of exploding targets as a felony in recent years. An Attorney General opinion in Tennessee early this year stated that exploding targets break the law. And the U.S. Forest Service considers exploding targets contraband on national forest land, where they are known to cause wildfires.
When exploding targets are banned, Bill Bahr says, people won't stop using them. "They'll go underground. It's just another law on the books cops can never enforce."
It's now been two years since Debra Rackley's accident in Arkansas. For about two months after it happened, Debra was bedridden. After that, she could be transported between her bed, the couch, and a wheelchair as she waited for her foot to heal. Her teachers dropped off her schoolwork and even gave her some lessons at home so she didn't fall too far behind. An athletic girl who was used to playing outside with her older siblings, Debra wanted to get out of bed sooner than she really could. She'll likely never be able to walk without a limp, but the doctors were able to save her foot, and for that, her mom says, their family is thankful.
Lead image: Machine gun enthusiasts aim their weapons downrange at a variety of targets loaded with Tannerite in West Point, Kentucky.