The BBC published an article about Victorian Christmas cards yesterday, tracing their history from the strange to the downright disturbing. In some, children languish in boiling teapots. Dead birds lie in the snow. Mice ride lobsters. Frogs stab other frogs. Bulbous snowmen clutch festive sprigs of holly.

"A joyous Christmas!" one card says. "Dear Friend!" another reads. "Accept my best wishes for the Season!"
Sir Henry Cole, a British civil servant, introduced the first commercial Christmas card in 1843. But it was only after the British government launched the first halfpenny stamps in 1870 that Christmas cards became affordable for the masses, according to BBC.
The resulting profusion of cards look like something from A Modest Proposal, in which Jonathan Swift suggests baking children in pies to feed the landed gentry, or Alice in Wonderland, with its frog footmen and leering Cheshire cat.
Pudgy and doleful, children stare out from their Christmas cards. The child languishing in the boiling teapot clutches a card that reads "A Christmas greeting with Love."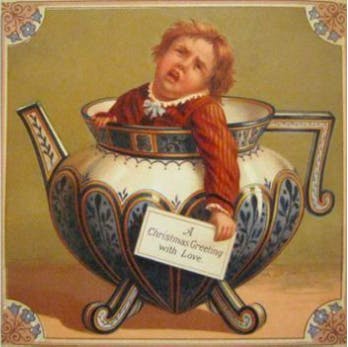 A deeply disturbing Christmas pudding leers from another card, sprouting legs made from wine bottles, a carving fork protruding from its side.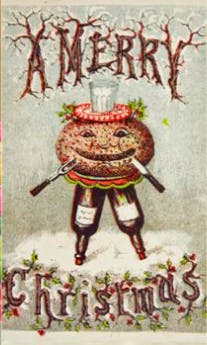 In another card, a dead robin lies on its back with the line "May yours be a Joyful Christmas."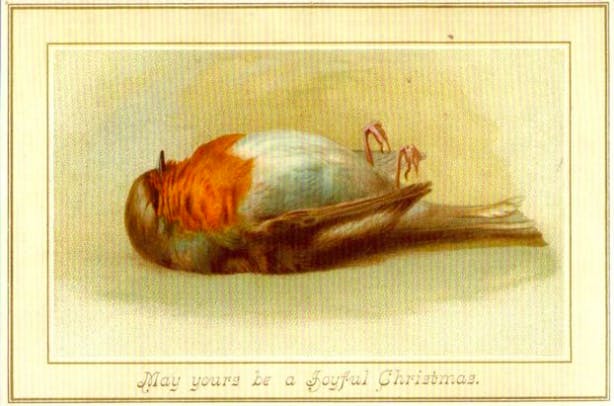 Needless to say, the Victorians knew how to ring in the New Year. Hallmark could learn a thing or two.