Grainy footage, doomsday headlines, and ominous newsreels were all over New Hampshire and Iowa television this week, as Republican candidates blanketed the early states with new attack ads. The GOP primary has reached its most savage phase, with the "establishment" candidates trailing Donald Trump and Ted Cruz in the polls fighting to emerge as the alternative.

The rush of negative ads has prompted some familiar hand-wringing. Ever since the first attack ads aired on TV in 1952, politicians and voters have argued that they are crippling American democracy. Former Senator Tom Daschle once memorably called them the "crack cocaine of American politics." By 2000, three in five Americans said they thought negative ads had no place in political campaigns. More recently, right-wing columnist Erick Erickson called some of the ads now airing in New Hampshire "character assassinations."
But a small cadre of political scientists now believes negative advertising is healthy for our political process—particularly in an overcrowded presidential primary like this one. "People may not like negative ads," says Vanderbilt professor John Geer, who has tracked negative advertising in presidential elections from 1960 through 2008. "But step back and think about what you want an ad to do—provide clear information, show us policy differences. Negative ads do that."
This week's fiercest broadsides were aimed at Marco Rubio, the Florida senator who's leading the pack of relative centrists. Right to Rise, the super PAC propping Jeb Bush up on New Hampshire television, launched an ad on Monday that likened Rubio to a weathervane, shifting his positions on comprehensive immigration reform wherever the wind blows. A PAC backing Ted Cruz savaged the Florida senator on immigration as well. Rubio has been hitting back: On Thursday, his PAC assailed Jeb Bush for "throwing mud at Marco Rubio." Last week his allies took aim at Chris Christie for raising taxes and cozying up to president Obama in the weeks after Hurricane Sandy. Christie fired back with an ad alleging that Rubio was helping Hillary Clinton with his attacks. (You can peruse all these ads at the bottom of this article, collected in our weekly Ad Wars round-up).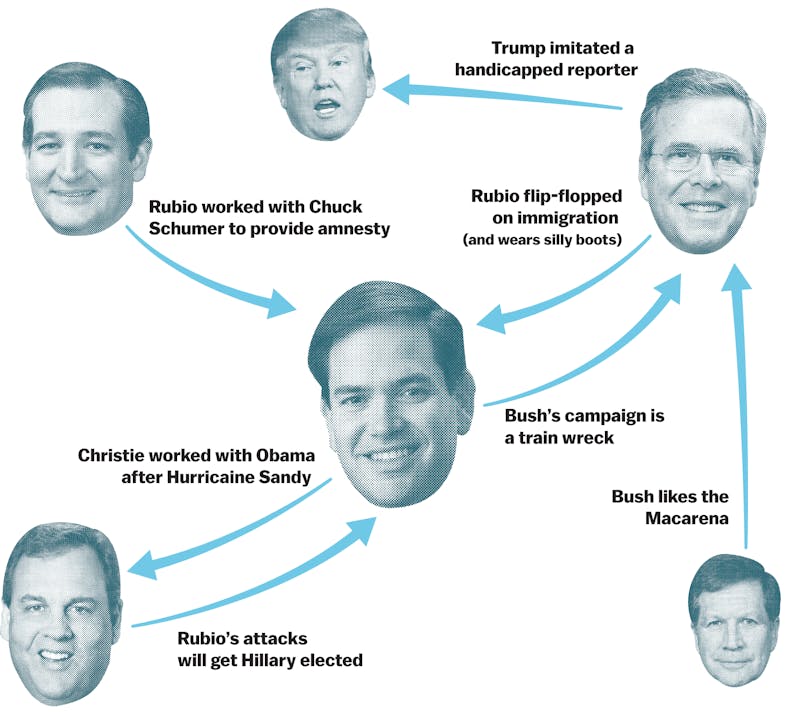 It may sound more annoying than edifying. But Geer, who authored the 2006 book In Defense of Negativity, and other political scientists contend that negative ads are generally more substantive and informative than the positive ones that feature smiling children, rippling flags, and vacuous statements about raising wages and lowering taxes. "When candidates are trying to sell themselves, there is every reason for them not to be specific, to obfuscate, to resort to puffery," said David Redlawsk, a Rutgers professor who coauthored the 2015 book The Positive Case for Negative Campaigning. "I strongly believe that negativity puts information into the environment that is valuable to voters."
Right now, Redlawsk argues, they are particularly important in New Hampshire. Most voters currently know very little about the 12 candidates still battling for the Republican nomination—and even less about what policies set them apart from the others. "In New Hampshire, where there's a pile-up of establishment candidates, it is going to be really important to differentiate between the candidates," Redlawsk said. "It would be hard to do that with positive ads."
THIS WEEK'S ADS

Jeb Bush: "Recovery"
Type: Biographical
Who paid for it? The Bush campaign
Reach: Less than a day after the Bush campaign posted the ad, which is airing in New Hampshire, the video got about 1,000 likes on Facebook (compare that to the 70,000 likes Donald Trump received when he posted his first campaign ad last week).
Impact: Bush explains how his daughter struggled with drug addiction, an important issue in New Hampshire, where an estimated 357 people died from drug overdoses last year. Bush may be trying to imitate Chris Christie with this ad. The New Jersey governor captured the spotlight last year while talking about his mother and her lifelong smoking habit.
Jeb Bush: "Enough"
Type: Attack
Who paid for it? The Bush campaign

Reach: Slated to air in New Hampshire, part of the campaign's rotating $4.6 million buy for the final weeks of the campaign.
Impact: In what may be the most savage spot directed at Donald Trump this cycle, Jeb Bush calls the television mogul a "jerk" for ridiculing a reporter with a disability.
Chris Christie: "Strong and Clear"
Type: Issue

Who paid for it? The Christie campaign
Reach: Airing in Iowa.
Impact: Christie is using a strategy that many Republican candidates have adopted in their ads over the past few months: Tell voters that you alone can keep them safe in the wake of the Paris and San Bernardino attacks. Christie underscores his experience "prosecuting and investigating terrorists" after September 11.
Marco Rubio: "Train Wreck"
Type: Attack

Who paid for it? Conservative Solutions PAC, the outside group backing Marco Rubio
Reach: Airing in Iowa, where, in late December, Conservative Solutions had reserved more than $4 million in ad time for the weeks leading up to the caucuses, according to the Des Moines Register.
Impact: After being pummeled by attack ads this week and last, Rubio is firing back at Jeb Bush, calling his campaign a "train wreck." The ad also tries to burnish Rubio's credentials, telling viewers that the Florida senator is a "recognized leader on national security."
Bernie Sanders: "Two Visions"
Type: Issue

Who paid for it? The Sanders campaign
Reach: The ad is airing on broadcast television in Iowa and New Hampshire. Sanders has $1.7 million in ad buys scheduled in the weeks leading up to the Iowa and New Hampshire caucuses, according to CBS.
Impact: While refraining from attacking Hillary Clinton directly—as he has throughout the campaign—Sanders contrasts his approach to the financial sector to hers, noting that she "took millions from big banks."
Hillary Clinton: "Stood Strong"
Type: Biographical

Who paid for it? The Clinton campaign
Reach: The ad is running in Iowa and New Hampshire. Clinton has reserved $3.3 million in TV spots in the next few weeks.
Impact: Clinton is trying to make herself appear presidential in the early states—in Iowa, Senator Bernie Sanders has come within two points of her in recent polls—by touting her record standing up to Russia and expanding insurance coverage for eight million children.
Hillary Clinton: "I'm With Him"
Type: Issue

Who paid for it? The Clinton campaign
Reach: The ad aired nationally on cable during the State of the Union, as well as on broadcast television in Iowa and New Hampshire.
Impact: Clinton both reaffirms her commitment to imposing stricter gun-control laws, which 73 percent of Democrats support, and subtly ribs Bernie Sanders. The Vermont senator previously opposed the legislation she advocates in this ad: laws that would instate universal background checks and hold gun manufacturers accountable when their guns kill civilians. With Sanders only two points behind her in the latest Iowa polls, Clinton may start using these talking points to rib Sanders more overtly.
Ted Cruz: "Marco's Pathway"

Type: Attack

Who paid for it? Keep the Promise 1, the PAC leading outside efforts for Ted Cruz
Reach: The ad is currently airing online in four early states: Iowa, New Hampshire, South Carolina, and Nevada—an ad buy that, according to the Texas Tribune, cost just $200,000.
Impact: This ad adeptly shows Rubio waffling on immigration and succeeds in yoking the Florida Senator to both the president and Chuck Schumer, the New York senator reviled on the Right.
Jeb Bush: "Vane"
Type: Attack

Who paid for it? Right To Rise, the PAC backing Jeb Bush
Reach: The ad aired in Iowa and South Carolina. By Thursday afternoon, three days after the ad came out, it had racked up only 11,000 views on YouTube.
Impact: Casts Marco Rubio as a dishonest "Washington politician," one who has wavered back and forth between offering amnesty in 2013 and vowing to stop illegal immigration today.
Jeb Bush: "Boots"
Type: Whimsical

Who paid for it? Right To Rise, the PAC backing Jeb Bush
Reach: Aired online only. On YouTube, it received more than three times as many "thumbs down" ratings as "thumbs up" nods.
Impact: Widely lambasted in the media, this spot's kitschy design and memorable jingle leave the intended impression: that Marco Rubio is an effeminate flip flopper. And it stays with you—if only because the jingle is impossible to get out of your head.