In this frantic week before the Iowa caucuses, the presidential candidates have inundated the state with campaign ads—their last chance to convince voters to brave expected snow showers and turn out for them on Monday night. Wherever Iowans turn the dial, there's Marco Rubio speaking earnestly about abortion, Ted Cruz telling voters Donald Trump has New York values, Hillary Clinton touting her experience standing up to health-care conglomerates, Bernie Sanders grinning broadly about America.
Not all these ads are Iowa-specific. The Internet age, when a voter anywhere can log on to YouTube and see what's airing in New Hampshire or South Carolina, has ushered in a level of homogeneity in political ads. But there is still such a thing as an Iowa Ad, and you know it when you see the imagery. Corn fields, silos, religious iconography, smiling white families and babies? Yep, Iowa.
Whether they appear in ads for liberals or right-wing stalwarts, the visual trademarks of the Iowa Ad are much the same—and so is their purpose: The candidates hope to convince Iowa voters that they get them.
But does this kind of Iowa-targeting really serve that purpose? To judge the effectiveness of this age-old Iowa advertising strategy, try and imagine the "Ultimate Iowa Ad." What would it really convey about the candidates, and about Iowans?
The four main elements of the Ultimate Iowa Ad, drawn from this year's crop of Iowa ads, are easy enough to identify.
1. Farmland. More Iowans now live in urban areas than on farms. But you wouldn't know it from the ads: Candidates still pepper their Iowa spots with clips of lush cropland. Even with their radically different political ideologies, candidates ranging from Ted Cruz to Bernie Sanders to Bobby Jindal have used almost exactly the same image of a sunlit field in their ads.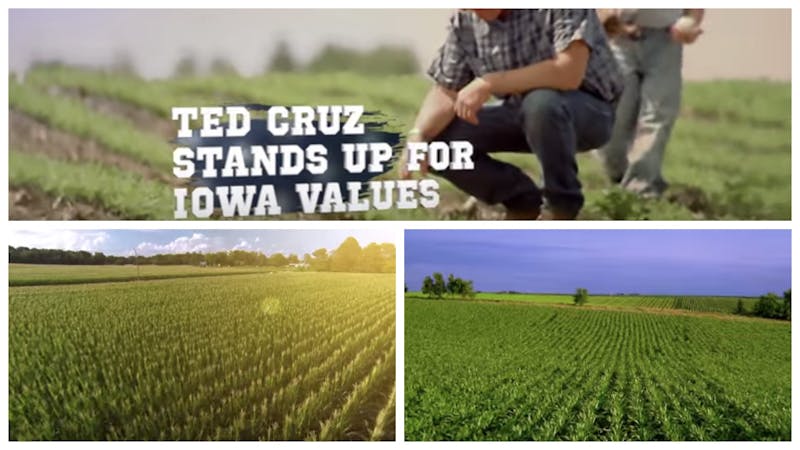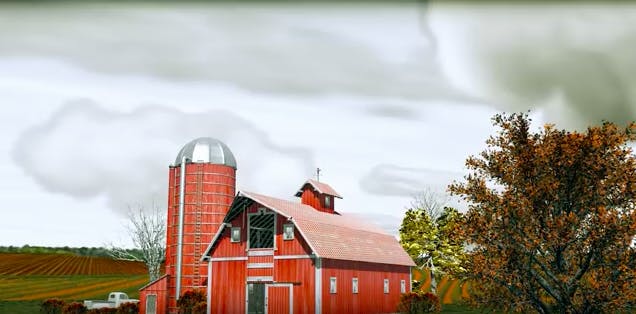 Bright red barns are also a popular choice. The super PAC Right to Rise, which backs Jeb Bush, and the Rubio campaign have both included nearly identical red barns in their ads.
2. Christian Iconography. It's practically obligatory for Republican candidates to expound on their Christian values in Iowa ads geared toward the 57 percent of Republican caucus-goers who identify as Evangelicals. Pursuing America's Greatness, a PAC backing Mike Huckabee, launched an ad in late December depicting folded hands on a Bible. Cruz is even less subtle: His campaign released an ad that same week called "Victories" that included pictures of the Ten Commandments and a cross, with the line, "Defended the cross. And won."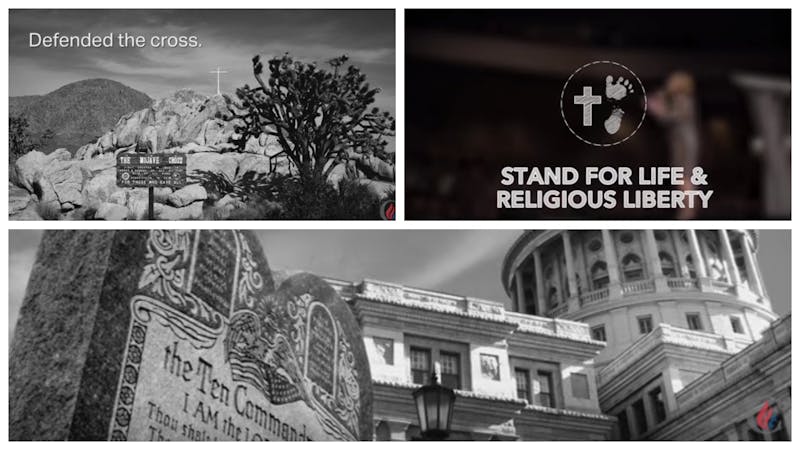 3. Babies. All candidates like smiling babies, but Republicans in Iowa especially seem to enjoy including them in their ads about abortion. In a recent Rubio ad called "Life," the camera cut to cherubic babies and his own smiling brood.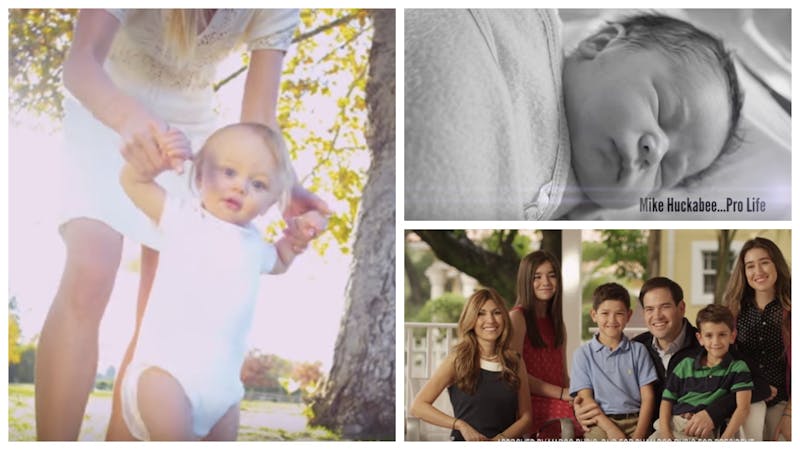 4. White People. Iowa is among the least diverse states in the nation, and the ads tend to reflect (if not exaggerate) its demographics. Almost every person in "America," the soaring Sanders ad released last week in Iowa and New Hampshire, was white. As Matthew Yglesias wrote at Vox, even "the soundtrack is very white." Republican ads tend to be overwhelmingly white as well.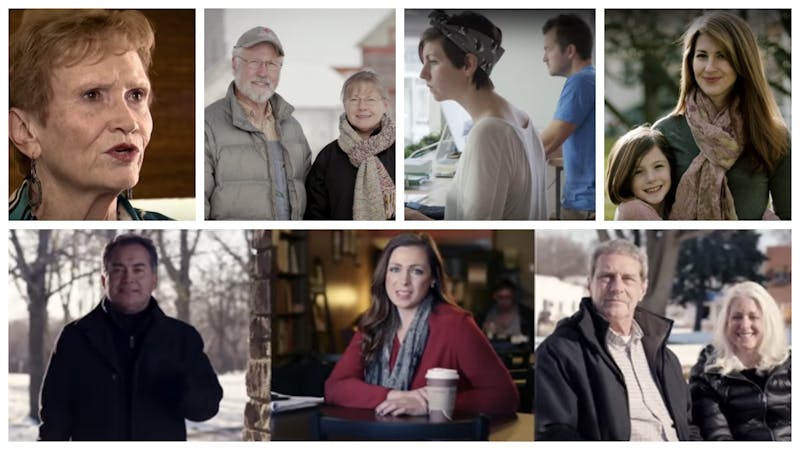 Splice the stock footage together, and you'd have the Ultimate Iowa Ad—or, at least, the Ultimate Republican Iowa Ad—a pastiche of white infants, white families, Christian iconography, and sunlit farms. You would also have the ultimate Iowa stereotype: a state depicted as a white, rural, devout American idyll—one that feels less like an Iowan's Iowa and more like what a New York advertising exec or K Street consultant imagines the first caucus state to be.
That's why the vast majority of Iowa ads fall flat: They blend into each other, creating a kind of numbing, nostalgic rural haze. They aim for "authenticity," but often convey precisely the opposite.
Thus, even the Ultimate Iowa Ad would fail, just as the regular old Iowa-targeted ads do, at its main purpose: convincing voters that the candidate understands the authentic Iowa experience and values.
THIS WEEK'S ADS:
With the flood of TV ads in the final days before Iowa, this week's round-up homes in on eleven of the most notable and notorious new spots. But all the new ads are listed below. And you can see them all—along with every presidential spot that's aired during this campaign cycle—at the New Republic's 2016 Campaign Ad Archive.
Donald Trump: "Clear Difference"
Type: Attack

Who Paid for It? The Trump campaign
Reach: Aired in Iowa, New Hampshire, and South Carolina, where Trump is spending $2 million a week on advertising.
Impact: Incorporating footage from an interview Ted Cruz gave Fox News in December, this attack ad shows Cruz stuttering when asked a question about immigration. The ad itself is pretty toothless. Its main impact was to give Cruz an opportunity to punch back with ads attacking Trump that were far more damning than this one.
Ted Cruz: "New York Values"
Type: Attack

Who Paid for It? The Cruz campaign
Reach: Aired in Iowa.
Impact: This may be the most effective attack ad leveled at Trump yet. It hits the mogul's weakest spots with GOP caucus-goers: that he once called himself "pro-choice in every respect," and that he once asked, "How stupid are the people of Iowa?"
Ted Cruz: "System"
Type: Attack

Who Paid for It? The Cruz campaign
Reach: Aired in early primary states.
Impact: You can almost imagine Donald Trump stream-rolling over little old ladies after seeing this ad. That said, voters seem to like the fact that Trump is a businessman and a millionaire, suggesting that calling Trump a heartless businessman may have little impact on the Trump faithful Cruz is trying to woo.
Other recent ads from the Cruz campaign: "Sovereignty," "Best to Come"
Ted Cruz: "I Like Ted Cruz"
Type: Attack

Who Paid for It? Keep the Promise 1, a PAC supporting Ted Cruz
Reach: Aired in Iowa and South Carolina, as part of a $2.5 million television ad buy.
Impact: This may not be the prettiest or most intricate campaign ad, but it is highly enjoyable watching Donald Trump heap praise on Cruz, calling him a "very popular and important figure in all of our lives and in this country's life."
Other recent ads from Keep the Promise 1: "Extreme," "Trumpcare"
Our Principles PAC: "Tough Questions"
Type: Attack

Who Paid for It? Our Principles, an anti-Trump PAC run by former Romney aides
Reach: Aired in Iowa, after Our Principles made a $1 million ad buy there.
Impact: The Republican National Committee should have released this ad months ago, when it first wanted to neutralize the threat from Trump. By now, though, the television mogul has had months to establish himself as a hardliner on immigration. An ad like this one, which suggests Trump supports a path to citizenship, may have trouble making a dent in his support before caucuses begin in four days.
Other recent ads from Our Principles PAC: "Questions"
Marco Rubio: "Defeating Hillary"
Type: Inspirational

Who Paid for It? The Rubio campaign
Reach: Aired in Iowa starting Thursday afternoon.
Impact: The last ad Rubio will have time to air in the final days before the caucuses, this spot sums up his rationale for running: America is heading in the wrong direction and only I can save it.
Marco Rubio: "Marcomentum"
Type: Inspirational

Who Paid for It? The Rubio campaign
Reach: Aired in Iowa, with a nearly identical, sister ad in New Hampshire.
Impact: While this ad and its New Hampshire companion ad are uneventful in and of themselves, their differing casts of characters are interesting. In the Iowa spot, Rubio includes clips of smiling young people and college students who support the Florida senator, while the New Hampshire version focuses on several retirees. Rubio is clearly trying to turn out different cohorts to vote in the early states.
Other recent ads from the Rubio campaign: "Eight Years," "Listening," "Marcomentum" (New Hampshire version)
Marco Rubio: "Yesterday's Over"
Type: Attack

Who Paid for It? Conservative Solutions PAC, the outside group supporting Rubio
Reach: Aired in New Hampshire.
Impact: This is the original Rubio message, before he turned negative—that he represents a new generation of conservative leadership, while his opponents hail from a former era. But with Rubio pummeling his opponents nonstop on the airwaves, he'll find it hard to recapture his older, hopeful persona.
Mike Huckabee: "Serious"
Type: Serious

Who Paid for It? Pursuing America's Greatness, a super PAC backing Mike Huckabee
Reach: Aired in Iowa.
Impact: Huckabee crams a lot into these 60 seconds, making this ad sound like more of a history lesson or a lecture on appropriate presidential behavior than a campaign ad.
Bernie Sanders: "American Horizon"
Type: Inspirational

Who Paid for It? The Sanders campaign.
Reach: Aired in Iowa.
Impact: Sanders is recycling many of the elements in his "America" ad released last week, adding a slightly more diverse cast. Still, this spot follows pretty much the same talking points in his stump speech (universal health care, equal pay, and a rigged economy), intended to galvanize his supporters rather than convince Clintonites to decamp.
Hillary Clinton: "Real Progress Now"
Type: Issue

Who Paid for It? The Clinton campaign