On June 14, 1991, Kasich, then a congressman, tried to rush the stage at RFK, but was blocked by the band's tour manager. Kasich tried to pull a "Don't you know who I am?" but the manager was unmoved and Kasich was ejected from the stage. The Washington Post has a great writeup, but, as the New Republic's resident deadhead, I thought I'd share a few observations.
1. The RFK show is one of the best '91 shows and '91 was the last pretty good year of the post-coma era. RFK is also a rarity in that it features both Vince Welnick (bad) and Bruce Hornsby (good) on keys. Kasich wilding out is still pretty embarrassing, but he picked a good show to do it.
2. Kasich got his tickets through the opener, Dwight Yoakam. Yoakam was at the peak of an epic run between 1985-1993. The fact that Yoakam opened for both the Grateful Dead and X during this period is insane. More points for Kasich.
3. We can only speculate as to when Kasich jumped on stage, but the setlist offers some hints:
Set 1: Cold Rain And Snow, Wang Dang Doodle, Jack-A-Roe, Big River -> Maggie's Farm, Row Jimmy, Black Throated Wind, Tennessee Jed, The Music Never Stopped

Set 2: Help On The Way -> Slipknot! -> Franklin's Tower, Estimated Prophet, Dark Star -> Drums -> Space -> Stella Blue -> Turn On Your Lovelight

The first set isn't fantastic, so the start of the second set, particularly "Slipknot! -> Franklin's Tower" seems like the best bet, though it's also possible that Kasich jumped on stage because the Dead only played one verse of "Dark Star."

4. Bob was wearing the shorts: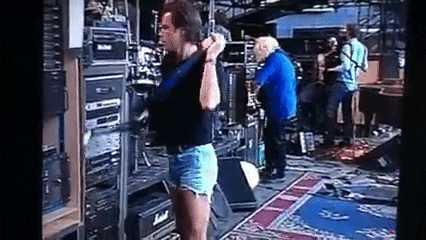 5. Jerry's hair was phenomenal: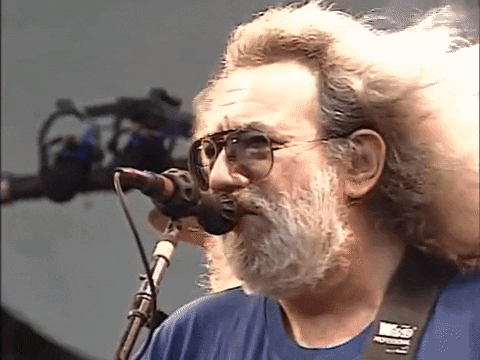 You can watch the show (and look for John Kasich) here.