The books of Hungarian writer László Krasznahorkai have a habit of undergoing strange transfigurations. In War & War, the character György Korin begs to see an igloo-like sculpture by the artist Mario Merz, and ends up committing suicide—whereupon the real-life Merz was so moved by this fiction that he immediately began planning a new igloo in Korin's memory. The hellish drama of Satantango, Krasznahorkai's first novel, originally escaped the author's language not by translation, but by adaptation into film: Eighteen years before English readers could enjoy George Szirtes's translation, aficionados sat through seven subtitled hours of Béla Tarr's long takes and desolate Hungarian landscapes.
These long takes are an unexpected cousin of Krasznahorkai's characteristic long sentences, which unfurl and cascade and run untrammeled for pages on end. Like a camera slowly panning over a boundless Mitteleuropean plain, these clauses and phrases encompass an entire world, forcing a multiplicity of meanings from discrete images. Where one word could fit, two or three are to be found; a single instant engenders five or eight or 13 perspectives.
Against all odds, this labyrinthine prose has won the writer many devotees and a place in our contemporary literary canon. Last year, when Krasznahorkai was honored with the Man Booker International Prize at the age of 61, he explained his writing to a journalist with a simplicity that bled into the perverse: "Letters; then from letters, words; then from these words, some short sentences; then more sentences that are longer, and in the main very long sentences, for the duration of 35 years. Beauty in language. Fun in hell."
This enthralling hell is everywhere in Krasznahorkai's work, but becomes most visibly real in the twenty-first century China described in Destruction and Sorrow Beneath the Heavens, a book-length investigation that represents a different kind of transfiguration for an author best known in the Anglophone world for his fiction. The book originally appeared in Hungarian in 2004, and is finally being published in English translation by Ottilie Mulzet this week. Subtitled Reportage, this slim volume is decidedly nonfictional; rather than peopling an imagined city, it casts a prolix eye over all the real miseries of the Middle Kingdom.
The protagonist may well be Krasznahorkai himself, but we are only ever introduced to him as "László Stein," a visitor to China utterly dependent on an interpreter who ferries sentences between Chinese and Hungarian. The two of them take rickety buses and descend unsteady stairs carved into mountains, shiver in cold, rainy weather, and sip tea in workshops where Buddhas are carved. Stein's hope is to find pockets of authenticity in a country being overtaken by ravenous consumerism, and to do this he and his interpreter "are now decisively avoiding everything about which they determined ... to be false, fraudulent, fake, not original, rubbish, just a bad copy." Because so much of what they see has been erased or destroyed, each encounter with authentic history and culture feels revelatory. The first quarter of the book is given over to describing a bus trip and the two men's arrival at a monastery, and when they finally see the peak of a mountain they are headed for, even the weather changes from rain and fog: "The sun is shining everywhere, it shines directly through the grimy windows of the minivan, every color is sharp, deep, warm, and everything is floating in the green." But the experience is fleeting, and every such illumination is swiftly followed by further fog and darkness.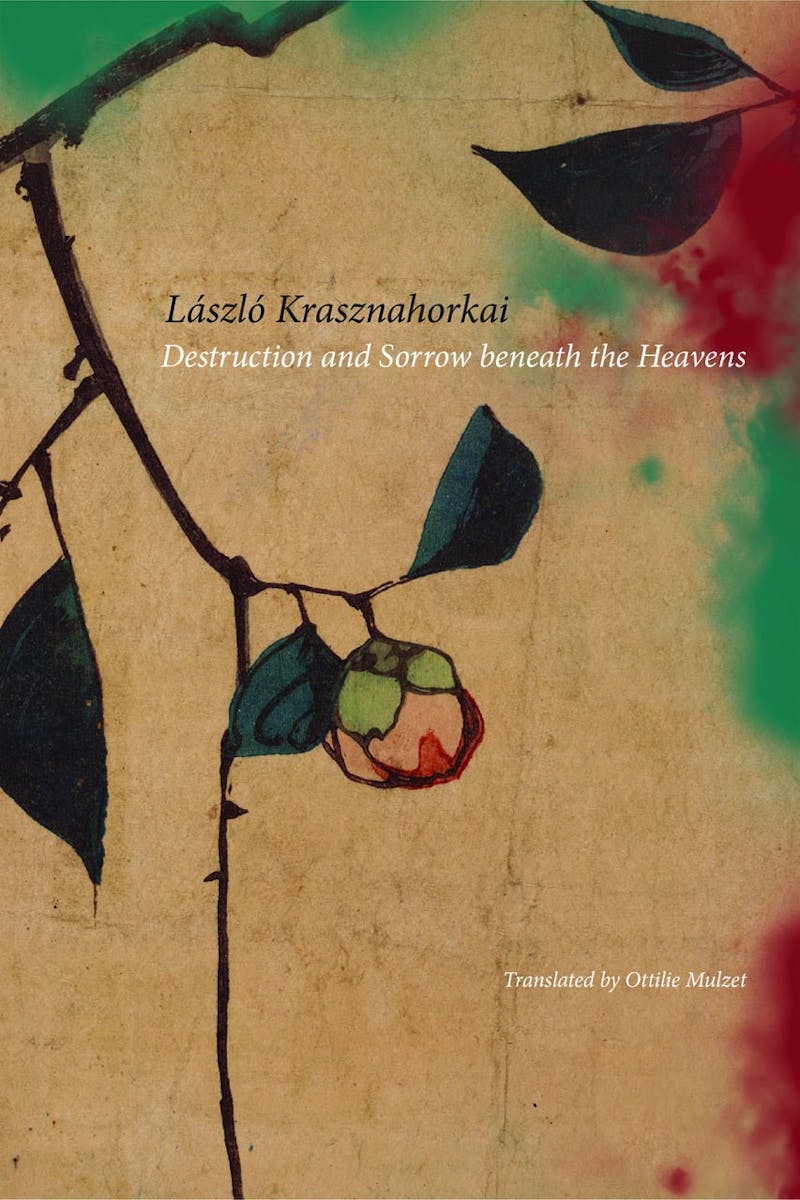 Still, in Krasznahorkai's eyes China has preserved enough of its tradition and cultural history that there at least remains some hope for such moments, which in turn can open the door to transcendence. At one point, a workshop master expresses astonishment that Hungary's population is merely ten million people, in contrast to China's billion-plus, and hints that the larger population inherently has greater cultural wealth and stability. Both countries have suffered under Communist regimes, but China has not experienced the isolation of a quasi-orphaned language or the ruination of World War II. If Krasznahorkai's homeland is merely waiting for another apocalypse, as his books suggest, then China offers the beauty and history he seeks.
But he is no Orientalist intent on colonizing and oversimplifying this foreign culture. Indeed, he detests the tourists whose dollars and euros are turning its cities and towns into flashy attractions and empty façades. A Chinese professor presumes that Stein is romanticizing China: "You, sir, have only been here a few days, and you only see the surface." Stein's riposte underscores his emotional involvement: "He has been here for months, and not for the first time ... he has been coming here since 1990, and he sees an unrelenting process." The question is if there is some way to stop or reverse it.
---
The remaining three-quarters of Destruction and Sorrow Beneath the Heavens is given over to conversations between himself and various Chinese representatives—professors, monks, carvers, passersby—many of whom do not even seem aware of how much is swiftly being lost in the name of progress. László Stein is sustained by the thought that "the sky that clouded above him was the same sky that clouded above Li Taibai and all of Chinese classical poetry, and all of Chinese tradition, and this filled him with happiness just to know that it was the same sky; only now he feels so uncertain." When he mentions this thought to a smoker named Tang Xiaodu, he objects. "No, these are not the same heavens any more, he answers very softly, all the while not looking at Stein. Here on the earth below, everything has changed. There is no more Buddhism, no more Taoism, there are no monasteries, no painting and no music, no poetry and no tradition—everything here below has changed, so how then could the heavens above us be the same?"
László Stein's astonishment is all the greater, then, when near the end of the book Tang Xiaodu sends him to the Garden of the Master of the Nets. "They perceive that the Suzhou Garden exists, and that the classical beauties of this stratum have remained, in their essence, undisturbed ... he has stepped into the lost traditions of China; Stein does not understand how this can be possible, but this is how it is." The traveler and the interpreter walk around the space, and the experience is so enthralling that it is as if time has stopped; the sun's descent shakes them out of their reverie but does not shake their newfound reverence. Maybe, this book suggests, the past can indeed be preserved and beauty can transcend destruction and mere mortality.
Destruction and Sorrow Beneath the Heavens is a travelogue in the broadest sense of the term, and like all great travelogues it links a change in scenery to a change in emotional state. The book opens with one bus trip—"There is nothing more hopeless in this world then the so-called southwestern regional bus station in Nanjing on May 5, 2002, shortly before 7 o'clock in the drizzling rain and the unappeasable icy wind"—and ends with another one, a parallel that serves to underscore the transformation László Stein has undergone in the time between, from anxiety to shaky hopefulness.
It is a transformation Krasznahorkai, too, has experienced. As more and more of Krasznahorkai's œuvre has been translated—poetically by George Szirtes, rigorously by Ottilie Mulzet—our image of him has grown more complicated. His first books to be brought into English were adorned with Susan Sontag's assessment: "the contemporary Hungarian master of the apocalypse." Four years ago, there was a collective head-scratching from the Anglophone literary establishment as readers tried to harmonize this grim ethos with the luminous vignettes of Seiobo There Below, many of which were set in Japan. How could two such extremes be found within the same Hungarian master, and be expressed in the same intricately woven prose?
Perhaps Destruction and Sorrow Beneath the Heavens provides this answer. Krasznahorkai requested that the English translation call his protagonist László Stein, but in the original Hungarian edition he chose the moniker László Dante. This allusion to the Divine Comedy is telling: This volume of reportage, published after a series of infernal fictions and before the paradisiacal series of stories in Seiobo, thoroughly chronicles Krasznahorkai's purgatorial turn from pessimism to desperate optimism. When Krasznahorkai realizes that the world of his fictions is not even slightly fictional, when the hellish emptiness and ennui of his native Hungary is all too visible in foreign lands, then the result can no longer be to go on creating the same fictions. If he wants to change the real world with his own words, much as his fictional Korin roused the actual artist Merz to create new art, then his fictions must perform a new kind of magic. Rather than chronicling the despair of all that is lost, his words now celebrate what remains. Ottilie Mulzet's translations of Destruction and Sorrow Beneath the Heavens, Seiobo There Below, and the forthcoming, appropriately titled The World Goes On herald this second act. For so many years, Krasznahorkai's name was synonymous with apocalypse. Now Krasznahorkai has transformed and transcended; he has changed from an angry prophet to a wide-eyed archivist and a hopeful seeker.