Late in Yaa Gyasi's debut novel, Homegoing, Marjorie Agyekum's favorite teacher, Mrs. Pinkston, invites her to read a poem during an African American cultural event at her high school in Huntsville, Alabama. But she hesitates to accept, explaining, "I'm not African American." Though she's been raised in the United States since infancy, Marjorie and her parents are Ghanaian immigrants. Hearing her resist African American identity, Mrs. Pinkston instructs Marjorie that, "here, in this country, it doesn't matter where you came from first to the white people running things. You're here now, and here black is black is black."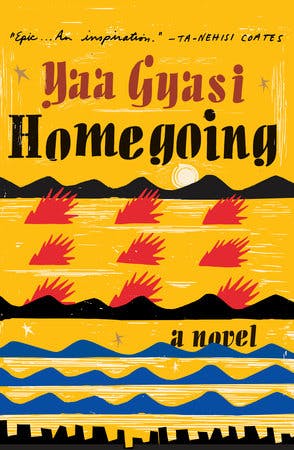 This is both a telling and a tricky moment: Mrs. Pinkston's explanation of how white Americans flatten all black bodies into a single category arrives in the novel's penultimate section; by this point in the book, Gyasi has for 277 pages been attempting to define a kind of elasticized blackness, a kind of familial identity that might span the Atlantic Ocean.
This instance of paradoxical flattening and elasticizing suggests to me that Homegoing is really two, interlaced novels. On the one hand, Gyasi has produced an American novel that relies on African American literature's thick web of tropes, scenarios, and stock characters from exalted slaves to heroic laborers to heroin junkie jazz geniuses. Because her American fiction renders those literary tropes as clichés, black American experience—from slavery to freedom to the 21st century—has been narrowed, flattened into something especially recognizable to white readers.
On the other hand, Gyasi seeks to complicate the idea that "black is black is black" with an Afro-diasporic novel about one Ghanaian family's participation in the Transatlantic Slave Trade and the curse-like consequences wrought on its future members because of it, from colonialism to independence. Though an accursed fate seemingly awaits these Africans, Gyasi has portrayed them as characters who can actively resist the demands of ethnic allegiance.
---
With the exception of its earliest chapters, Homegoing floats without plot. Gyasi's narrative follows the lines of descent that flow from two half sisters, Effia and Esi. The sections are named after male and female descendants, each one representing a specific stage in the seven generations Gyasi imagines; each section is a standalone short story. Gyasi turns her attention from one matrilineage to the other, linking each section into a whole structure, like the spiraling branches of a DNA helix. She opens her narrative with a rape, a birth, a runaway, some domestic violence, some British colonial intermarriage, warfare between the Asantes and Fantes, and, looming in deathly shadow, the Transatlantic African slave trade. The fiction gets heavier with each new section, as Gyasi examines the consequences of the slave trade and slavery on the family branches in the Gold Coast and in America.
In the 1750s, at the beginning of the family history, a young girl named Maame is captured during a skirmish between the Fantes and Asantes, and goes to work as a servant in Cobbe Otcher's compound. Cobbe, a warrior and a big man in his village, rapes and impregnates Maame. On the night that Maame gives birth to Effia, she scorches Cobbe's yam fields with a fire that "lived off the air...slept in caves and hid in trees" until it extinguishes itself at the edge of an Asante village. And Maame disappears with the fire. Years later, in the mid-1760s, Cobbe arranges a marriage between Effia and the British colonial governor, James Collins. It's part of a political strategy to keep this Fante village in good standing with the British slave trade. Effia moves into the Cape Coast Castle and eventually gives birth to a son, Quey.
When Maame resurfaces in the novel, many years have passed: She's married to Big Man, living in a distant Asante village, and raising her daughter, Esi. When their village is raided, Maame doesn't run, refusing to replay her fiery race to freedom, and forces Esi to seek safe haven alone. Before the child leaves, Maame gives her a "black stone, glimmering with gold," explaining, "I left one like this for your sister...after I set the fire." Before Esi can learn the full tale, Maame sends her into the nearby bush to hide. Esi is soon captured, however, and sold to the British. For a short time in the novel, unbeknownst to each other and linked only by the two black stones, the sisters are both living in Cape Coast Castle: Effia in the governor's residence and Esi in the slave holding.
In Cobbe's mind, Maame's fire is the bad omen that prefigures this upstairs/downstairs irony: "Cobbe had lost seven yams, and felt each loss as a blow to his own family. He knew then that the memory of the fire that burned then fled would haunt him, his children, and his children's children for as long as the line continued." Before her capture, Esi learns her fate when her family's house girl, Abronoma, tells her, "You are not your mother's first daughter. There was one before you. And in my village we have a saying about separated sisters. They are like a woman and her reflection, doomed to stay on opposite sides of the pond."
Once Gyasi announces these maledictions, the children springing forth from Effia in Gold Coast and Esi in the American South—opposite sides of the pond—must endure a litany of misery and misfortune until their 21st century American descendants return to Ghana searching for home.
Along the way we meet several of Gyasi's well-drawn African characters. Take, for example, Abena, Effia's great-granddaughter, whose beloved, Ohene Nyarko, can take her as his second wife only when their village returns to its previous agricultural wealth. Though her father, known throughout the village as Unlucky, had changed his name to escape the family curse, we learn that the disquiet has followed him, spreading from his low yielding farmland to the whole village. Near the end of the 19th century, when fertility returns to the land, Abena "knew she would not wait" for the promised marriage to be fulfilled, realizing instead that she must leave for Kumasi, her ancestral city, to make her own future.
Four sections later, in the midst of Gold Coast's 1950s independence movement, we meet Yaw, Abena's great-grandson, and we learn that the family curse has manifested as scar on his face. A middle-aged historian and teacher at an all boys school, Yaw trains his students (and the readers) to realize that, "History is Storytelling." Though the curse is physically visible to others, its power begins to diminish when Yaw's estranged mother, Akua, finally narrates the family history and the story of his scar, chanting as closure, "Be free, Yaw, be free."
---
Thus far, critics like Ron Charles in The Washington Post and Isabel Wilkerson in The New York Times have received Homegoing warmly, citing Gyasi's formal architecture as a source of their enthusiasm. However, as Laura Miller intimates in her review of Homegoing for The New Yorker, Gyasi is not yet a polished prose stylist. One must turn away from Gyasi's prose as a source of delight, critics suggest, and find pleasure in Homegoing's collected narratives and in its overall structure. In doing so, one confronts a problem: To read Gyasi's structure as innovative is to ignore or forget that writers like John Edgar Wideman, Edwidge Danticat, and Chimamanda Ngozi Adichie have imagined Afro-Diasporic experiences via the short story or the novel-in-stories form to much greater effect that Gyasi mounts here.
Wideman's Damballah and Danticat's The Dew Breakers are dramatic examples of how the novel-in-stories structure can allow authors to illustrate the consequences of violent traumas on black Americans and Haitians, and how those effects are passed on generationally. Gyasi's frontispiece, a family tree, even recalls the family tree and "Begat Chart" at the front of Widman's collection. Adichie's short story "The Headstrong Historian," about a Nigerian family's experience with British colonialism, the slave trade, generational curses, and historical storytelling ought to be read as a shorter-form template for Gyasi's novel-length exercise here.
All writers borrow narrative strains and literary techniques from other writers. And Gyasi, like other literary novelists, is working in a form whose animation often demands reference or allusion to previously published novels and other literary forms. But the resemblances between Gyasi's novel and the works mentioned above are noteworthy because they highlight another problem buried in Homegoing: Gyasi's narrative logic depends on readers not imagining or otherwise forgetting that familial links exist—via slave trade or emigration—between black people in the Americas and Africans on the continent. Even more, Gyasi's work depends on readers not knowing African American literature or recognizing her undigested references.

Throughout the novel, with each new American generation, Gyasi, under pressure to create original African American narratives, resorts to barely disguised invocations of John Henry's sledgehammer heroics, Solomon Nothrup's 12 Years a Slave, and any number of passing narratives from Nella Larsen's Passing to Fannie Hurst's An Imitation of Life to Philip Roth's Human Stain to Bliss Broyard's One Drop. The section called "Sonny" is the most egregious example of Gyasi's short cutting: Instead of a narrative, it's a bricolage of themes, settings, and symbols—political hopelessness, Harlem heroin dens, prodigious jazz musicianship, gospel singing as soul balm, and trembling-cup salvation—from James Baldwin's fictions, specifically "Sonny's Blues."

---
Though none of Homegoing's characters are fully realized, characters like Effia, Quey, Abena, and Yaw make it clear that Gyasi is an imaginative and talented artist. So, why would she sabotage her fiction with cliché-riven renditions of African American life?
Last year, when Marlon James suggested that writers of color must pander to white women editors and critics in order to publish regularly and sell books, many writers of color seconded James's estimation. Few of us, however, tried to outline why those editors and critics require writers of color to fashion their works according to industry perspectives or how the pandering manifests itself in the work.
For the most part, Americans have rejected their own history. We luxuriate in our ignorance and amnesia about the heavy human toll caused by the nation state's establishment and maintenance of its enormous power. Though we lay claim to and celebrate "diversity," ethnic Americans must continually reaffirm to white Americans that people of color and their histories define Americanness at both subatomic and superstructural levels. In other words, American identity as whiteness has never been true. And yet, whiteness remains the bridge we're forced to cross continually in order to claim our collective identity and history. Even more, when we narrate stories about those so-called marginal identities and experiences, they're often addressed to or meant to support whiteness, like the cables, towers, and abutments of a suspension bridge.
In Homegoing, Gyasi's American stories illustrate a version of this kind of pandering. The novel is not meant for those readers, who've been living like Marjorie–Africans in America–or who've been reading and thinking about African and African American writing seriously. Perhaps I'm taking this too personally: I'm Congolese American; I think and write about Afro-diasporic literary art and culture for living; I take African American literary fiction very seriously. It's also possible, however, that some who helped fashion and package Homegoing didn't feel as though a novel about Africans, slavery, colonialism, independence, and African immigrant life in America would appeal to American readers unless they were offered imitations of black American life to use as guide posts in unfamiliar terrain.

As Isabel Wilkerson points out in her review: "The only African-American student we meet is a girl named Tisha, who ridicules the studious Ghanaian. 'Why you reading that book?' Tisha asks her. When Marjorie stammers that she has to read it for class, Tisha makes fun of her. 'I have to read it for class,' Tisha says, mimicking her accent. 'You sound like a white girl.' It is dispiriting to encounter such a worn-out cliché—that ­African-Americans are hostile to reading and education—in a work of such beauty." Indeed, who are the readers benefiting from this kind of scene? Moments like these in Gyasi's American stories detract from her stronger Ghanaian stories.
I think the original and essential irony in both our politics and our culture is that we claim ethnic "diversity" while simultaneously serving (if not desiring) "whiteness as Americaness." It's an incongruity that seems especially conspicuous when new literary works about Black Atlantic history, like Homegoing, are promoted as delivering a new or artistically innovative narrative. But, as Gyasi's novel begs, who is the audience for these works and what makes them new or innovative? Though we have built a substantial, consequential literary artistic tradition about the African slave trade and black experience in the western hemisphere, it seems that writers must tell these stories repeatedly because Americans ignore and forget them willfully.