On a Wednesday evening in mid-June, a crowd comprised predominantly of Soviet-born immigrants to the U.S. gathered at Encore Restaurant, a gaudy supper club in Bay Ridge, Brooklyn, for a fundraiser honoring Malka Shahar, a 52-year-old Russian émigré running as a Republican candidate to represent South Brooklyn's District 47 in the New York State Assembly. Shahar took the stage, dotted with disco lights and shrouded in fog machine smoke, and put her hand over her heart. A hundred guests followed suit, and a pre-teen wearing plastic jelly sandals belted out the "Star Spangled Banner." When the song ended, the guests sat, and John Abi-Habib, former vice-chairman of the Kings County Republican Party, gave opening remarks.
"We have a woman of distinction who is going to take Brooklyn by storm!" he said. "Today is about the future of the people who represent this beautiful party."
For three hours, the guests discussed political and cultural events over trays of elaborately arranged Russian food, and watched performances by a violinist, a poet, a singer introduced as "the great and legendary Russian émigré Vladimir Mazenkov," and several out-of-tune children. The festivities ended with Shahar on stage swaying gleefully next to a septuagenarian in a Trump T-shirt who sang Frank Sinatra's "New York, New York," then threw his hands up and yelled, "Remember to vote for Malky! Remember to vote for Trump!"
It's unsurprising that a Soviet-born candidate from Bensonhurst, a South Brooklyn neighborhood with a significant Russian-speaking population, would run for office under the Republican banner. Soviet émigrés in the U.S., particularly in New York City (which is overwhelmingly Democratic in presidential elections), are often conservative. Insulated within Russian-speaking communities, many have a residual discomfort with liberal social issues, like LGBT rights, that were taboo in the Soviet Union. They also distrust the Democratic Party's support for bigger government, which reminds them of the socialist state they left behind. And they have a longstanding affinity for Ronald Reagan—and candidates who may resemble him—for his role in bringing down the Soviet Union.
What is surprising, however, is the number of Soviet-born immigrants in Brooklyn who support Trump but hate the man with whom he's increasingly linked: Vladimir Putin.
In Nothing is True, Everything is Possible, his book about modern Russia, the journalist and former TV producer Peter Pomerantsev describes Putin as "a made-for-TV projection … one minute diplomatically rational and the next frothing with conspiracy theories." The Kremlin, writes Pomerantsev, "has perfected the fusion of authoritarianism and reality television." Since he entered the presidential race a year ago, Trump, a real estate mogul, former reality star, and grand perpetuator of the birther conspiracy theory, has been accused of turning U.S. politics into a reality show. Like the Russian president, who relies on unchecked vigilantism to instill fear in his population, Trump has awakened something visceral within his supporters; they have turned violent against protesters and threatened journalists reporting Trump's more unsavory attributes.
Commentators frequently compare the two men, pointing out their impulsive behavior, manipulation of information, denouncement of political correctness, and disdain for checks and balances. But more than a likeness, they share an affection. Last year, Trump said he "would get along very well with Vladimir Putin" and that "at least he's a leader, unlike what we have in this country." Putin, in turn, called Trump "an outstanding and talented personality," adding, "He is a bright and talented person without any doubt."
And yet, their connection runs even deeper. Trump's political strategist, Paul Manafort, is known for representing dictators such as Viktor Yanukovych, Ukraine's Kremlin-backed president who was ousted in 2014. Trump's purported Russia advisor, the billionaire Carter Page, is a former adviser to Russia's national oil company, Gazprom; recently he gave a lecture at Russia's New Economic School accusing the U.S. of corruption, unfairness toward Russia, and a return to Cold War tendencies.
Earlier this week, the Trump campaign gutted an amendment in the new Republican platform to give weapons to Ukraine to defend against Russian and rebel aggression; the final language calls for "appropriate assistance" rather than "providing lethal defensive weapons." And in an interview with The New York Times published late Wednesday, Trump raised doubts about whether America's NATO allies could count on the U.S. military's support if Russia attacks them.
Nonetheless, such links elude candidate Shahar, who prides herself on being an anti-Putin activist. "It's a myth that Putin is strong, that he is able to control," she told me. "All the power he has today is because of the money he stole from Russia [and] the corrupt, criminal group that he represents." Shahar believes Trump will negotiate with Putin, and that his sympathetic actions toward him are part of a plan to improve U.S.-Russia relations.
Much of Shahar's goodwill toward Trump comes from her friend, the late Morton Sorkin, a developer who built homes in Brooklyn with Trump's father. "Donald was always in the office, would do any dirty job happily, and listened to his elders," she told me. She sees Trump today as a successful businessman with a good moral compass. "He is not racist, not a woman hater. People are falsifying the facts."
She's far from alone in her support. In Brighton Beach, a Soviet émigré enclave in South Brooklyn, Trump earned 84 percent of the Republican vote in the 2016 primaries—one of the highest percentages in the city. During summer, the neighborhood feels like a Soviet resort town. Women stroll arm-in-arm along the extensive boardwalk, and in outdoor cafes potbellied men drink beer and kvas, a fermented beverage made from black bread.
"Trump is a tough man, he's badass," said Igor Bergin, a 56-year-old Trump supporter from Odessa sitting at a scratched-up wooden table facing the ocean.
"Strong man like Putin," his friend Vladimir Kurpakov, a 49-year-old ethnic Russian from Kazakhstan, said in English-sprinkled Russian.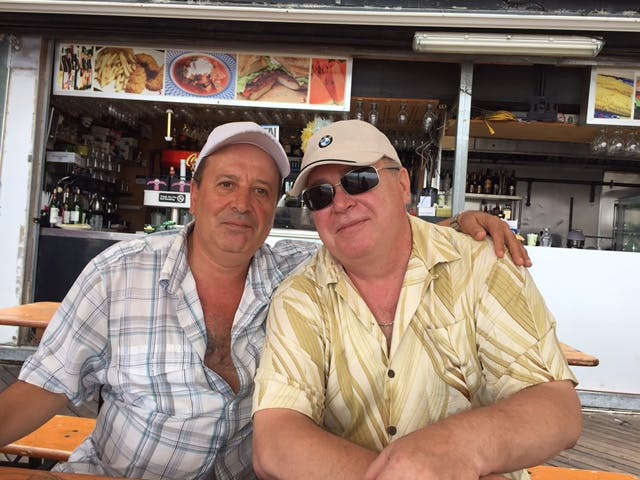 Bergin, whose beach-themed business card advertises him as a certified Russian-English-Ukrainian translator and income tax specialist, told Kurpakov to stop interrupting. "Trump is nothing like Putin! He's a businessman! Putin's a tyrant who's trying to be Comrade Stalin and failing!"
Kurpakov shook his head. Putin is doing great things for Russia, he said, and Trump will do the same for the U.S. The prospect of a Trump presidency makes Kurpakov a bit uneasy, however, because his wife is an undocumented immigrant. "But I think justice will prevail," he said. "People who want to pay taxes, why not keep them here?" (Trump has promised to deport all undocumented immigrants.)
Farther along the boardwalk, Irina, a 61-year-old journalist from Siberia who moved to the U.S. four years ago because Putin was "robbing the country," said she likes Trump's ideas to stop terrorists from entering the U.S. "We need some very harsh measures."
Irina first visited the U.S. when Reagan was president. She's wistful for that time. Most immigrants in Brooklyn were Italian, she said, and the streets were clean and beautiful. "Now there are Chinese immigrants everywhere. Of course, Russian immigrants have their role, but everything is dingy and less civilized. It no longer feels like America."
On a side street abutting the beach parking lot, Nadia, a 35-year-old Ukrainian émigré, smoked a cigarette while on break from her secretarial job at a podiatrist's office. She squinted angrily and said, "Obama hasn't done one good thing for the country and Clinton will make it into an even bigger mess." She remembers the U.S. she immigrated to in 1994 as a completely different place. Now, she told me, people are shooting each other, shooting the police, and no one respects anyone. "But if you say anything, you're a racist." Trump, she believes, "will end all this criminality."
Nadia dislikes Putin and thinks he and Trump share "a certain cruelty." With Trump, she said, "It will be like Stalin's times. But I think we need that in America right now. I think then we'll at least have some sort of order."