When I tell people my favorite artist of the decade is Carly Rae Jepsen, I almost always have to clarify she is the singer of "Call Me Maybe" fame. Then, inevitably, I get the Ann from Arrested Development treatment—"...her?"
Outside of the isolated music-criticism blogosphere, "Call Me Maybe" has overshadowed everything else Jepsen has done. Most of the world sees Jepsen as a one-hit wonder who, despite her critically acclaimed album E•MO•TION (2015), will never again rise to the pure, vigorous, synth-sledgehammer-like fame that was "Maybe." While Jepsen's hit single has sold more copies worldwide (18 million) than the number of Twitter followers she has been able to garner (11 million), E•MO•TION sold only 16,000 copies in its first week, a poor showing by comparison.
But here's a secret: If you have listened to E•MO•TION, you love it. Just look at the cult-like following Jepsen has amassed in lieu of actual album sales. Her fans sing the words to every lyric of every song at her concerts. They start trends, like commenting on her Instagram photos with "Queen of ___," which likely originated from her obscure cover of the '80s band Go West's "King of Wishful Thinking." (Example: Carly shares a pic of her sitting on a couch and fans call her the Queen of Sitting). They make shirts—one of which I own—that say "Carly Slay Jepsen," to which Carly replies #LOVE. They write love letters to her album on the anniversary of its release. In Japan, where Jepsen is especially popular, fans gift her chopsticks with her name engraved on them. The problem is, the rest of the world hasn't heard her album.
But today, Jepsen released E•MO•TION: Side B, eight songs that are leftovers from the original album. It's primarily a gift to her fans (me), but it's also a quiet suggestion from her to the rest of the world. Here's another chance to get to know me.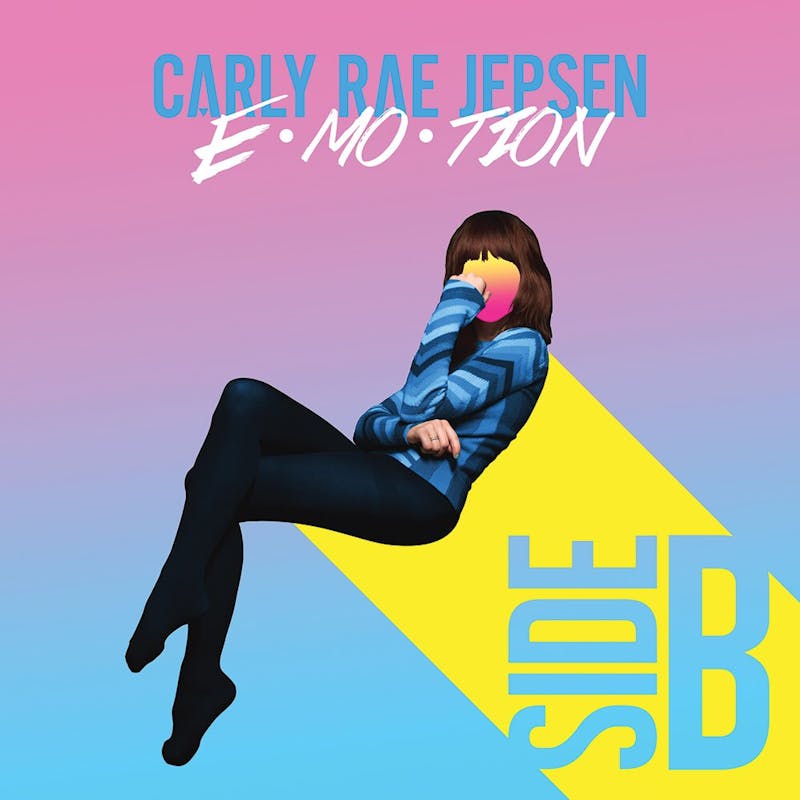 Side B is more than a nostalgic echo of E•MO•TION. This handful of tracks shows that even Jepsen's cuts are better than most other pop music out there. "First Time," originally released on an exclusive album for her Japanese fans, is a revivified Madonna workout song; "Higher" sounds like a disco guitar-inspired dance riot. Another previously Japanese-exclusive track, "Fever," with its huge '80s percussion, feels like a power ballad on speed. In the build-up to the chorus, Jepsen declares, "But I'm so damn scared / You don't even care," an enormous Carly-esque confession punctuated by the underlying drums. (It's also reminiscent of Hercules's "I Can Go the Distance," an appropriate parallel to Jepsen's sentimental, semi-corny style.)
This careful attention to the lyrics and their seamless integration with the music are what make Jepsen's pop so good: Just think of the call-and-response between the synthesizers and chorus of "Call Me Maybe." If Carly Rae Jepsen were a novelist she'd be Hemingway, except without the boring machismo. With five small words, she can capture a sentiment that is So Relatable, but also make it crushingly intimate: "I'll make time for you," she concedes about a boy who has friend-zoned her on E•MO•TION's "Your Type." Side B loses none of this succinct, thoughtful lyricism. "Romance is fine / Pour me some wine," Jepsen quips in "The One."
Side B also successfully captures the lovable ordinariness that Jepsen brought to her previous albums. In contrast to modern icons like Lady Gaga, Beyoncé, and Rihanna, Jepsen is just, well, a normie. Her style is described as mall chic. She sings about boy problems and is the voice of the new Fuller House theme song. In concerts, the most outlandish thing she does is don a cape, but only for a single song. Even Pitchfork lamented her "unshakeable vagueness," stating that other pop stars are able to imbue their music with attitudes: "We have Drake for performative vulnerability, Taylor for performative generosity." But the thing is, Carly is for when you don't quite feel like performing at all.
There is a difference between genericism and genuine normalcy, and Jepsen falls into the latter category. She is an artist without pretension, perhaps the only one in existence. "I'm a shameless lover of pop music!" she told Rookie Mag last year. It's this lack of conceit that makes her music so beloved: Jepsen takes up less space so you can occupy more. "Don't you? / I hope that you want to," she tentatively asks in Side B's "First Time." It's the same self-aware hesitation that's found in E•MO•TION: "Oh did I say too much? / I'm so in my head." In one of her new songs, "Store," Jepsen does display a rare sense of confidence, but for one of the most mundane acts ever: "I'm just going to the store," she bellows in the chorus.
---
For those unfamiliar with Jepsen, releasing an album of B-sides on the one-year anniversary of a pop album that was far from popular might seem like a strange move. Sure, it's an easy way to make some money, but judging by her E•MO•TION sales, it won't be a ton. Truthfully, Jepsen is more singer-songwriter than pop icon and, through that lens, Side B begins to make sense.
In interviews, Jepsen doesn't wax on her fame or her image nearly as much as she does on her love of songwriting. And, while she certainly has a motive to exaggerate her involvement in the process, she really does seem to be a songwriter first and foremost, whose current genre just happens to be pop. In fact, she originally wrote "Call Me Maybe" as a folk song. Her first album, released pre-"Maybe," was a self-written folk-rock venture entitled Tug of War, which includes a bluesy track that she performed for her Canadian Idol audition. For E•MO•TION she wrote around 250 songs for a 12-track album. At heart, I suspect, Jepsen is more Joni Mitchell than Madonna.
And, in true singer-songwriter fashion, she goes to bat for her work. Just look at Jepsen recounting to Rookie Mag about the cutting process during E•MO•TION:
I got it to my top 40 and I was teasing my label, being like, "Would it be weird if I released 40 songs, after being away for three years?" [Laughing] They're like, "Yeah, that's just not gonna happen." I'm like, "Are you sure?" They're like, "Yeah, we're sure." So, OK, I had to narrow it down. We had heated debates and passionate emails back like, "Don't kill my babies!"
Side B appears to be a compromise between an artist who wants to share her heart and a label that wants to sell a polished album. Jepsen herself doesn't seem to be trying to cultivate an image, or even create another "Call Me Maybe" (which many studio executives surely hoped would be found in her single "I Really Like You"). And sure, this probably contributed to E•MO•TION's lack of sales, but it's also part of what made the album so cherished. As Caitlin White put it, "I think E•MO•TION wouldn't be as meaningful if we had to share it with capitalism's steely machinery; its commercial failure is part of what makes it continue to feel intimate, ours."
On one hand, White is right: E•MO•TION is ours to overplay. But on the other hand, Jepsen is writing some of the best music of our time. It's too good not to share: The least the world can do is listen.