Under the moon, a naiad with blue hair extensions lounges in a willow tree's crook. Below is her native lake, ringed by trees. According to Slavic tradition, her name is Rusalka, the water sprite. Between us, silver retractable baubles twinkle in the Metropolitan Opera's ceiling. To my right, a man in black tie sighs. Kristine Opolais is singing the title role in the Met's production of Rusalka, an opera by Antonín Dvořák.
Except among the thinning crowd of opera enthusiasts, Rusalka is not very well known; perhaps because it is in Czech and perhaps because none of Dvořák's operas are very well known. Its story, however, is familiar. The witch Ježibaba (played by the extraordinary Jamie Barton) lives close by to the Vodnik's lake (he's Rusalka's father, sung by Eric Owens). Rusalka has fallen in love with a human prince who swims in her lake—in the form of waves, she has touched him. Ježibaba heeds Rusalka's call and transforms her into a mortal human, in this production assisted by a rat, a cat, a raven, and a pair of steampunk-ish goggles. But according to the magical deal, Rusalka cannot speak to her lover. If he does not fall for her, she'll be cursed forever.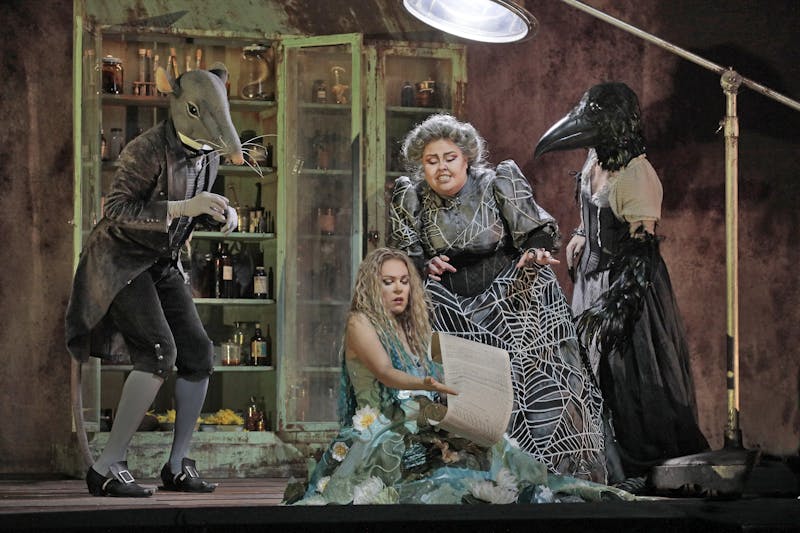 This is the story of Hans Christian Andersen's The Little Mermaid, which made it into most of our childhoods, mostly unchanged, via Disney. Jaroslav Kvapil wrote the libretto in 1899, deriving the plot from Andersen-esque stories by Karel Jaromír Erben and Božena Němcová. Dvořák took on the libretto and the full opera premiered in Prague in 1901.
If you read Andersen as a child, you might remember that the mermaid's ending is a little stickier than Disney made out. The same is true in Rusalka, though I won't give it away. Both this production and the music it stages exist in strange tension with twentieth-century movie-making. First, there's the strange Venn diagram, it will form in your mind with childhood memories of VCRs. Second, all orchestral Romantic music in the narrative mode suffers a little from the movie scores we grow up listening to. Rusalka, in particular, features a lot of very lovely modulation between major and minor keys. This harmonic style is characteristic of Dvořák in general, and the Slavic traditions he consciously drew upon in composing this opera, but also, sadly, John Williams. The gorgeous aria "Song to the Moon" ("Měsíčku na nebi hlubokém") is a good example of how one could imagine Dvořák's lyrical style in a Spielberg flick:

Kristine Opolais sings the title character's "Song to the Moon" from Act I of Rusalka at the final dress rehearsal.
Mary Zimmerman's new production engages closely and deliberately with this context. During Act I, the stage is claustrophobically boxed in by a framing of painted-on trees. It looks like a square screen, a TV. Then, at the story's most anodyne moment—the prince comes across mute Rusalka and instantly falls for her—the stage is strewn with cartoonishly bright yellow flowers and the sky is a plastic blue. Eric Owens brings a lot of dignity to his role as the tragic Vodnik, even though he has been made to wear silly green gloves and do an undignified roll into his lake.
Act II takes place largely inside the prince's castle, where decadent nobles in hot colors dance in front of a pile of antlers. Rusalka is dressed in cold blue and she does not dance. She's like the antlers: something pretty ripped from the countryside, condemned and discarded as soon as she crosses the aristocrat's threshold. In one very touching moment, the Vodnik shows up to talk to her and has to gently splash himself with water from a bucket in order to survive. (He's styled as some sort of amphibian.)
In the final act, the set from Act I returns. But this time, it has been trashed, stripped of its sylvan boxing (the cutesy screen) and revealing the wooden ribs behind the set. Poor Rusalka, who has had her cartoon dreams taken from her!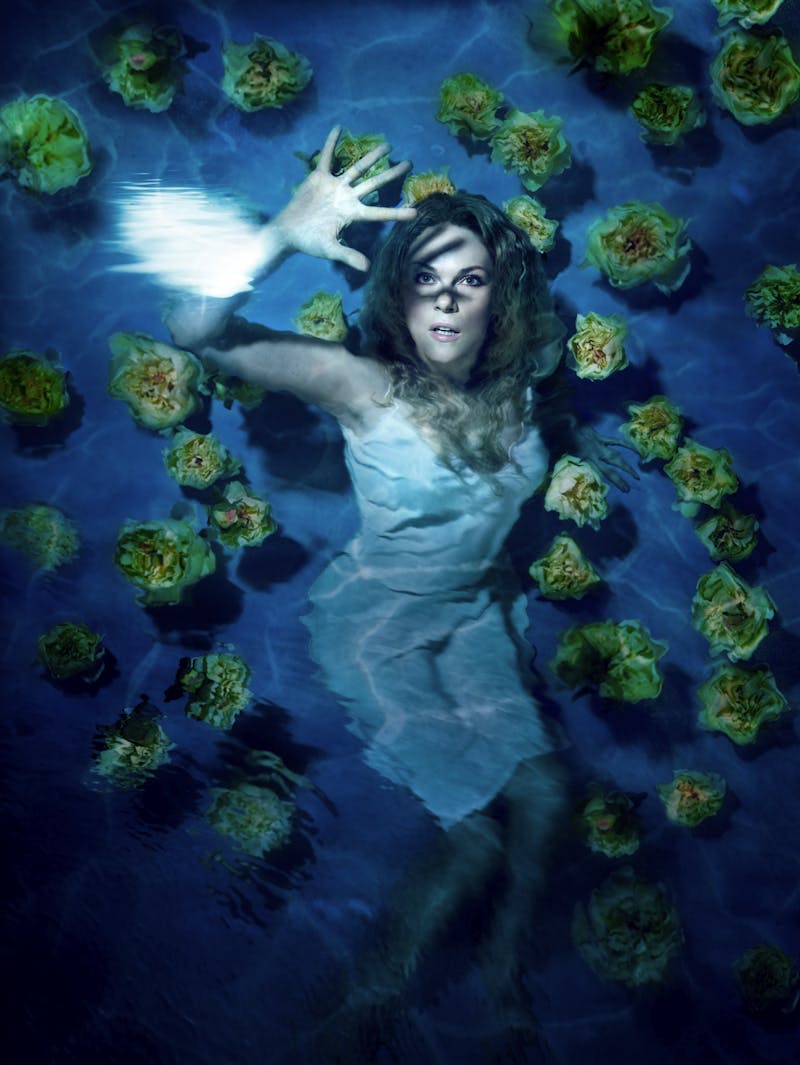 Rusalka is a deeply tragic but also ironic opera: Its heroine, who must be a highly talented soprano, is for much of the story completely mute. The wood nymphs and Rusalka's sisters, the sweet woodland community, reject her as completely as the shallow nobility of the prince's castle. In such a magical world, the curse turns out to be growing up pretty and female. Zimmerman does an excellent job bringing out this irony in her production, largely by blending a very explicit class-commentary with the visual language of fairy tale movies.
Jamie Barton is the vocal star of this production and outshines even Eric Owens, just as she outshone Plácido Domingo in the Met's Nabucco this winter. (Barton and her critters are terrifying: Her cackle froze the auditorium's giblets.) Mark Elder conducts with aplomb, and the whole thing sounded great on opening night, apart from a slightly thin Act I from Opolais. She slew the rest of the opera, however, and is a very talented actress.
As my roommate and I settled into our seats, laden with bags and books and feeling a little shabby, we watched the opera women go by. Gorgeous creatures with hairsprayed crowns levitated down the aisle in furs. Their husbands had tight grips and madly expensive scarves. Then we spied one beauty in a gray velvet dress. She was elegance itself, except that her gown was very slightly split at the ass.
How like Rusalka, we thought, whose tail was split in two so violently! Is this woman being taken care of, or is she just a prize of great natural attractiveness, paraded around an opera house by a rich man? Fairy tales are usually about deep and valid fears, and uptown Manhattan must be full of Rusalkas. Central Park and the expensive property around it are a bit like that foliated box that held the water sprite's fantasies onstage. But things don't usually turn out well for pretty things, as Hans Christian Andersen knew. After she's transformed, the Little Mermaid's "every footstep felt as if she were walking on the blades and points of sharp knives, just as the witch had foretold, but she gladly endured it. She moved as lightly as a bubble as she walked beside the Prince." What good seats at the opera she must have been promised!