Music is invisible. It has a physical existence, since sound waves travel through the air, but we can't see it except in that one part from Fantasia. But music today is also often sold invisibly: Spotify and Tidal and iTunes don't even let you own the file. You just stream the music, as if tuning in to a secret and expensive frequency.
The musical object's loss has been mourned by many, and resisted. Vinyl heads keep prices up through sheer love for their medium. New tape labels spring up every day. But a new release takes things higher. The London party I Love Acid this year turns ten—a very grand age in clubnight terms—and in honor of the birthday a compilation is coming out.
That compilation is being distributed on a USB stick shaped like a TB-303. More specifically, that's the Roland TB-303 Bass Line, the synthesizer Fatboy Slim paid tribute to in the track "Everybody Needs a 303." The "TB" stands for Transistor Bass. The 303 was released in 1982 and instantly began to shape the charts: you can hear the TB-303 on Orange Juice's 1983 hit "Rip it Up," for example.
The TB-303's famous "squelch" came to define the new Acid House sound in the mid-80s. Acid House got going in Chicago, with artists like Phuture staking out new musical territory:
The style quickly became popular in the U.K., where it spread through the rave scene. Josh Doherty of Posthuman, the group that runs the I Love Acid party, told me that he was too young to get into Acid House the first time around. His entry to the sound was through newer labels, "the Warp/Rephlex braindance side of things." When I Love Acid got going, "the first party was only meant to be a one-off," he said. It's since become a label and a serious institution. At the same time, Doherty said, it has been an education for him: "With the help of my resident DJ Placid, I've learnt a lot more about the history of the TB-303, Acid House, and all things that have sprung from that."

The new compilation features tracks by Posthuman, Hannah Holland, XXXY, and many more, including this offering from Pye Corner Audio:
Many of the featured artists are involved with Doherty's label (Jared Wilson, Neville Watson, Mark Forshaw) are regular I Love Acid players. Some Doherty found on social media, and some made the rare jump from demo-sent-by-email to actual selection.

The specially shaped USB stick put me in mind of other "novelty" release formats, like the blister pack that housed Spiritualized's Ladies and Gentlemen We Are Floating in Space or The Durutti Column's sandpaper vinyl sleeve that would destroy any other record placed next to it. Doherty told me that he has experimented with "interesting" formats before, including "the Rave Wars series," which packaged 7-inch records "made to look like parodies of the original Star Wars action figures—including vintage action figures from the '70s sealed in bubbles on the front."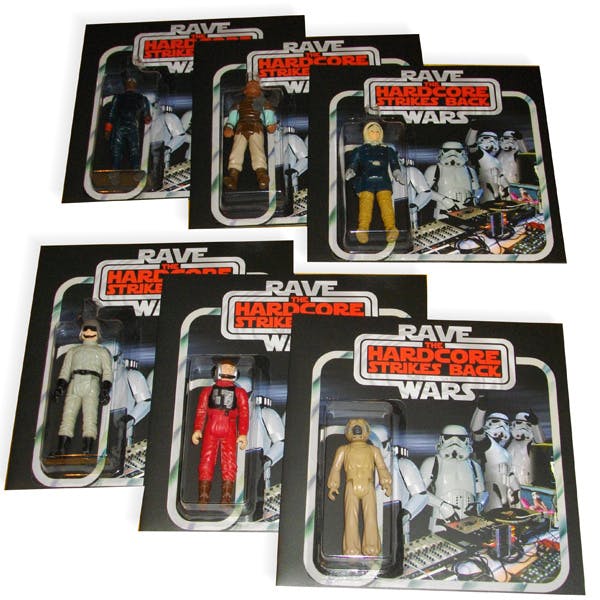 Doherty used his own action figures for the first batch, then realized that he had sold "quite a lot of rare and valuable figures for less than they were worth." Last year Doherty made his first USB release, fabricating a "gold bar" containing Chevron's album Possibilities: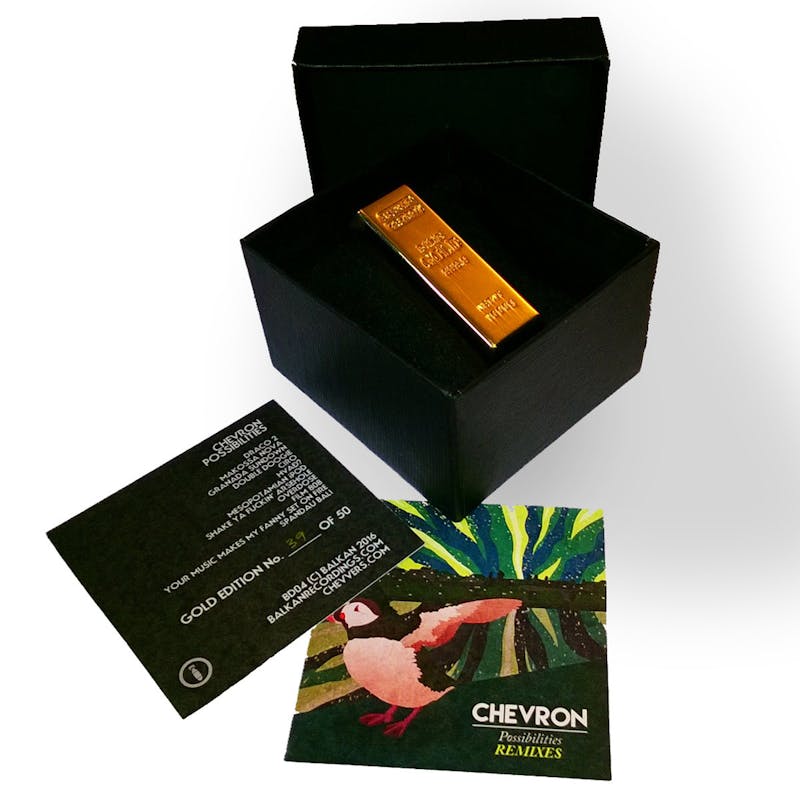 The sheer task of fabricating such a thing as a 303-shaped USB stick struck me as exhausting. Doherty told me that he found a company that does 3D printing and casts, then went back and forth: He had to compromise on detail, they had to make something that looked right. Doherty knew he wanted it to be made of rubber for durability, and to come with a keyring so that the USB didn't evaporate in owners' homes the way that most drives do.
Doherty copies the music directly onto "every single stick." In this way he brings the hand-numbered vinyl approach to something that could otherwise seem like a novelty. The project is high-tech in some ways, but Doherty calls it "lo-fi and personal." I wondered how he found the time, but Doherty told me that he is home during the day with his 7-month-old son, so USB time is one of his few available pastimes.
Acid House has become "quite trendy," in Doherty's words. He's right that "dozens" of hipster clubs are getting on it. "I saw one big-name DJ who had nothing to do with acid ever before in his career do a massive Acid House party," he said. But for I Love Acid, the genre never left. "When everyone moves onto the next thing," Doherty said, "We'll still be rocking the TB-303."
10 Years of I Love Acid will be available to pre-order from March 5. I Love Acid's tenth anniversary party will be held on April 7.