The Metropolitan Museum of Art was closed on Monday so that it could dress itself up for the Costume Institute Gala later that evening. Disappointed tourists milled around outside like spurned lovers. But members of the press were allowed in to see the retrospective "Comme des Garçons: Art of the In-Between." We slipped through a side door, clutching notebook and camera like bouquets, to see and pay tribute to the beautiful show.

Rei Kawakubo, the legendary founder of Comme des Garçons, has collaborated with curator Andrew Bolton to fill the appointed gallery space with geometric forms that conceal and cradle her visionary clothes. In one corner, Kawakubo's sartorial meditation on childhood hides peekaboo-style inside a big three-dimensional rhombus. Elsewhere cylinders flower upward into inverted pyramids, more dresses on top.
This disruption of the space's sightlines led to a frenzy of Instagram competition, with glamorous preview attendees tersely commanding each other to step out of their shot. Maybe it was the shapes themselves, or maybe it was the fashion people, but the sensation was of being crushed beneath a leaping structure.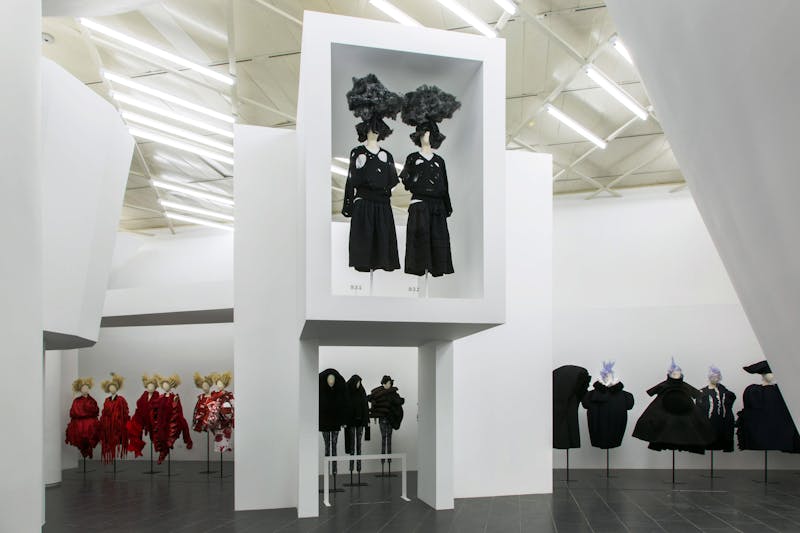 The clothes, however, are undeniable. Their presence felt like a statement: Here we are, the most influential forms from the least compromising genius. The exhibition shows about 150 pieces of Kawakubo's women's wear for Comme des Garçons, from the early 1980s to the present day. As you walk in, pieces from her most recent collection greet you with a big red bang of stretch nylon. Numbered sections guide you round the space (anti-clockwise). After the red curves come dresses made of raw material, like unprimed canvas or the skin of a dress-maker's model. These pieces are from collections ranging from 1998 to the present day, clarifying Kawakubo's ongoing interest in playing with surface, reducing fashion back down to form, looking inside the unacknowledged corners of clothing to find new art.
On the red dresses, Kawakubo's signature "bulges" look sexy. When done in white padding, they are tumor-like, medicalized; in other instances they suggest the softness of a sofa. Some you want to touch, some to care for. Her interventions undo the most basic—or classical—ideas of "shape" in fashion design, relocating the curve of the body in the garment itself, redefining the relationship between the two.
The exhibition's title—"Art of the In-Between"—comes from a conceptual interest in categories and binaries within Kawakubo's work. The show is divided into dyads, which then subdivide further. The chief binaries are Absence/Presence; Design/Not Design; Fashion/Antifashion; Model/Multiple; High/Low; Then/Now; Self/Other; Object/Subject; and Clothes/Not Clothes.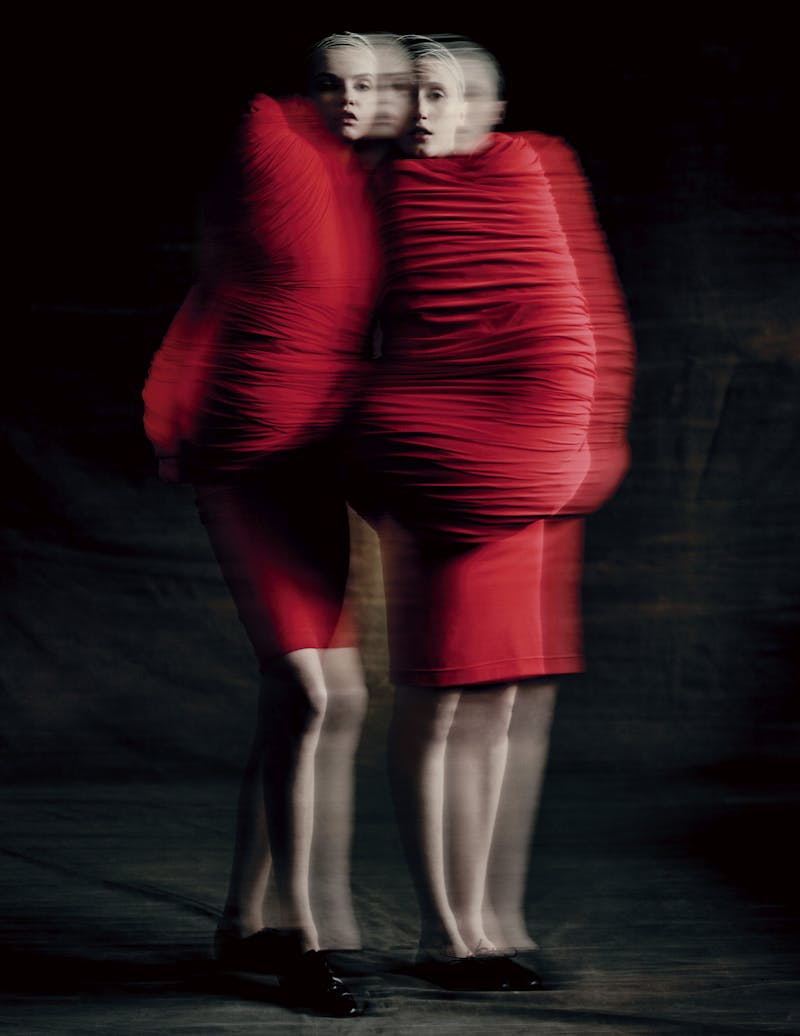 In Kawakubo's early 1980s collections, which come under the Fashion/Antifashion rubric, she explores the dynamic between the concepts of mu (emptiness) and ma (space) using a pure black palette and robe-like, oversized clothing. As in the English word "space," ma implies both presence and absence; it refers to something made either of void or volume. Mu, meanwhile, is evoked by circles, "which in Zen Buddhism symbolizes the void," the catalogue says.
Some of the binaries Kawakubo explores feel intellectual and rigorous, like High/Low, which pairs vocabulary from biker and ballet cultures to produce a new effect. But others leave the vernacular of clothing behind to enter history and emotion. The category Clothes/Not Clothes is further broken down into sub-divisions of Life/Loss, War/Peace, Order/Chaos. Likewise, Then/Now presents clothing about Birth/Marriage/Death, which appear like a procession of brides who will never lift their veils.
In these clothes about grief and violence, the absent body is so strongly implied that I felt I was looking at the personal artifacts of one dead woman. Not a woman from one particular time, but one paradigmatic woman whose feelings are splashed in blood-red, whose loss in war blooms into roses, whose missing body helps define the very principle of abstraction. Many of these mannequins wear masks, as if a ghost is eternally returning, just in disguise.
The French press hated the minimalism and distress of Kawakubo's first Comme des Garçons show in Paris, in 1981. Supposedly the crudely politicized term "Hiroshima chic" came out of criticism of that collection. Whether that's fact or myth, the West's negative reaction to this new wave of Japonisme—to the innovations of both Kawakubo and Yohji Yamamoto—is part of fashion's grand narrative.
The other great event in Comme des Garçons's history must be its commercialization into streetwear, via the casual luxury line Play (known by its logo of a heart with eyes). The brand is beloved by Kanye, Pharrell Williams, Rihanna, and many other stars. The move must have made Comme des Garçons a vast amount of money, but it has without doubt derailed Kawakubo's public image as an avant-garde purist. There have been collaborations with Supreme, with Converse.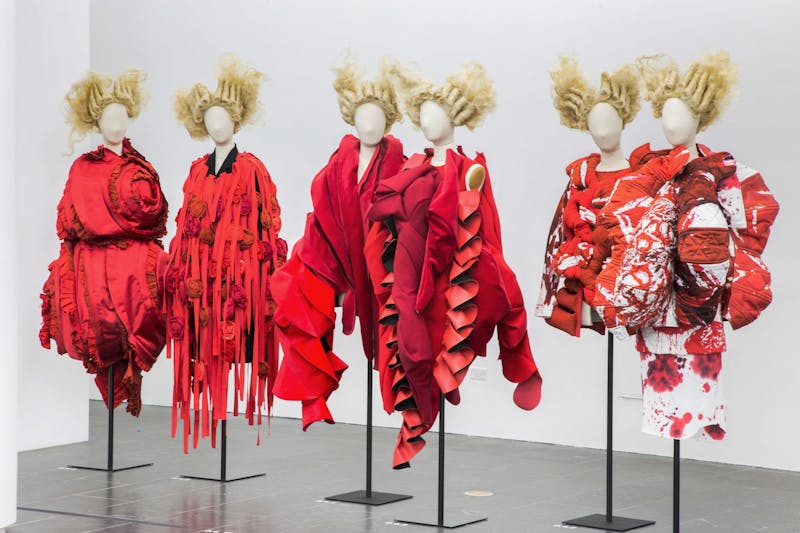 Meanwhile, tacky celebrities like Lady Gaga and Katy Perry have appeared on magazine covers wearing clothes from Comme des Garçons's recent ready-to-wear collections. That Kawakubo's designs can resist these wearers' identities is partly due to their outsized nature. A person in Comme des Garçons looks like a dress with a head, not a person, really. Perhaps this tension is part of the High/Low binary that Kawakubo interrogates at the Met show. A brand is just another material, she might say.
"Museum's closed today," a security guard announced at a metal barrier. "Unless you're the rich and famous." Later that day, Sean Combs would lie down on the steps of the Costume Institute while his girlfriend Cassie posed for the photographers, his full-length cape beneath him like an expensive carpet. "I was getting tired so I laid down on the stairs!!!" he tweeted.
Some hours earlier, inside the Comme des Garçons exhibition, a guest in the widest and reddest Kawakubo design of all time stood near the Fact/Fiction display, looking herself like an imaginary vision in a hat. A security guard ran around the show chastising cameramen who got too close to the clothes, repeating, "The tape—that's the borderline! The tape—that's the borderline." I doubt that Rei Kawakubo particularly cares for the insane hustle of these events. But they do exist at an interesting in-between place: between reality and art, between parodic silliness and solemnity, between fleeting celebrity and history. Neither high or low, here or there, old or new, Rei Kawakubo's oeuvre exists.