"Now, I know Shakespeare is a dead white guy, but he knows his shit." So proclaims the cool teacher from 1999's 10 Things I Hate About You, just after he raps Sonnet 141 ("In faith, I do not love thee with mine eyes…"). The teens' mouths fall open. Adolescent minds are almost audibly blown.
10 Things director Gil Junger is hardly the only person to recognize that, because rap and poetry are both in verse, he could try to hip-hopera his way into a skeptical audience's heart. White House consigliere Steve Bannon once even co-authored a rap version of Coriolanus that featured lines like "I will return to rep my peeps!"
The latest attempt to repackage Shakespeare in rap stylings is TNT's new drama Will. The eponymous playwright is done by newcomer Laurie Davidson, who watched Straight Outta Compton and 8 Mile to warm up for his role. "Whilst I didn't go full-on gangsta rap," he told Metro, "it just gave an idea of the way that people use words as weapons."

In the first episode of Will, Shakespeare has to face down an actor who doesn't like him. That actor challenges him to a "duel" of words. Will starts off stutteringly, then takes flight:
Why take offense, that this dull brain
Doth foolishly wish to entertain?
I make no claim to fame. Hold none in disdain.
Why does thou fear this rustic swain?
It's drivel, but the crowd goes wild. He hits his stride. "Thy wit is so stale, only worms would eat it!" The scene is more like the walk-off in Zoolander than a rap battle. But Will wins the day.
Will makes a story out of Shakespeare's youth, coming down hard on the theory that he was Catholic and wasn't keen on his wife Anne. It's almost anti-historical in its anachronisms, throwing bright lights over party scenes and dressing its extras in neon outfits. Despite its rap battle motif, the soundtrack is punk-heavy, making the most of the cultural associations of London. The hair and makeup is more like a beauty school's interpretation of punk, however, with lots of Adam Ant–style facial stripes.

Though the show is ridiculous and shares no themes whatsoever with the works of William Shakespeare, it is made warm and wonderful by a series of great casting choices. Jamie Campbell Bower plays Christopher Marlowe in a turn almost indistinguishable from Jonathan Rhys Meyers in Gormenghast, which is a good thing. Trainspotting's Ewen Bremner plays a Catholic-hunter, while Star Trek's Colm Meaney treads the boards. The only choice bit of casting for women, however, comes with Jasmin Savoy Brown as the "dark lady" of Shakespeare's poems.

TNT has also dug out some great characters from Renaissance England. In episode three, Shakespeare and Co. go to a super-decadent party lit by blue lights and soundtracked by electronic music. ("Let's get shitfaced," Shakespeare's girlfriend Alice announces.) But there's a secret party in the back, where John Dee and Francis Bacon and Sir Walter Raleigh supposedly lurk. Shakespeare asks Raleigh about America, and he calls it, "A brave new world, that has such things in it." He delivers the line slowly and clearly, so that you can tell it's from The Tempest. Ten seconds later, we have another garbling, as Marlowe bemoans the "fault" that "lies in [his] astrology."
Some of the jokes are excellent. At one stage Alice comes over to Will, who is up late working on a play. Are you working on your prequel? She asks. Because she's been thinking, and she's got a title: "Henry VI Part 1: Rise of the Dauphin Menace." I laughed hard, and not for the last time. Will repeatedly gets called "Shakedick." The actor Richard Burbage seduces a girl with Sonnet 29, which he claims to have written. Raising one eyebrow, he suggests, "Shall we both get … bootless?"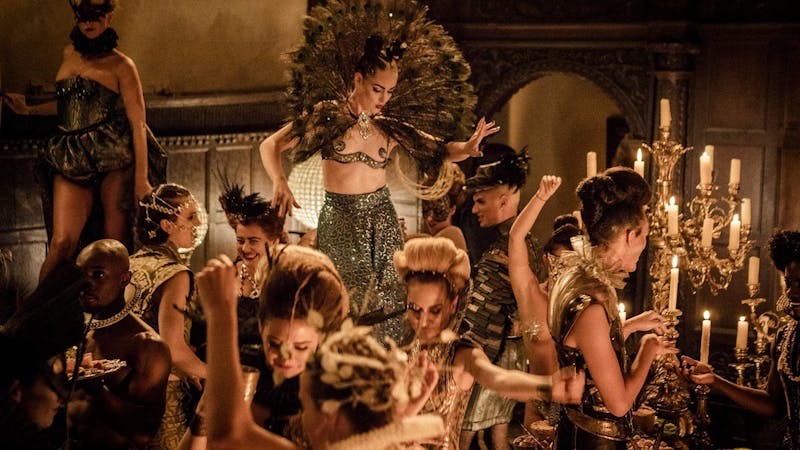 In the show's sweetest moments, shards of Shakespearean language are thrown in to teach the audience a little something about stage history. "Bedazzle is not a word," insists one actor. Shakespeare objects: He has coined something that makes sense, and he will not have petty convention ruin it. "You can't just make up words!" the actor responds. Will, riled up, yells: "Someone must!" He's not wrong.

According to Will's mates from the theater, "You must live fast, die young, and leave a pox-ridden corpse." And in this new show, Shakespeare is shown as young, sexy, cynical, and kind of an asshole. He gets his landlady to give him a week's free board by using his "My lips are two blushing pilgrims" line. He cheats on his wife, and writes her letters telling her to go stay at a nunnery for a while, because he can't come home: He's having too much fun.
Why not cast Marlowe and Shakespeare and Burbage as handsome anti-heroes? And as long as the jokes keep coming thick and fast Will is, surprisingly, a seriously watchable morsel. The leather trousers are matched by the slippery sexiness of the script. As Kit Marlowe says just after pouring a jug of red wine on a sleeping prostitute, "I must go wrestle with that bitch, the muse."