The boat arrived on September 7, charging onto the beach. That morning, passengers plunged into the surf, then disappeared onto the shore, seeking shelter and a chance to sleep. In the distance, plumes of smoke drifted up from the horizon: Myanmar was burning.

Seven years after Aung San Suu Kyi was released from house arrest, heralding a tolerant new age for Myanmar, the former British colony has once again been plunged into ethnic conflict. Fires have raged for weeks across Rakhine State, home to roughly a million Rohingya Muslims, razing entire villages to the ground. Government officials have suggested that the Rohingya—a long-persecuted minority who are treated as illegal immigrants, despite having lived in Burma for generations—are setting their own homes ablaze. But humanitarian groups tell a different story: Burmese soldiers are roving the countryside, carrying out an orchestrated campaign of murder, rape, and arson. The United Nations human rights chief calls the conflict "a textbook example of ethnic cleansing."
By September 28, three weeks after this boat arrived in Bangladesh, more than 500,000 Rohingya had fled the violence. Every day, thousands more sought refuge. Most had trekked for days to the Burmese coast, where fishing boats lurk in the darkness each morning, waiting for passengers. The final leg of the journey takes five hours over choppy waters. Australian photographer Patrick Brown was on the beach when the boats arrived in Bangladesh. The last time he saw such suffering, he says, was in Indonesia, following the tsunami in 2004. "It's hard to put it into a photograph," Brown says. "In their faces, I see exhaustion, terror, and a lot of anxiety about their future."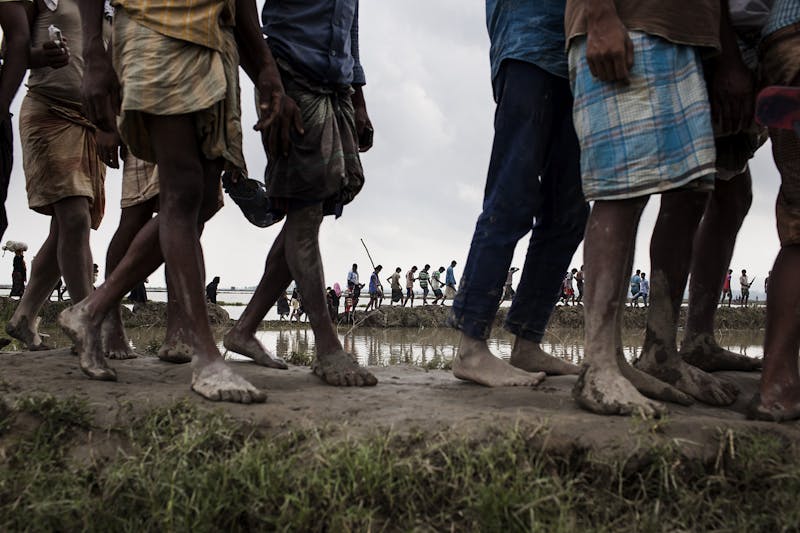 September 6, 2017: Rohingya refugees walk through paddy fields and flooded land shortly after crossing the Burmese border and arriving in Cox's Bazar District, in Bangladesh's Chittagong Division.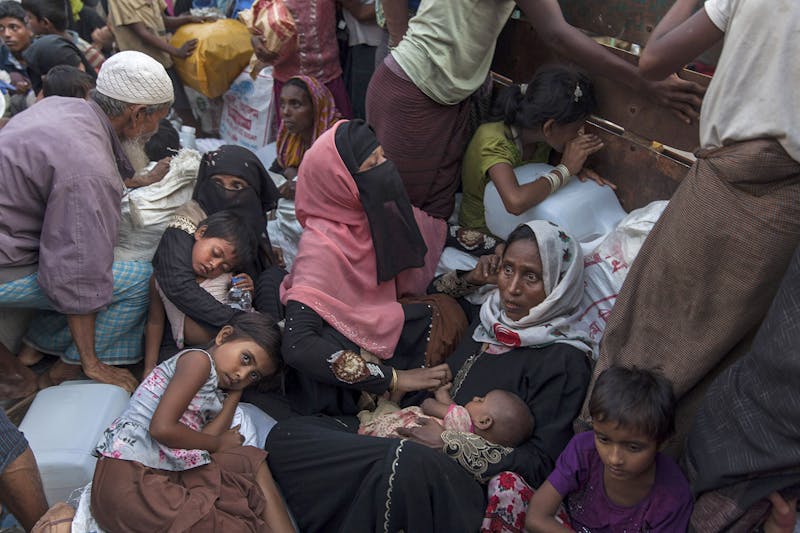 October 4, 2017: Rohingya refugees crammed into an open-back truck on a highway leading toward the Leda refugee camp in Bangladesh. Children make up 60 percent of the new arrivals.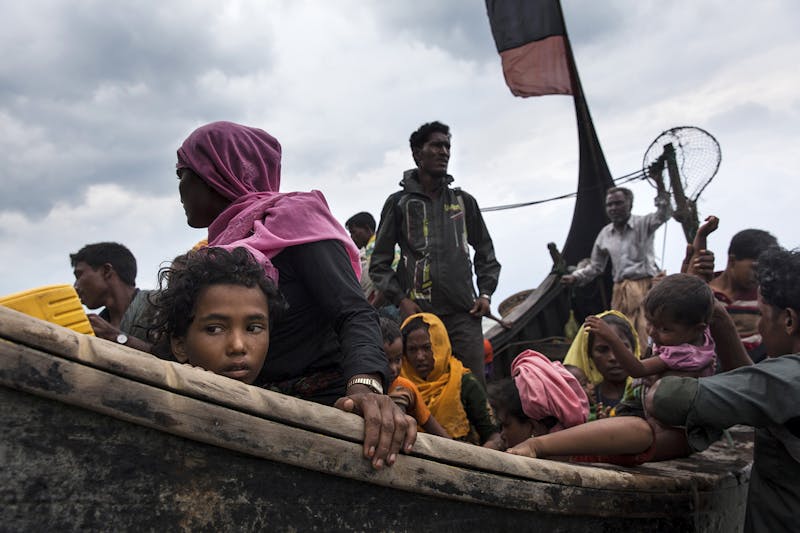 September 7, 2017: Noor Haba, 11, looks out over the side of a fishing boat as she, her family, and 25 other Rohingya refugees arrive on Shamlapur Beach in Bangladesh. It took five hours for them to sail from Rakhine State across the Bay of Bengal.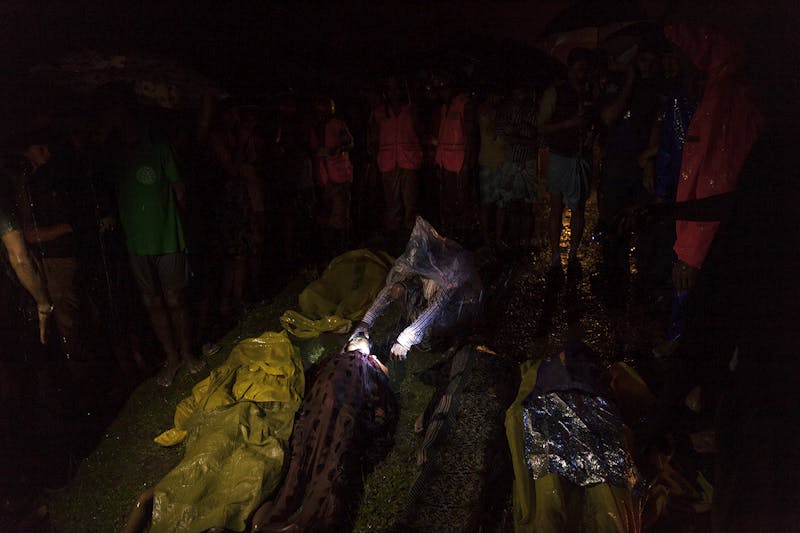 September 28, 2017: Corpses of several Rohingya children and adults lie on the ground prior to being moved to a morgue. They drowned when their boat capsized eight kilometers off Inani Beach in Cox's Bazar District. More than 100 people were on board. According to the police, only 17 survived.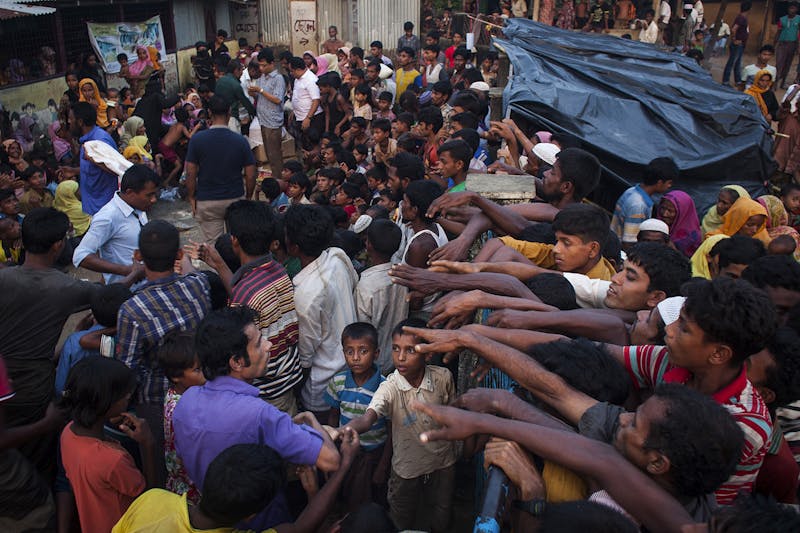 September 10, 2017: Rohingya refugees reach out for provisions being distributed by private aid initiatives in the Kutupalong refugee camp in Cox's Bazar, Bangladesh. A week later, just outside this camp, three refugees were killed in a stampede as supplies were being thrown from relief trucks.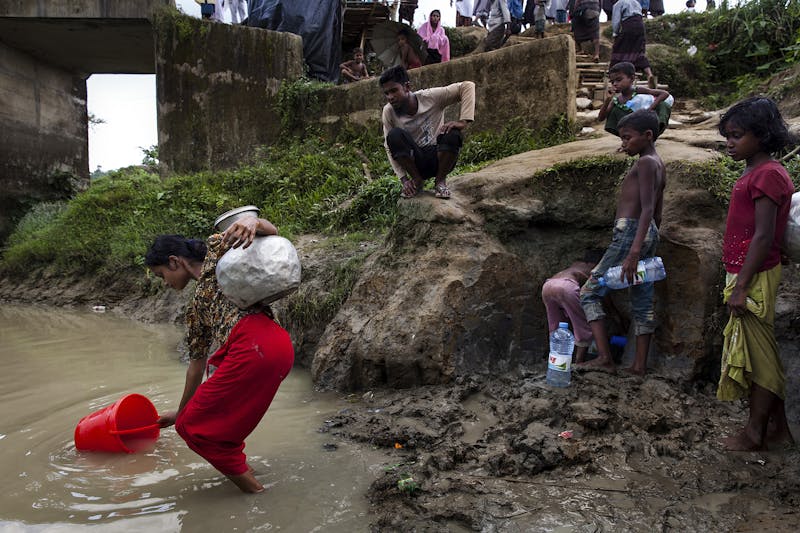 September 30, 2017: Rohingya refugees collect water from a muddy pool at the Unchiprang refugee camp. Without any access to ground water, the camp needs an estimated 745,550 litres of water to be trucked in each day.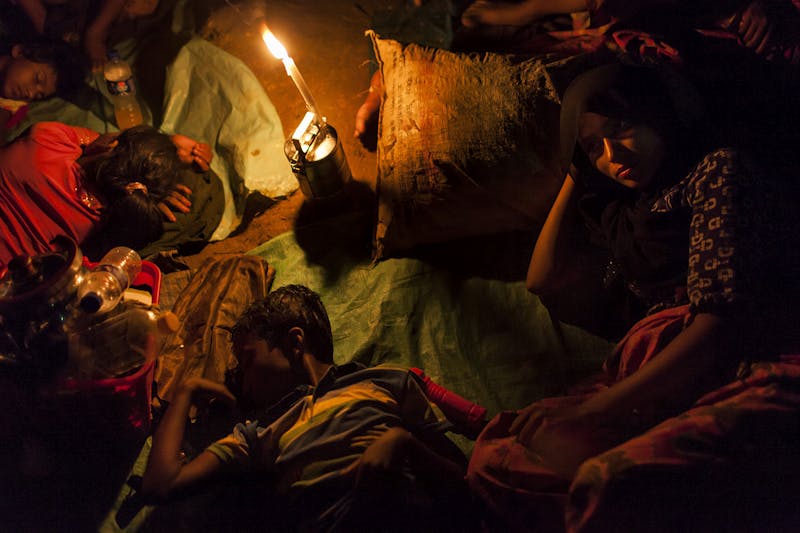 September 30, 2017: Momera, 25, and her children chose to sleep on the side of one of Bangladesh's main roads until they could find shelter. The family had spent nine days trying to reach the border in Myanmar. Midway through their journey, Momera gave birth to a baby boy. He died the day before this photo was taken, on September 29.
Patrick Brown/Unicef/Panos Pictures