Collateral is a different kind of cop show. It's the first scripted TV series from the eminent David Hare, playwright of Gethsemane and The Blue Room, movie screenwriter of The Hours, Denial. It arrives in the U.S.—it was co-produced by BBC2 and Netflix—on a wave of criticism from the British conservative press, which interpreted its treatment of Europe's refugee crisis as preachy leftism. "Dear BBC—after Collateral, please stop funding David Hare," hooted a Telegraph headline. In the last of its four episodes, a Labour MP has a highly charged conversation with his party leader about The Refugee Question. This isn't right for TV, the Telegraph said. Keep the taxpayers' money away from this man.
But for me, the question Collateral prompts is this: Why isn't the BBC funding more art about the refugee crisis? This work is sharp, it's engaging, and it's speaking not only to contemporary Britain, but also to a wider Western world that is wrestling with the issues of immigration and asylum.
The show begins with the killing of Abdullah Asif, who is shot dead on the steps of a house while delivering a pizza. The killing is surgical, professional. But was Asif the intended victim, or should it have been Mikey, who usually slings the pizza to that address? Is the customer involved? The pizza parlor manager? It's a baffling mess of a case, and Kip Glaspie (Cary Mulligan) is delighted to be dragged out of bed for it. She's six months pregnant. As she's driven to the crime scene through the London gloom, her face spreads into a smile.

Asif has told colleagues that he is a refugee from Syria. When the police follow clues on his phone to his "home address," which is a barely habitable garage, his sisters repeat that claim. They say they are refugees from the war, and immigration authorities pack them off to a detention center that resembles the notorious real-life Yarl's Wood Immigration Removal Centre, where women are currently on hunger strike to protest their indefinite and inhumane detention.
The murder now enters political territory for David Mars (John Simm), the area's MP. He is a leftist battling his party leader. Exasperated, his new girlfriend berates him for ignoring her—he misses dates to work on what might be a lost cause. "The system is the system," she snipes. "There might not even be another Labour government."
One man's death thus radiates outward into a web of overlapping systems. The police constitute one system. Immigration is another. Political parties are systems, too. People commit violence through these systems—in the name of security and patriotism—and systems commit violence not only people's bodies, but on their identities. And yet everyone relies on systems like government and the police and religion to negotiate with violence on their behalf, to protect them with covenants like citizenship. The spots where those systems weaken, shudder, and fail are the locations of Collateral's plot.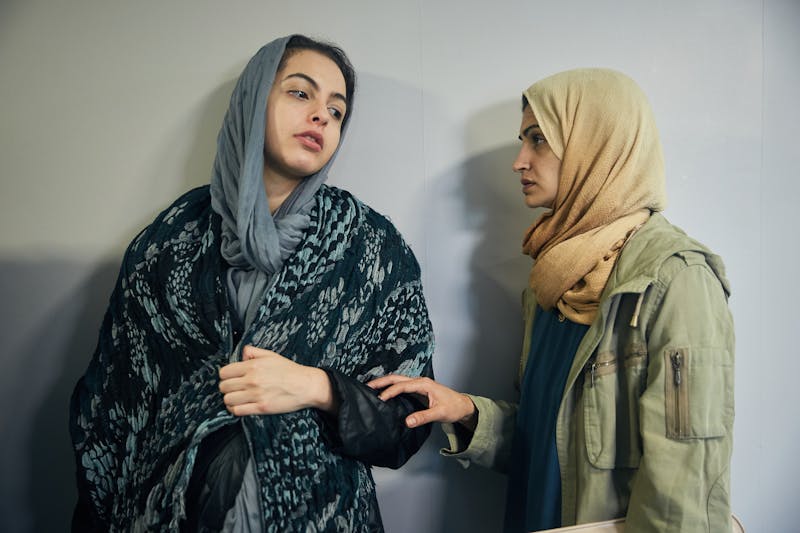 Two perfect subsidiary plotlines play out under the investigation story. In one, a traumatized soldier named Sandrine (Jeany Spark) battles her own mind and the army major who is sexually harassing her. In the other, a gay priest named Jane (played by the excellent Nicola Walker) must decide whether to commit to her work in the parish or to her girlfriend Linh (Kae Alexander)—who just happens to be the sole witness to Asif's murder and an immigrant with uncertain paperwork herself.
Women anchor the show and, it seems, the world itself. There's Laurie who manages the pizza shop, Sandrine who defends her country, Jane who cares for her parishioners, Kip who keeps the peace. They are often shown walking uneasily through public spaces, weighed down by their thoughts. They are the show's troubled conscience: Both Sandrine and Jane are shown at different times lying in bed and waiting for a bell to ring (from the barracks bell tower, from the church) so that they can finally get up, away from their insomnia.
The show is highly formal in its execution, and could easily have been a play. The first and the last shots of the series are done through a pizza oven. Women are forever repeating each other's actions: getting out of a car with a spinning gesture, walking through a revolving door. David Hare is, of course, a playwright, so the neatness of Collateral shouldn't come as too much of a surprise. Mulligan's inscrutable performance saves the show from feeling too theater-flavored.
One of Collateral's most interesting themes interrogates different attitudes towards economic migrants versus "authentic" refugees from war. If these are feelings percolating through Western culture, then, contra the conservative press, they need to be on television, in novels, in film.
The multiple storylines of Collateral meet in a way that combines the personal and the political. David shows up from his Labour storyline so that he can check on his ex-wife, who is in the pizza delivery storyline. In turn, Laurie from the pizza parlor goes for solace to the church, where Jane the priest works so hard to do her job, despite her love of Linh the witness. Collateral takes on nationalism and xenophobia, but through the bonds of obligations we have to one another. These ultimately include the deepest one imaginable: a citizen's willingness to die for others.