Musa Sega is a street vendor in Harlem, New York. He sells perfumed oils, soap, sage, and other products just outside the Carver Federal Savings Bank building on West 125th Street. About six months ago, frustrated by a string of police shootings and the tenor of politics nationally, Sega decided to pull his money from his current bank—a global chain—and open an account at Carver, which is black-operated, one of just 22 such institutions in the country. "I gotta go black," Sega, 50, told me one cold day this winter. "We gotta support our community. We gotta support our people."
Carver, which was founded in 1948 and is named after the pioneering scientist George Washington Carver, has struggled in recent years. It has weathered recessions, a merger, a multimillion-dollar bailout by investors, including Goldman Sachs and Morgan Stanley, and the sale of its Harlem headquarters to a subsidiary of the New York real estate company Gatsby Enterprises Inc. Yet it still gave out $421 million in real estate loans and $43 million in small business loans last year, a much-needed boost in a neighborhood where rents have skyrocketed and small businesses have been pushed out by high-end developers. Carver has also continued to host financial literacy programs and to offer a community service that customers without bank accounts can use to cash checks and pay their bills.
Banks like Carver, as well as other black-owned businesses, schools, and newspapers, arose from a long-standing tradition of black necessity and pride. When the Emancipation Proclamation was signed in 1863, black Americans owned less than 1 percent of the country's wealth. The Freedmen's Bank, a savings and trust company with deposits from the newly freed, was opened by the federal government in 1865. At its peak, deposits reached as high as $57 million. When it folded in 1874, after years of mismanagement and corruption, almost $3 million held in its 61,000 accounts had vanished.
For generations, black-owned banks were—and in some cases still are—the only option for African Americans in need of mortgages and business loans. They were the chief lenders to churches, small businesses, and community organizations in the black community. On the day before he was assassinated in 1968, Martin Luther King Jr. called for a "bank-in" movement. "We've got to strengthen black institutions," King told a crowd at Mason Temple in Memphis, Tennessee. He urged black people to withdraw their money from the "banks downtown" and put it in the black-owned Tri-State Bank, which is still open today, and which has long participated in black voter-registration campaigns and efforts to integrate public schools. By investing in black banks, King said, "we begin the process of building a greater economic base and at the same time, we are putting pressure where it really hurts."
More recently, activists have returned to the idea. In July 2016, two days after Alton Sterling was shot and killed by police in Baton Rouge, Louisiana, and a day after Philando Castile died after police shot him at a traffic stop in St. Paul, Minnesota, hip-hop artist Michael "Killer Mike" Render urged listeners on Atlanta's Hot 107.9 radio station to "go to your bank tomorrow and say, 'Until you as a corporation start to speak on our behalf, I want all my money.' "
Over the next five days, more than 8,000 people applied for new accounts in Atlanta's black-owned Citizens Trust Bank. Later that month, Boston's OneUnited, the largest black-owned bank in the country, started the "Bank Black challenge." "If one million people opened a $100 savings account in a black-owned bank," OneUnited's chief operating officer, Teri Williams, said, "we would move $100 million," a formidable display of economic power. And last year, the city of Chicago announced that it would deposit $20 million into ISF, the final remaining black-owned bank in the city. Thousands of people tweeted the #BankBlack and #BuyBlack hashtags. "We didn't want to let our dollars be used for the oppression of our people," Melina Abdullah, one of Black Lives Matter's organizers, told me. "And we knew that banking institutions like Chase, like Citibank, like Wells Fargo—all the big ones—were actually financing our oppression."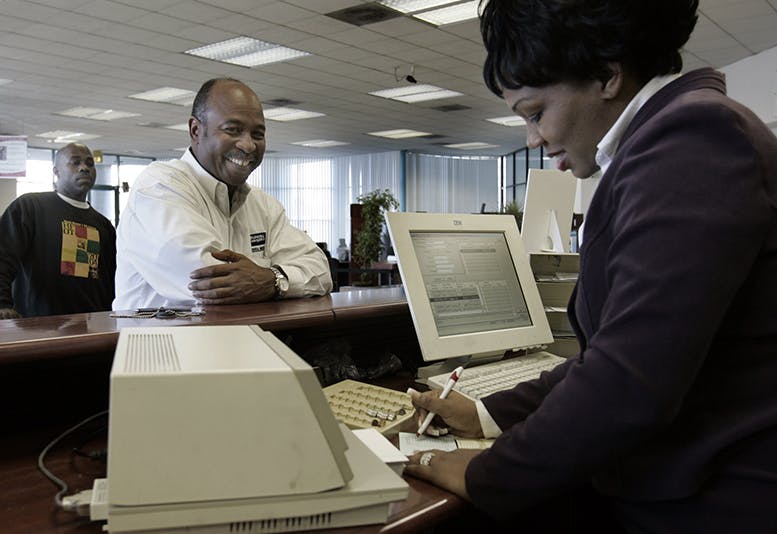 Wells Fargo, the second-largest home mortgage originator in the country, has made headlines for its discriminatory acts against black home buyers. According to a 2012 lawsuit, the bank pushed black people toward more expensive mortgages and charged them higher fees and rates than white borrowers with similar credit profiles. (The bank ultimately settled with the Department of Justice for $175 million.) Bank of America has also been fined, as recently as March 2018, for racial discrimination in its hiring and lending practices. According to Reveal, the publication of the Center for Investigative Reporting, discrimination continues at the local level against African Americans applying for mortgages. Community banks run by white people give less than 1 percent of their mortgages to African Americans.
Even today, 50 years after King called for a bank-in movement, the rate of black homeownership, usually a family's largest asset, has remained virtually unchanged, at 40 percent, 30 points lower than the rate of white homeownership. The mainstream banking system is, at least in part, responsible for these continued inequities, said Mehrsa Baradaran, author of The Color of Money: Black Banks and the Racial Wealth Gap.
By contrast, more than two-thirds of mortgage loans given out by black-owned banks in 2011 went to black borrowers, according to a Federal Deposit Insurance Corporation study. United Bank of Philadelphia has said it has created and maintained more than 1,500 jobs since it expanded its small business loan services in 2013. Harbor Bank of Maryland is working to support local black entrepreneurs and black-owned startups. And for each dollar deposited in Carver Bank, 83 cents is reinvested in the community, according to bank reports.
This is important work. But the revival of the bank black movement can't in isolation undo generations of structural racism and economic inequality. John Robinson, a professor at Washington University in St. Louis who has studied the intersection of race and banking, pointed me to another example from the civil rights era: the Montgomery bus boycott. It was effective, Robinson said, because it was part of a larger political strategy, in Alabama and around the country. Boycotters organized an alternative transport system of carpools, car insurance policies, discounted taxi rides, new shoes for walkers, all of which helped to sustain the campaign and bring it national attention. Politicians were forced to respond. The boycott was about more than just taking your money and moving it elsewhere; it was about political change.
What Montgomery illustrated was that any movement that wants to address economic inequality in this country must have a financial agenda and a political one. The #BankBlack movement is predominantly about economic empowerment and pressure, not politics. That alone cannot change a system that has, for decades, perpetuated racial inequality in the United States. To do that, the movement would have to be linked to a comprehensive political program that might include federal and state job programs for people of color, the end of cash bail, and reparations, as the Movement for Black Lives called for in its 2016 platform, released almost two years to the day after Michael Brown's death.
"The way of putting pressure is not just by taking away our money," Robinson said. "It's about changing the rules of the system." Ultimately, the #BankBlack movement's greatest value may not be as a solution to racial inequality, or to the role that America's banks have played in enabling it, but as a way of challenging the country to reckon with these problems.