"Your president is not good," said a man in a cockeyed Mao cap. "Why does he want to hurt us common folk?" He sat at the edge of the road just outside Wengding, China's last remaining so-called primitive tribal village. The man had never finished elementary school, but he quoted me the exact figure of America's trade deficit with China. Even here in rural Yunnan Province, one of the most remote parts of China, tariffs are on the mind.
The United States announced tariffs on Chinese steel and aluminum earlier this year as well as on over 1,300 other Chinese products, and Trump threatened an additional $100 billion in tariffs after Chinese retaliated with their own proposed duties. China's population is still roughly 50 percent rural; keeping villagers' support is key, as revolutions historically begin in the countryside. And as trade war tensions mount, the people I spoke to in rural Yunnan seemed sympathetic to the narrative out of Beijing: The United States is an aggressor brandishing both tanks and tariffs, while China and its peaceful rise occupy the moral high ground. President Xi Jinping—the Chinese leader whose move to abolish term limits in March alarmed many Western observers as a move towards greater authoritarianism—is more popular than ever. "Twenty years would be better than only ten!" quipped one farmer.
In Bangdong, a village of 350, a young mother named Shi Biang'er expressed the sentiments of many I spoke with: "People here are like frogs in a well—their perspective is limited. They are concerned about keeping up with others in the village: selling more tea and building a bigger house. Beijing is far away, and international politics aren't relevant to our lives."
Yet there is also what some might find a surprisingly consistent view on free trade. "All of humanity is one family," said Mayor Kong Guangbang, a government official in thick-rimmed glasses and digital camouflage pants I spoke with in Potou township, a rural community in southwest China. "We have a shared destiny. But if we close our doors to trade, everyone suffers. When we open our doors, good things can come into our China—like ken-de-ji." He referred to the Chinese name of KFC, a transliteration of Kentucky. "And good things can also go out to your America," added Kong.
Kang Jiaxin owns a convenience store in Bangdong and is a fellow believer in free trade. "China closed itself off before, so we were backwards," he said with directness and a tinge of sorrow.
"I don't blame Trump," says Kang, "He is serving the American people's interests–that's his job. President Xi does the same for us." Kang has clear eyes and a wispy goatee that exudes sagacity. "Serve the people," he says, quoting Chairman Mao. (Xi spent seven years laboring in rural Shanxi Province during the Cultural Revolution, and his anti-corruption efforts are popular in the countryside.)
Where Kang takes issue with the United States is in foreign policy. "The U.S. interferes in other countries' affairs," he says. According to Kang, sometimes this has benefitted the world—or even China. The U.S. consistently leads reconstruction efforts in war-torn countries: Trump is helping broker peace on the Korean Peninsula, and the United States was a friend to China in the War of Resistance Against Japanese Aggression leading up to World War II. But the United States, say Kang and others I spoke to, is too quick to go to war.
"The U.S. likes to fight wars," said one young tea farmer. "It likes to get others to fight too so it can sell weapons and get rich." This was a common perception among the villagers, and a stark contrast to how they perceived their own country. "China is a peaceful nation," said one. "China doesn't fight wars," said another. China's self-declared "peaceful development"­­­­—previously referred to as "peaceful rise" in official Party material—is designed to minimize the perception of threat and to reinforce China's aversion to war, something the country had all too much of for over a century, beginning in 1839 with the First Opium War and lasting until the Korean War ceasefire in 1953.
For the past 40 years China has enjoyed peace and unprecedented economic growth by focusing on its domestic agenda.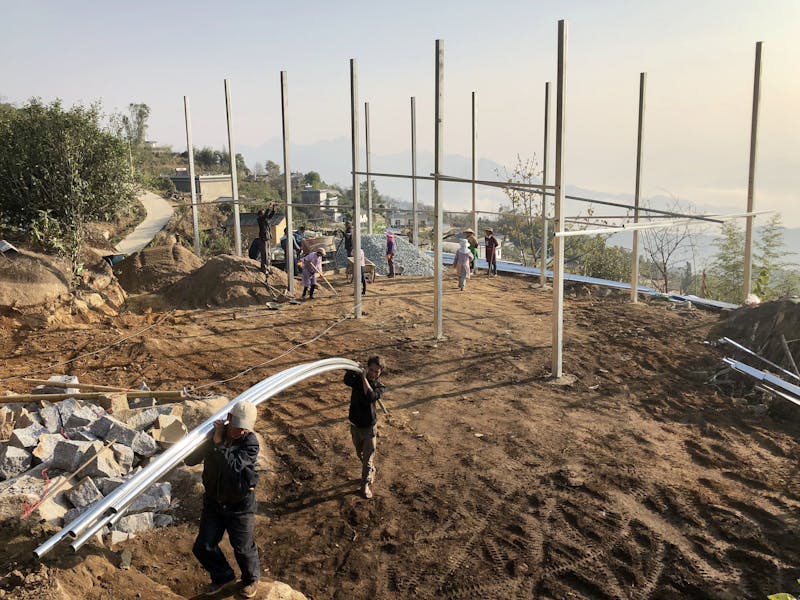 "There's no need to go to war. We can solve everything by talking," said the young tea farmer. "Or with moh-nee!" he added, emphasizing money in English and rubbing his fingers and thumb together. China has doubled its foreign affairs budget in just the last five years under Xi's leadership, not including investment, infrastructure development, or financing that China also leverages to achieve its foreign policy goals. In April the Dominican Republic cut off diplomatic relations with Taiwan in favor of the government in Beijing. China says there were no economic pre-conditions, but many speculate the estimated $3.1 billion in infrastructure projects now slated for construction influenced the switch. On a larger scale, China's Belt and Road Initiative, a global network of infrastructure development projects, is projected to reach two-thirds of the world's population, stretching from western China to Africa and Europe. With an expected price tag of $1 trillion, it is poised to improve the infrastructure landscape of the world and fill a critical gap that developed countries have left vacant. It will also dramatically extend China's sphere of influence. Last year China opened its first overseas military base in Djibouti (eight miles from a U.S. base); it also took out a 99-year lease on a Sri Lankan port for commercial purposes, though it is equipped to service China's navy. As the lines between economic and security interests becomes increasingly blurred, some fear the responsibility for maintaining China's peaceful rise may fall upon the military.
---
In early March, as U.S.-China trade spats were still focused on technology policy and possible violation of sanctions against Iran, the new film Amazing China hit theaters across the country. Released by state broadcaster CCTV, the movie highlights "the development and achievements of the Party" over the last five years. After less than two weeks in theaters, it became China's top-grossing documentary of all time, bolstered in part by compulsory viewings for China's 90 million or so Party members.
For a Monday night showing, I ventured two hours from Bangdong village into Lincang, a nondescript city of 350,000 set in a small river valley in Yunnan. Just 15 years ago, fields of corn and cabbage filled the valley; now, housing developments and shopping centers have moved in, complete with Walmart and ken-de-ji. I joined fifteen others in a sparsely-filled theater for 90 minutes of China's achievements in HD.
Sweeping panoramas captured China's newly-built highways, high-speed rail and record-breaking bridges. A deep-voiced narrator told of Chinese advances in space and ultra-deep sea exploration. A montage highlighted China's growing military capabilities on land and sea with a fatigue-clad President Xi spurring troops to "defeat any foes that invade our territory." Media footage showed Xi's speech at the Paris climate summit, the opening of the Asian Infrastructure Investment Bank, Xi "bringing China's development experience to Africa," and Xi encouraging students to pursue "the Chinese Dream." It seemed to have the desired effect. "The Communist Party is great!" exclaimed one moviegoer I spoke with.
---
Villagers describe the United States with colorful adjectives and usually a thumbs up: Powerful. The big boss. Number one. Under Xi's leadership, they also see China as increasingly able to compete with the United States as equals. "America is like an elder brother," says Kang Jiaxin. "He doesn't want baby brother to grow bigger than him. But there's nothing he can do about it."

Referring to what Trump called China's "illicit trade practices," one villager responded, "We aren't thieves. An apprentice takes what he learns from the master and, at some point, has to venture out on his own. When you have nothing, you have to start somewhere."
Kang and I chat late into the night, and the single bulb in Kang's Convenience is soon one of the last shining in the village. The fluorescent light is cold and leaves half of his face in darkness. "China doesn't want any kind of war. We are still developing," Kang says. "But we aren't afraid of war either." Again quoting Chairman Mao, Kang adds: "Leave me alone, and I'll leave you alone; but attack me, and I'll certainly counter." The words echo the consistent messaging of Vice Premier Liu He, head of China's trade delegation: China will not initiate a trade war, but it will be ready to retaliate.
"But you and I are just people," Kang says after a pause. "It doesn't affect us, and we can't change it. That's up to our governments."