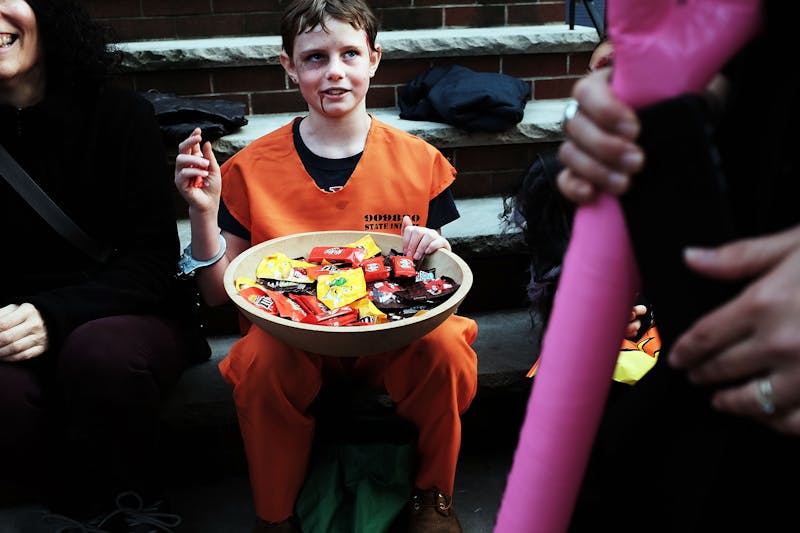 The trick-or-treaters who hit the streets on Wednesday night might spook a few people with their costumes. But the Rainforest Action Network is more freaked out by what's inside their bags.

On Wednesday, the environmental group sent out a press release accusing four of the world's largest candymakers of "hiding rainforest destruction in Halloween candy." Though they've all made public commitments to fighting deforestation, RAN said, Nestlé, Mars, Mondelēz, and Hershey's are all doing business with a firm that's bulldozing a tropical rainforest in Indonesia.

One of those companies is PT Surya Panen Subur II. In May 2018, RAN released a report saying the company has been "single-handedly destroying" thousands of hectares in Indonesia's Leuser Ecosystem, a critical habitat for endangered orangutans and other species. PT Surya used heavy machinery and fire to clear hundreds of hectares of rainforest illegally from January to March, the report alleged—a practice it had been found guilty of before. The Indonesian government apparently agreed with the report's findings, as it imposed sanctions on PT Surya in August. But RAN claims the company still supplies palm oil to many U.S. companies, including the candymakers.
Nestlé, Mars, Mondelēz, and Hershey's don't get palm oil directly from PT Surya, RAN notes. They get it from suppliers known to have sourced from the Indonesian company. That contradicts pledges each company has made to stop procuring palm oil that contributes to deforestation. "This is sadly just the latest case of broken promises by these candy companies, in what is now a many years-long struggle to get these companies to take their own commitments seriously," RAN's Chelsea Matthews said in a statement.
In response to RAN's accusation, representatives from both Mars and Nestle said the companies would take action. In an email, a Nestlé spokesperson acknowledged that PT Surya was a "sub-supplier to our direct suppliers in the past," but added, "We are currently working with our direct suppliers to ensure that they have removed these companies and any others engaged in continued deforestation from our supply chain." A spokesperson for Mars said the company has "stopped sourcing from PT Surya Panen Subur II given evidence of illegal deforestation." Representatives of Mondelēz and Hershey's did not immediately return requests for comment.
Exposure campaigns against big corporations have often worked well for RAN. Since 1987, the group has pressured companies like Burger King, Disney, and General Mills to rid their supply chains of deforestation. These past successes have been partially due to jarring images of endangered species—like orangutans clutching to each other in their bulldozed habitat. People hate the idea of buying products linked to that.
But rainforests do more than just serve as habitats. They prevent the rapid acceleration of global warming by absorbing carbon dioxide from the atmosphere. That's an asset the climate can't afford to lose. Ultimately, the effects from rainforest loss will be far scarier than a Halloween without candy.
This article has been updated to include comment from Mars.