Modern Love is based on the long-running New York Times column of the same name. The show is a collaboration between the Times (once called a newspaper, now a font of all manner of content) and Amazon (once called a store, now something for which no noun seems apt). Neither the column nor its television adaptation treat romance—which gets a bum deal in the criticism business (probably because women like it; that's another essay)—as a subject that requires defense. There's something refreshingly earnest in this, as in the show generally. In the age of prestige television and its attendant, manic fandom—everyone a rabbi, poring over the sacred text of Succession—Modern Love is a balm for those who just want to feel a little less alone as they're folding the laundry.
The column Modern Love has run for a decade and a half; if the personal essay boom is indeed over, Modern Love is uncowed. Some installments are more memorable than others, some writers more capable, and because it's ever changing by design, what endures are the words Modern Love. However you judge it as a column, you must admit it's an astonishing success as a brand.
Modern Love the show is an anthology—discrete stories united by an overarching sensibility of rigorous, almost humorless, sincerity. There's nothing tongue in cheek about it; it's dead serious about love. You can call it schmaltz if you like, but that's powerful stuff.
The show adapts eight essays that aficionados probably vaguely recall, and only devotees will notice the liberties taken by the writers (the filmmakers John Carney and Tom Hall, plus Sharon Horgan and the late Audrey Wells). As a form, the personal essay plays fast and loose with the truth. If some of the kinks get further ironed out in the process of adaptation, that's Hollywood! It likely doesn't matter to the freelancers who penned the source material, unless they're getting paid, which I imagine they're not. That's Hollywood, too!
The first episode, "When the Doorman is Your Main Man," is based on a 2015 essay by Julie Margaret Hogben. (With one exception, episodes take as titles the headlines under which the pieces were published.) It's the story of a young book critic (Cristin Milioti) with a preposterously nice apartment who finds herself pregnant by a man who's not looking to settle down. Her stoic Albanian doorman (Laurentiu Possa) becomes the man in her life, helping with the nursery furniture and stepping in for emergency childcare. It made me cry a little, because who doesn't fantasize about being a book critic who can somehow afford a beautiful apartment and also finds a capable man to handle the FreshDirect delivery?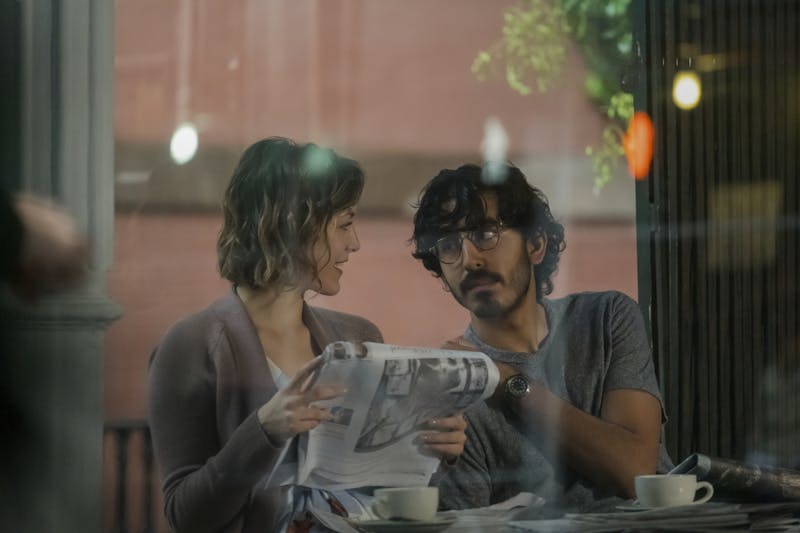 Each installment clocks in around 30 minutes, so the overall effect is very distilled—the stuff of a rom-com, minus the comedy and the b-plots involving zany best friends. This is a lot for an actor to manage, but few television shows get actors like Catherine Keener, Anne Hathaway (more on her in a second), and Jane Alexander (who deserved better from her episode, "The Race Grows Sweeter Near Its Final Lap").
Keener plays a journalist named Julie, who is interviewing a tech CEO (Dev Patel) about his new dating app. After their on-the-record chat, the two relax and swap stories of lost love. His tale (he loved her; she cheated) is standard-issue stuff; hers is a saga of what might have been. Patel is a charmer, but I couldn't wait to get back to Keener, a performer more than equal to the task of showing us the disappointment of a bad marriage and the exhilaration of rediscovered love in only half an hour. We get a lot of story at an incredible clip; this is like a Reader's Digest Condensed version of a film.
True believers (maybe I mean critics) love the binge-able show. Maybe television's sloganeers are somehow to blame. Is any TV really "must see"? Don't we all have enough we must do? And isn't there a different kind of pleasure in being entertained for 30 minutes, then never worrying about that world or its people again? Maybe that's the appeal of the anthology format. If you're such a viewer, I'd watch Keener's episode, and I'd also watch "At the Hospital, an Interlude of Clarity" just because it's so (I cannot believe I'm saying this) cute.
John Gallagher Jr. is an affable everyman; Sofia Boutella is his date. (In this episode's original column, the author, Brian Gittis, writes that his date was "so beautiful I was almost afraid of her," and that's Boutella in a nutshell.) They're about to hook up and then they end up in the emergency room. Sure, it's a little hackneyed; it's worth remembering, I think, that calling something a trope suggests its overuse but doesn't question its efficacy. Two near-strangers, odd circumstances, heightened tension, the expected unexpected bonding—I ate it up.
I know Anne Hathaway is polarizing (less her tearful Oscar speech, I think, than that people confuse her with her character from The Devil Wears Prada, who is, indeed, a jerk). Were she not the star of "Take Me As Whoever I Am," about a woman struggling with bipolar disorder, I'm not sure it would be watchable. The episode is garlanded with some Hollywood-style musical touches, and it's a delight to watch Hathaway dance and it's tough to watch her slumped on the bathroom floor. Besides having the star to recommend it, I also enjoyed that in this story the titular love isn't actually romantic, but located in self-acceptance and the affection between friends.
Taken as a whole, Modern Love is a fantasia, albeit one based on "true" stories. It's deeply indebted to Woody Allen—Bobby Short on the soundtrack, shots of picturesque mews and gilded apartment lobbies and interracial couples at lively-looking dinner parties. Hathaway's episode's musical flourishes reminded me of Everyone Says I Love You. An episode called "So He Looked Like Dad. It was Just Dinner, Right?" relitigates every May-December romance Allen ever depicted on screen (Modern Love manages to make it 90 percent less icky than Allen ever could).

There's a montage in one episode in which a perfectly bed-headed interracial couple sit side by side in a café reading—you guessed it—The New York Times. You'd groan if that particular fantasy weren't so potent. There's no question that Modern Love is often ridiculous; love is like that.