Our socially conscious tour through Egypt takes you into the cities and desert of one of the world's oldest civilizations, and on a four-day Nile River cruise aboard a traditional dahabeah sailboat. This unique experience immerses you in the culture of this ancient land and focuses on the human element—the diversity of its people and communities and their stories. You don't just visit new places; you become part of them. These experiences and the connections you'll make to the people you'll meet are what set this once-in-a-lifetime journey apart. You'll be encouraged by the knowledge that this tour supports local communities and guarantees unique interactions not offered elsewhere.
Highlights
Imagine the view standing in front of the Sphinx and visiting the Great Pyramids of Giza by camel. Discover the newly opened Grand Egyptian Museum. Explore the depths of Egypt's temples and learn about new discoveries from a local archaeologist. Savor homemade meals hosted by locals when you sit down in the homes of families in Luxor and Aswan. Visit Karnak Temple, one of the most significant and extensive religious sites in ancient Egypt and a Unesco World Heritage Site. Tour Manshiyat Naser, a.k.a. "Garbage City," an underserved settlement in the heart of Cairo where the inhabitants are trying to create a sustainable economy out of recycling garbage. Discover the current Egyptian art scene when you visit a local gallery. And relax and enjoy the adventures on a private, four-night Nile River sailing cruise. Through MEJDI Tours' established relationships, your Egypt experience is deepened by intimate discussions with professional historians, private meetings with local organizations, and shared meals with Egyptian families. Learn about Egypt as it was, and see it as it is.
Hosted by a MEJDI Tours trained local guide.
CAIRO: WEDNESDAY, FEBRUARY 21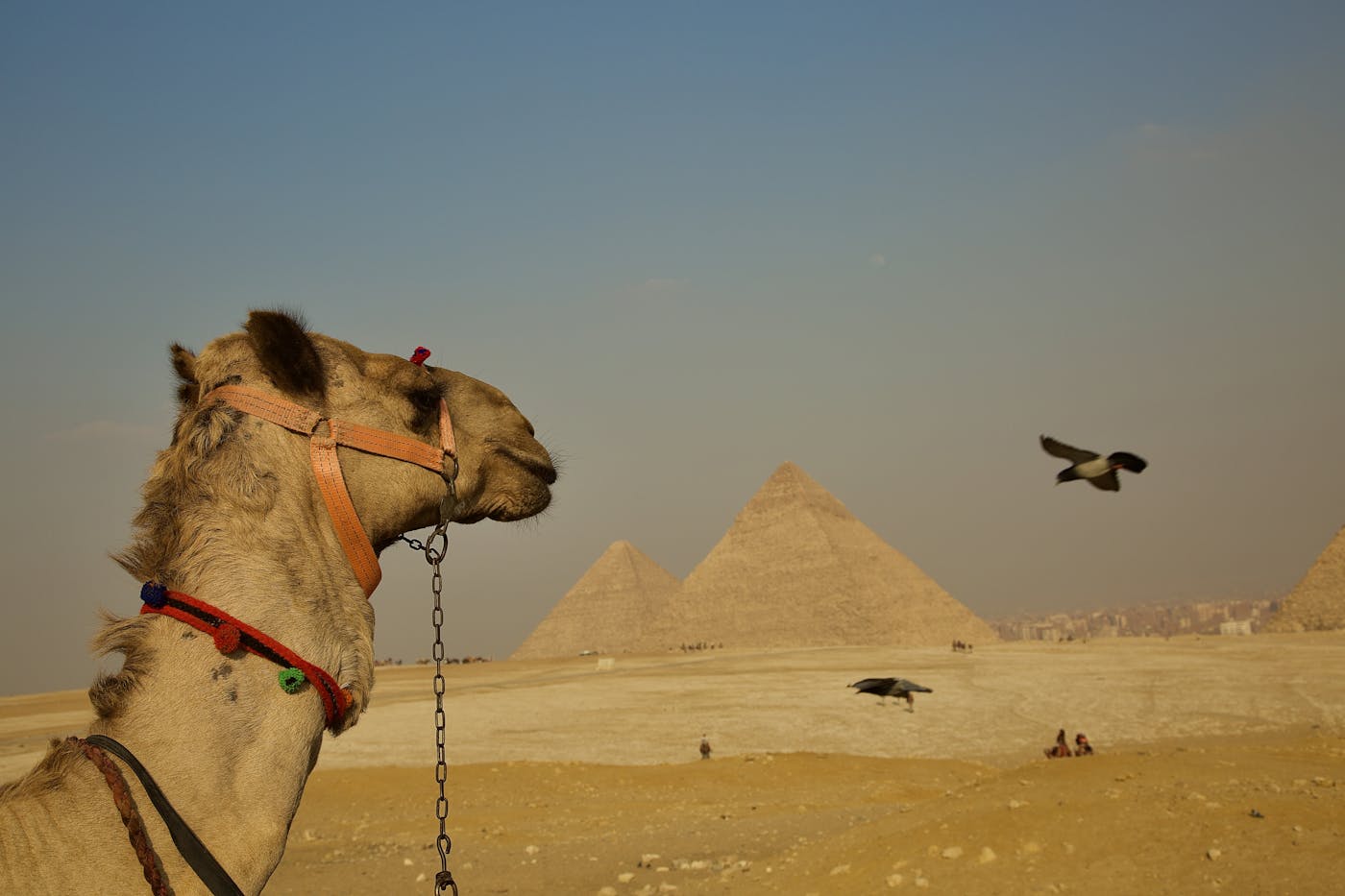 Includes: Welcome dinner
Upon your arrival at Cairo International Airport, you will be met by a representative before being escorted to passport control.
You will then be transported to the Villa Belle Epoque Boutique Hotel in Cairo in a modern, comfortable, and private air-conditioned deluxe vehicle.
Once you arrive at the hotel, you will be met by a representative who will assist with arranging transportation for your tour the following day.
On the evening of your arrival, there will be a group welcome dinner for you to enjoy and connect with your fellow travelers.
In the event you need to make changes to individual arrivals or request additional accommodations (including meet and assist), please speak with our traveler service team. Please note there will be a fee of $80 per arrival and a maximum accommodation of three people.

CAIRO: THURSDAY, FEBRUARY 22
Includes: Breakfast and lunch
We will begin the day at the Great Pyramids of Giza, where you can take a camel ride and visit the Solar Museum. We will also visit the iconic Great Sphinx of Giza and, after lunch, tour the newly opened Grand Egyptian Museum and spend a couple of hours exploring its artifacts and treasures.
Your guide will be happy to share recommendations of what to do in the area during your free evening when you return to the hotel.

CAIRO: FRIDAY, FEBRUARY 23
Includes: Breakfast and lunch
We will spend the morning exploring Coptic Cairo, with visits to the Hanging Church, the Ben Ezra Synagogue, the Coptic Museum, and St. Samaan Church.
Later, we will tour Manshiyat Naser, with a local Christian resident as our guide. The inhabitants of this underserved settlement in Cairo known as "Garbage City" are working to create a sustainable economy out of the collection and recycling of discarded materials.
After that, we will visit a local music school in historic Cairo, where you will learn about its work helping underprivileged children learn and perform music, before continuing on to Khan Al Khalili and Al-Moez Street for a walking tour, shopping, and dinner.


CAIRO AND LUXOR: SATURDAY, FEBRUARY 24

Includes: Breakfast and lunch
Take a private tour of historic Cairo and visit some of the recently rehabilitated mosques and buildings before our group flight to Luxor—where we'll arrive in the evening, just in time to check in to the Pavillon Winter Hotel and visit Luxor Temple—which will be beautifully lit up at night.

LUXOR: SUNDAY, FEBRUARY 25
Includes: Breakfast and lunch
Following breakfast at the Pavillon Hotel, enjoy a meeting with a local archaeologist who will discuss Egypt's past and present archaeology at one of the dig sites. Then we will visit a local family for lunch and conversation about life in Luxor, followed by an exploration of a local art gallery, where we will meet either its curator or one of the featured artists. Afterward, you have a free evening to dine and enjoy Luxor.
Guests who would like to opt for a hot-air balloon ride over Luxor can arrange one for $150 per person.

FOUR-NIGHT NILE RIVER CRUISE BEGINS: MONDAY, FEBRUARY 26
Includes: Breakfast, lunch, and dinner
After you've enjoyed breakfast at the hotel, we'll tour the West Bank, which includes the Valley of the Kings, Queen Hatshepsut's temple, and the giant Colossi of Memnon, including the tombs of Ramesses V and VI. An archaeologist will be onsite during the tour to meet with us.

During the cruise, you'll sleep and eat your meals on board the dahabeah sailboat.

LUXOR: TUESDAY, FEBRUARY 27
Includes: Breakfast, lunch, and dinner
The morning will start with a visit to Karnak Temple, one of the most significant and extensive religious sites in ancient Egypt and a Unesco World Heritage Site. This will be followed by a post-lunch afternoon sail on the Nile.

NILE RIVER, EDFU: WEDNESDAY, FEBRUARY 28
Includes: Breakfast, lunch, and dinner
A day of Temple exploration: First, we will visit the Edfu Temple—the largest temple dedicated to Horus and Hathor of Dendera. Then we will visit the Kom Ombo Temple—a unique temple that has a "double" design, for two sets of gods, built by the Ptolemies.

NILE RIVER, ABU SIMBEL: THURSDAY, FEBRUARY 29
Includes: Breakfast, lunch, and dinner
We will take a tour of a local Nubian village and view the Tombs of the Nobles and Elephantine Island during a felucca ride.
During this day, early risers have the opportunity to opt for a tour to Abu Simbel, which is accessible by a 3.5-hour drive or a flight, cost ranging from $250 to $300, to visit the magnificent rock-cut temples originally cut out of the mountainside during the reign of Pharaoh Ramesses II in the thirteenth century BCE.
Your guide will be available to arrange transportation and provide guiding service for this journey upon request.

PHILAE TEMPEL AND HIGH DAM, CAIRO: FRIDAY, MARCH 1
Includes: Breakfast and dinner
After disembarking from our cruise, we'll visit the High Dam, which created Lake Nassar, and the Temple of Philae, an ancient Egyptian temple complex located on Agilkia Island, which was dedicated to the goddess Isis. Originally situated on the Island of Philae, the temple was relocated due to the construction of the Aswan High Dam.
We will then travel to the Aswan Airport for our return flight to Cairo, where you'll stay in a hotel near the airport and enjoy a final group dinner before departing from Egypt the next day.

CAIRO: SATURDAY, MARCH 2
Includes: Breakfast
For your final morning in Cairo, enjoy breakfast at the hotel before being transported to Cairo Airport.
Parties interested in remaining in Cairo for an extended stay can arrange additional accommodation and individual departure transfers through our sales team.
DETAILS
TRIP PRICE
Tour price—$3,500 per person
Single-occupancy supplement—$1,000 per person
INCLUDED
Accommodations and meals as per the itinerary
Services of one Egyptologist/tour guide for nine days
Private transportation throughout the trip, including one group private arrival and one group private departure airport transfers
Two domestic flights, from Cairo to Luxor and Aswan to Cairo
Entrance fees, site visits, and honorariums for speakers
Water on bus throughout tour
Dedicated pre-trip customer service and on-ground support

NOT INCLUDED
International airfare
Travel insurance—highly recommended
Meals not mentioned in the itinerary
Customary tips for drivers, guides, and Nile cruise staff
Porterage fees and gratuities at hotels and during cruise

Individual airport transfers outside of the group transfer
Anything not explicitly mentioned in the Included section