The saga of "Balloon Boy" is not yet over. The child captured the nation's attention when he was thought to be floating away in a large silvery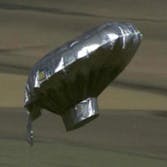 balloon; but then he was subsequently discovered hiding in an attic and remarked that he did it "for the show." Since that remark, there has been speculation that the mysterious antics of "Balloon Boy" were actually a publicity stunt.
If true, it would not be the first time families have tried to prank a nation. Click through for a look at "Balloon Boy" and other hoaxes from history.