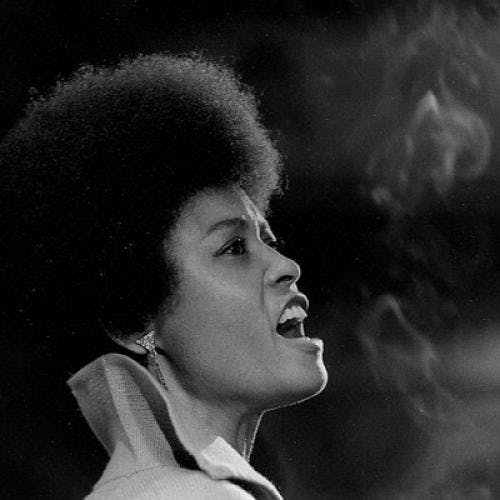 I'd like to stay on the subject of music and Civil Rights for one more post. The ongoing talk about Joan Baez's performance of "We Shall Overcome" at the White House has reminded me how readily we embrace the idea of music as an instrument of political change when, often, music is more a reflection of changes in the political realm—an effect, rather than a cause. Not that songs have no power to influence the way people think or feel; to say that would be to deny the very value of music as a form of art. Still, in our eagerness to valorize art and artists, we sometimes inflate the ability of songs to change the world—especially when the singers of those songs are agents of white benevolence, like Baez—and we often ignore how dramatically the world changes music and musicians. Let's look at the case of Abbey Lincoln, one of my favorite singers and composers. She made one of her first appearances on national television in 1958, on "The Steve Allen Show," and the performance can be retrieved from history on YouTube
Allen, probably thinking he was flattering her as a black woman by pawing all over her in words, introduces her as "one of the loveliest young singers we've had the pleasure of looking at and listening to on this show in a long time, the beautiful Abbey Lincoln," and she accommodates him and the panting male public by slithering around as she sings a hipster bossa version of the old swing standard "You Came a Long Way from St. Louis."
Six years later, after the Freedom Rides and the March on Washington, Lincoln appears in a televised performance with the jazz drummer and composer Max Roach and his band, and she is no longer accommodating the Steve Allen world.
She opens with a few bars of Cole Porter's "Love for Sale," spits the song onto the soundstage floor, and proceeds to demonstrate her transformation into a champion of fearless, uncompromising black womanhood. The piece she sings is one movement from the "Freedom Now Suite," co-composed by Lincoln, Roach (who was married to Lincoln at the time), and Oscar Brown, Jr., and it remains shattering, decades after it was aired—not in America, I should add, but a considerable distance from St. Louis, on Belgian TV.
For more TNR, become a fan on Facebook and follow us on Twitter.