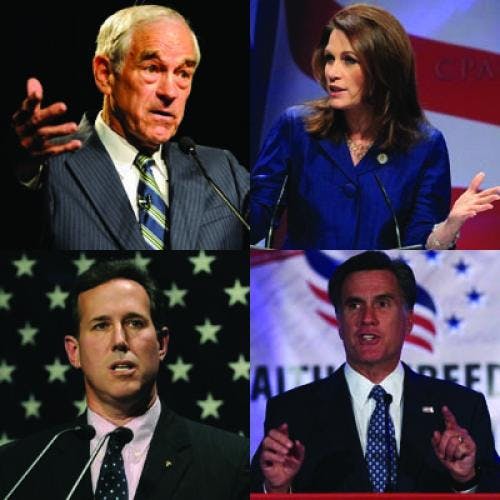 Heading into the second GOP presidential debate tonight in New Hampshire (and the first to actually feature a first tier roster), there's a lot of speculation as to how each candidate will fare. How will Romney handle the inevitable attacks? Can Newt miraculously revive his campaign? And who among Michele Bachmann, Ron Paul, and Herman Cain will draw the accolades of the Tea Party faithful? While it's impossible to know anything for sure, it's likely that each candidate will fall back on old habits when the cameras start rolling, and, as such, it's worth digging back into their debating history in order to get an idea. Here's a preview of each of their styles.
The Interrupter
Although this will be her first presidential debate, as a three-term Congresswoman Michele Bachmann is not without some experience. In her 2010 reelection campaign, Bachmann showed herself to be an aggressive debater, prone to direct attacks and interrupting her opponent. One report from the second of three debates in which she participated last cycle noted that listeners "might have found it hard to follow at times, given how many times the candidates talked over one another." While grating, her aggressive strategy has proven successful. Bachmann hasn't lost an election yet.
The Straight Talker
Herman Cain shocked many pundits with his performance at the first Republican debate by giving a poised showing and, according to GOP focus groups, coming out victorious. As one debate-watcher put it, "He knew exactly what needed to be done, how to outline the problem, and find a solution." Indeed, part of Cain's rhetorical style is to explain his points numerically, which he reinforces by counting on his fingers. So while he might be criticized for being light on substance, Cain's easily digestible rhetoric has resonated with Tea Partiers and conservatives so far.
The Too-Many-Ideas Man
Though he hasn't run for office since 1998, Newt Gingrich hasn't ever really stopped debating. Indeed, he has engaged in an endless stream of public debates and forums, including facing off against John Kerry over the environment in 2007, sparring with Howard Dean on the topic of health care in 2009, and again with Dean over several issues in February of this year. But while Gingrich has plenty of practice in speaking, he's got far less in staying consistent. He will almost surely face criticisms for his recent attack—and subsequent retraction—on the Paul Ryan budget.
The Easy Target
In his prior campaigns for president—as a Libertarian in 1988 and as an anti-war GOP candidate in 2008—Ron Paul has frequently played the role of easy punching bag for the more mainstream candidates. During an early Republican debate in 2008, for instance, then-frontrunner Rudy Giuliani scored some easy points by laying into Paul for his suggestion that the U.S. ought to reconsider its military engagements, garnering "wild applause" from the crowd for his efforts. And when Paul's not being attacked, he is typically ignored. Even when the 2008 GOP field had narrowed to just four candidates, reports like this one were common after debates: "Mike Huckabee and Ron Paul, meanwhile, have faded into the background of this debate, struggling to break through amid the scrap between McCain and Romney."

The Cool-Under-Pressure Guy
While the viewers assembled by Fox News after the first debate in South Carolina overwhelmingly selected Cain as the winner, most pundits praised Tim Pawlenty for his composure. Time Magazine's Jay Newton-Small noted that Pawlenty "was the calmest and most leader-like of those on the stage," while Politico's Ben Smith called him "low-key." Indeed, staying calm seems to be a key feature of Pawlenty's style. Going back as far as his gubernatorial debates, Pawlenty tends to keep it cool and frequently calls out his opponents for interrupting him or letting their tempers flare. One report from his second gubernatorial race in 2006 noted that Pawlenty employed this tactic to question his opponent's "ability to respond to pressure situations."
The Thin-Skinned One
Mitt Romney's debate performances in 2008 indicate that he quickly becomes defensive when he gets pushed and prodded by other candidates. Following a debate in New Hampshire, his rival Mike Huckabee criticized him for being thin-skinned and inconsistent, saying that Romney interpreted their disagreements as "a personal attack." As the candidate with the most to lose—and the most baggage—there's no doubt that Romney will once again be everyone's favorite target this time around. The only question is whether he's learned to react with a little more grace.
The Aggressive Underdog
Rick Santorum claims to enjoy playing the role of underdog, a position that appears to feed into his debating style as well. In 1994, the Philadelphia Inquirer described Santorum's performance against a long-time incumbent senator as having "sound-bite precision" and "an instinct for the jugular." Indeed, in that same debate, Santorum responded to a challenge from his competitor by asking, "Then how come the National Taxpayers Union rates you a hostile, fat F?" Look for more of the same fiery language tonight.
Matthew McKnight is a writer living in Washington, D.C.