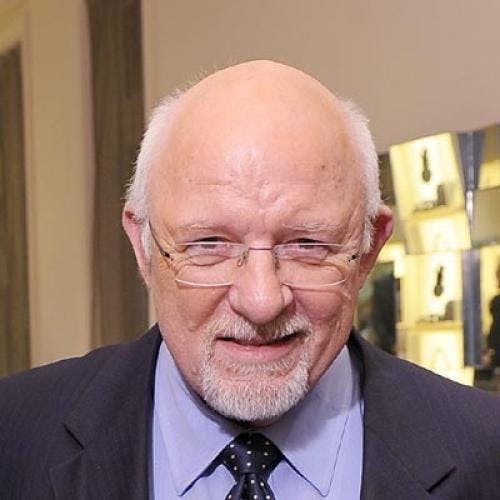 As the GOP presidential nominating process begins to take shape, behind each candidate there emerges a cadre of consultants, managers, and strategists, some more prominent than others. And while we might not know for sure what kind of campaign each candidate plans to wage, we know a thing or two about the history of their more famous staffers. Here's a look at some of the GOP candidates' top aides, and what their past campaigns might reveal about their current playbooks.
Ed Rollins (Michele Bachmann): To many, Michele Bachmann's pick of veteran Republican strategist Ed Rollins to run her campaign made perfect sense. The Tea Party queen's brash but ever-smiling style meshes perfectly with Rollins' notorious aggression and quotability. Indeed, if Rollins' previous exploits are any indication, we may be in for quite a ride.
As early as 1981, while he was an advisor to Ronald Reagan, Rollins was making waves with his loose lips. That year, he boasted about pressuring Senator Roger Jepsen to vote for the sale of AWACS planes to Saudi Arabia, saying, "We just beat his brains out. We stood him up in front of an open grave and told him he could jump in if he wanted to." Later, in 1993, he worked with Christie Whitman to clinch the New Jersey governorship. After Whitman won the race, Rollins gloated that he had spearheaded a campaign to suppress voter turnout in largely African-American communities by bribing ministers. When he was pressed on this claim later, his excuse was simply that he had lied. "The problem with politics today is people like Ed Rollins get far too much play," he said, rather inexplicably. "This was an inside-the-Beltway bullshit game that I've become the victim of."
This time around, Rollins' watchers seem unlikely to be disappointed. One of his first acts on behalf of Bachmann was to slam Sarah Palin on the Fox News radio show "Kilmeade and Friends" last week. "Sarah has not been serious over the last couple of years," Rollins said. "She got the vice presidential thing handed to her." He later went on to refer to the choice between Palin and Bachmann as essentially boiling down to two categories: "People are going to say, 'I gotta make a choice and go with the intelligent woman who's every bit as attractive.' " Paired with the outspoken Bachmann, this couple just might be a match made in heaven.
Nick Ayers (Tim Pawlenty): At just 28 years old, Nick Ayers is the wunderkind of Republican electoral politics. In his twenties and then lacking a college degree, "Most kids with his dossier are sleeping in their parents' basements," noted a 2009 TNR profile, which described him as an "unlikely leader" within the Republican party. In this sense, Ayers shares a thing or two with his charismatically-challenged candidate, who also is no doubt hoping he can pull off a surprise, meteoric rise.
Indeed, Ayers' ascent was a quick one: He left Kennesaw State University as a freshman in 2001 to work on Sonny Perdue's bid for the Georgia governor seat. Perdue improbably won the race, and Ayers never looked back. Despite an October 2006 incident in which he was arrested for driving under the influence of alcohol and widely panned by the media and electoral opponents, Ayers ended up landing a big job as executive director of the Republican Governors Association.
In April, Pawlenty announced his hiring of Ayers, who responded by releasing an email that said he was joining up because God had called him for a "higher purpose." While Ayers does not seem to have a signature style of campaigning, his very presence in the Pawlenty camp has been characterized as an energizing "game starter." And if there is one thing Pawlenty craves and Ayers seems to possess, it's a sense of excitement.
John Weaver (Jon Huntsman): Although he isn't officially in the race yet, Jon Huntsman has retained the services of John Weaver, the former McCain campaign advisor during his 2000 and 2008 bids for president. Weaver, like his current boss, is widely viewed as a moderate, even bipartisan, strategist (he worked for the Democratic Congressional Campaign Committee in between his stints with McCain), so his involvement with Huntsman seems almost intuitive.
Weaver is famous for attempting to steer the GOP back to the political center, and his McCain campaigns often refused to stoop to partisan fighting or personal attacks (Weaver left the 2008 campaign in July of 2007.) His stint with Huntsman could therefore look a lot like his time with McCain when the Arizonan was still a long shot. As Time Magazine's Michael Scherer wrote in January, Weaver "loves long shots who scramble the partisan algebra."
In recent days, Huntsman's revealed campaign strategy of refusing to talk about President Obama has been widely questioned by those who would like to see the former Utah governor and ambassador to China as the party's nominee. But given the identity of the leader of his campaign team, such tactics may not be all that surprising.
Matt Rhoades (Mitt Romney): A consummate GOP insider who is often seen as being strategically friendly with the secretive Matt Drudge, Matt Rhoades was hired to work as Romney's campaign manger after leading his PAC. Rhoades worked on the Romney campaign in 2008, and for the George W. Bush re-election team before that. In short, Rhoades is every bit as much the expected campaign manager as Romney is the expected nominee at this point.
Though Rhoades has not previously led a major presidential campaign, his deep-seated ties to the party establishment could prove quite helpful for Romney, who has worked tirelessly to establish himself as the favorite of party elites. Rhoades knows the current Republican establishment as well as any other operative, and Romney has already been raising money at an impressive rate.
Of course, it's hasty to speak of Rhoades as some sort of GOP kingmaker. But his ascension to the top of Romney's PAC last February was seen as a huge victory for the former governor, as Rhoades' track record is impressive and his connections will bolster Romney's standing.
Jesse Benton (Ron Paul): At the helm of Ron Paul's third presidential campaign is longtime Paul family strategist Jesse Benton, whose entire recent political career has been divided between the Texas congressman and his son, Kentucky Senator Rand Paul. Benton, who led Rand's 2010 Senate campaign and was a spokesman for Ron's 2008 presidential campaign, is a true believer and can therefore be expected to run a campaign much like the ones we've seen from the Pauls in the past: isolationist, anti-Federal Reserve, and pro-minimalist government.
Mark Block (Herman Cain): Leading the unlikely campaign of former pizza magnate Herman Cain is Mark Block, the one-time head of Americans for Prosperity's Wisconsin chapter and a controversial figure in his own right. Block has been in political trouble for past electoral indiscretions in Wisconsin, including a voter caging controversy last year and a previous incident involving a State Supreme Court race that left him banned from campaign involvement in Wisconsin for three years. Still, he has been a successful political operative in the state, having helped to secure the victories for both Governor Scott Walker and Senator Ron Johnson in 2010. As Cain is not expected to compete seriously for the nomination, however, it is unclear how far Block will be willing to go for the former Kansas City Fed chief, who has set up his campaign in suburban Georgia, far from Block's Wisconsin stomping grounds.
Michael Biundo (Rick Santorum): Rick Santorum's political director Michael Biundo isn't the most experienced national figure, but he's experienced in New Hampshire politics. He consulted for the failed Jim Coburn gubernatorial campaign in the state in 2006, served as a state representative for the two years prior, and worked as a deputy campaign manager for Pat Buchanan's run for the presidency in 1996. Santorum's appointment of the former state representative and businessman seems to be a clear run for that state's crucial early primary—but not much else. Biundo is not well known outside of New Hampshire, and for Santorum to advance deep into the primary season, he will need to perform in more than just the Granite State.
Gabriel Debenedetti is an intern at The New Republic.