Can yellow journalism cover the world?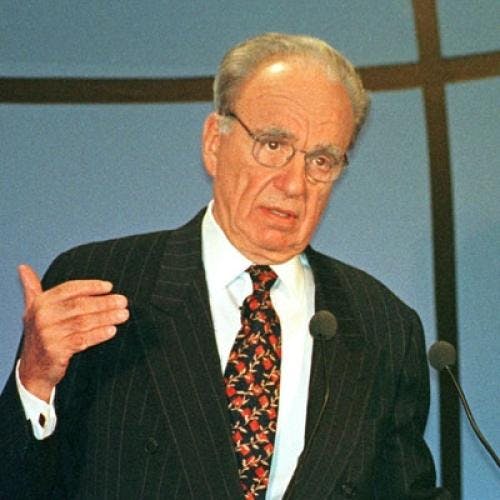 With great fanfare, the New York Daily News announced on May 1, 1982: NEWS TO CITY: WE'RE HERE TO STAY. Its owner, the Chicago Tribune company, had just discovered that it could neither sell nor close the News, and had decided, perforce, to keep it going. On an inside page, the paper announced: TRlB TO RUPERT: DROP DEAD.
That blunt message was intended, of course, for Rupert Murdoch, Australian proprietor of the New York Post, the evening paper with which the News is waging the most acrimonious newspaper war the country has seen in years. Murdoch had won all the battles, so when the News suddenly recovered its hope of winning the war, it celebrated in its brashest style.
It had been galling for a leading American institution, which thought itself secure in its readership, advertising revenues, and reputation, to be beaten constantly by anything so dreadful as the Post. And it is not in the nature of a leading New York institution to admit that it can be bested by a foreigner. The News was experiencing the same baffled fury most of Fleet Street has known for the past twelve years, and Sydney for the past quarter-century. Murdoch has come out of the bush and taken the world's leading publishers to the cleaners. He is much smarter than they, a better newspaperman, and produces quite horrible, but successful, newspapers.
The News was therefore delighted to record a victory (confirmed on July 26, when it reached an agreement with the last of its unions on a $50-million economy plan) which guarantees its survival for another five years. In this war, to survive is to win, and the odds are now heavily against the Post. Murdoch has said that there is room for only one tabloid in New York, and the morning paper has a built-in advantage that even as exceptional an evening paper as the Post cannot overcome.
It was a damn close-run thing, as the Duke of Wellington said of Waterloo, and Murdoch's admirers might add that the final verdict is not yet in. The Tribune company, panicked by the News's losses, offered to sell it last December, but by spring there still were no viable takers. Then Murdoch sanctimoniously offered to take over the News himself. He would have merged the two papers, solved all of his money problems, and resumed his empire's expansion in America.
At the time, according to Murdoch, the Post was losing $20 million a year, and, having failed to kill or eat the News, he has to carry this considerable loss indefinitely, or admit defeat and close the paper. Its cover price has just been raised from 25¢ to 30¢ (no effect on sales has yet been admitted), and the Post has more advertising than it did a year ago. But the losses are certainly still a great deal more than the profits on his other American papers. The Star (a weekly tabloid that sells through supermarkets). New York magazine and The Village Voice in New York, and two papers in San Antonio. And Murdoch's British operations are running at a large loss. His most prestigious property. The Times of London, together with The Sunday Times, is losing £15 million ($27 million), his mass-circulation Sunday paper, the News of the World and its magazine, SunDay, are also losing heavily, and the profits from The Sun are down. His Australian operations are profitable, but certainly do not make enough to pay for losses in Britain and the United States.
The losses at The Times will continue indefinitely. With the survival of the Daily News guaranteed for five years, the New York Post will continue to lose money. Murdoch has borrowed to the limit of his credit on three continents, and has huge interest payments to meet. His holding company, the News Corporation, can certainly afford the losses this year (it did $1.2-billion worth of business last year), but the re will soon come a time when the bard-faced money men will try to call a halt, and then it will be bad news for one of the papers, possibly The Times, possibly the Post.
Murdoch will certainly not give up the Post without a fight. His name appears on the staff listing as editor-in-chief. He took over a dying paper from Dolly Schiff in 1976, and has spent $120 million to remake it in his own image. It is mean, vicious, vulgar journalism, but it is also sharp, aggressive, popular, and successful. The circulation has jumped from half-a-million to 900,000. The economic forces that have wiped out evening papers in Washington, Cleveland, Philadelphia, Chicago, and Minneapolis in the past few years are pressing down upon the New York Post, but if sensationalism will save it, Murdoch will supply it.
The Post had a front-page splash: "BLOOMINGDALE 'BURIED LIKE A DOG'—Jilted model accuses millionaire's widow." The Post has enjoyed the Bloomingdale story. One handy measure of journalistic sleaziness is the adjective count. On August 24, the Post story began, "Millionaire tycoon Alfred Bloomingdale, embroiled in a steamy palimony suit with a woman half his age, died Friday and was secretly buried." After that, we had "the torrid love triangle," "socialite wife Betsy," "actress-model ' Vicky Morgan," "the ravishing 29- year-old," with the "sizzling claims."
The front page tells a lot about a newspaper, particularly a tabloid. Some Post classics include; HOW I BECAME A MASS MURDERER, BY DAVID BERKOWITZ, a headline which Murdoch wrote himself, for a story about Son of Sam's old letters to a girl friend; and TEEN PUNKS SHOOT 2 COPS. That was accompanied by a photograph captioned, "Cop-hating punk Jose Duran, 18, sullenly waits to be led away in handcuffs after he and two other teens allegedly gunned down two cops in Queens." Some "allegedly"! The dog-days story this year was 500-LB, RAPIST LIVING IT UP. That pornographic tidbit was chewed over for days.
Another measure of a paper 's sleaziness is its level of political argument. In New York's gubernatorial campaign, the Post supported Mayor Ed Koch for the Democratic nomination against Lieutenant Governor Mario Cuomo. Indeed, the Post practically invented the Koch candidacy. Last February, just after he had started his second term as Mayor, the paper ran coupons for its readers to fill in and send off to Koch, urging him to run for Governor. Thousands did so. Surprised and gratified, Koch accepted Murdoch's blandishments (he is a longtime friend). On March 3, the Post's front-page splash read "CUOMO RIPS THE MAYOR—Shock attack: Says that Koch would 'walk through slime.'" Note the direct quote. In fact, Cuomo was himself quoting Koch, who had referred to the New York Liberal Party as "slime." The main distinction of the New York Post, however, is not that it is sensational and irresponsible, but that it is corrupting. It panders to hate, fear, and to racial and ethnic divisions in New York, which is a worse place because of it.
Like other great newspaper proprietors in the past, such as Hearst or Pulitzer or Northcliffe, Murdoch believes that the only way to look at most politicians is down. They rarely disappoint him. Last November, there were elections for Mayor and other major posts in New York. The next morning, when the victors might have preferred to rest from their labors, they went instead to breakfast with Murdoch in the Hilton Hotel.
It was billed as a seminar on the city's future, but in fact it was to pay homage. Koch was there (he admits that he owes his first election as Mayor in 1977 to Murdoch), and so was the new Brooklyn district attorney, former Representative Elizabeth Holtzman. She had been savagely attacked by the Post when she ran for the Senate in 1980, and again when she ran in the Democratic primary for Brooklyn district attorney. The Post even ran her rival's press releases as news items. But Miss Holtzman could not afford the luxury of self-respect. Murdoch is too powerful. There she was, the day after the election, smiling happily, ready to forgive and forget and to lick his boots.
Murdoch learned to deal with politicians and journalists in Australia, which is as rough and tough now as New York was eighty years ago. Here is a true and characteristic story, told by a millionaire Australian prospector, Lang Hancock, about Murdoch and Charles Court, who was economic minister at the time, and later Premier of Western Australia; "I got a call from Rupert Murdoch, saying he'd never been up north and could I show it to him. So I flew him all a round the Pilbara and each day he became more enamored with it, and he decided he'd like to buy into one of the Hanwright prospects. And I said: 'That's no good, because the government won't negotiate with us.' So he said: 'Look, if I can get Charles Court to negotiate, will you sell me a piece of the cake?' And I said: 'Yes, by all means.'
"When we returned to Perth there was a message asking Rupert to contact Charles Court, so he went off in his bush clothes to see him. I went home to bed. Ten o'clock that night there's a knock at the door and it's Rupert. 'You're in,' he said. 'How on earth did you manage that?' I said. 'Simple,' said Rupert. I went to Court and told him: 'Look, you can have a headline a day or a bucket of shit every day. What's it to be?'
Murdoch is now 51, with a dazzling career behind him and heady prospects ahead. He was born to the purple, and his greatest ambition is to outdo his father. Sir Keith Murdoch was the most distinguished Australian journalist of his day, and a pillar of the establishment. He built up the largest newspaper group in the country, based on The Herald. Rupert Murdoch went to the best schools in Australia and to Oxford.
Sir Keith died in 1952. He had managed, not owned, The Herald, and bequeathed only a few small newspapers to his son. The board of the Herald company made it clear that it had no room for Rupert, then aged 21. The company's new chairman was an old friend of Sir Keith's, and executor of his will. He sold half the Murdoch newspaper properties to the Herald group, to pay inheritance taxes. All that was left for Rupert was the Adelaide News, and he had great trouble saving that. He is said never to have forgiven the way he was treated by The Herald thirty years ago. He tried to buy it in 1979, and failed. He may soon try again.
Murdoch learned his trade in Adelaide. He became master of every aspect of producing a newspaper: he wrote and edited stories, laid out the pages, and printed them. There has been no one in America to match him this century, or in London since Northcliffe. His financial talents are equally remarkable. News Corporation is as big as Knight-Ridder, and nearly as big as the New York Times Company and Dow Jones (The Wall Street Journal) put together.
His technique has been to buy newspapers and television stations wherever they were to be had, usually when they were in extremis. That was how he broke into the Sydney market in 1960. He bought the wreckage of an evening tabloid, the Daily Mirror, that was about to expire. It was there that he first applied the formula of aggressive journalism that brought such vast profit to The Sun in London, and that he has applied to the Post in New York. The Mirror is now the largest-selling paper in Australia.
Murdoch did not bring sleazy journalism to Sydney. The Mirror formerly belonged to Ezra Norton, who in 1950 ran a photograph on the front page of the marriage of Seretse Khama, paramount chief of Bechuanal and (now Botswana), to the daughter of Sir Stafford Cripps, British Chancellor of the Exchequer. The caption read "Fi, fie, fo, fum. What's he got that a white man hasn't?"
Ten years after acquiring the Mirror, Murdoch acquired another pair of faltering newspapers in Sydney, the Daily and Sunday Telegraph. These too are now operating at a nice profit. He also owns television stations in Melbourne and Sydney, newspapers and magazines in every part of the country, and shares in energy companies. He is the biggest book publisher in Australia, has large interests in ranching and record companies, a share in the film industry, and a half share in Australia's largest private airline. He has just started a new daily newspaper in Brisbane. If he can overcome his cash-flow problems, the empire will expand mightily: his two main newspaper rivals are both in real trouble, and there are pickings to be had.
Murdoch's prestige paper in Australia is The Australian, which he founded in 1964. It was to be the country's first national newspaper, published simultaneously in all major cities. It was a bold endeavor, in which pages were flown across a country as large as the United States. The Australian was an excellent paper to begin with, until Murdoch wantonly destroyed its credibility, for political reasons, in 1975.
IN THE GENERAL ELECTION of 1972, Murdoch had supported the Labour Party: he was going through a short-lived Socialist phase. Later he told The Village Voice: "In 1972, I ran all the electoral policies of my papers in Australia and got deeply, far too deeply, involved. Looking back, we did some dreadful things to the other side. In 1975, I changed my mind." The 1975 general election was the most vicious in recent Australian history. The Murdoch papers were so blatantly biased that the staff of The Australian went on strike. Murdoch had installed one of his hatchet men, Bruce Rothwell, to take out everything favorable to Gough Whitlam, the Labour leader, and strengthen everything favorable to the Liberal leader, Malcolm Fraser. Rothwell is now editorial page editor of the New York Post.
The staff wrote to Murdoch: "The Australian has become a laughingstock. It is not so much the policy itself, but the blind, biased, tunnel-visioned, ad hoc, logically confused and relentless way in which so many people are now conceiving it to be carried out, both in the editorial and in the news columns. We cannot be loyal to a propaganda sheet. We cannot accept the deliberate or careless slanting of headlines, seemingly blatant imbalance in news presentation, political censorship, and on occasion, distortion of copy from senior, specialist journalists, the political management of news and features, the stifling of dissent and even unpalatably impartial opinion in the paper's columns."
Murdoch came to London in 1969, a prodigy from the antipodes. The News of the World, a popular Sunday paper with the largest circulation of any newspaper in the world after Pravda, was for sale. The family that owned it had become afflicted with the galloping senility that eventually affects all newspaper dynasties. It was losing money and sales. Murdoch made short work of a rival purchaser, and soon turned the paper once more into a profitable enterprise.
Then, in quick succession, another media conglomerate offered him The Sun (formerly The Daily Herald), a worthy, boring, leftish, popular broadsheet that was about to close, and London Weekend Television delivered itself to him to pull it out of a managerial and financial crisis.
He applied Sydney tactics to The Sun. Godfrey Hodgson of The Sunday Times interviewed him about his plans, and Murdoch asked him if there was anything he admired in the rival Daily Mirror. Hodgson said he liked its pull-out news-feature section, called "Mirrorscope." Murdoch seized an example of Mirrorscope with finger and thumb, and ostentatiously dropped it into the wastepaper basket. "If you think we're going to have any of that upmarket shit in our paper," he said, "you're very much mistaken." As editor, he hired the most gifted popular journalist of the time, Larry Lamb; made The Sun a tabloid; put naked ladies on page three (the "soar-away Sun birds"); and its prodigious growth began. Its circulation rose from 700,000 to over four million (more than all the New York papers together), and in the days of its glory it was making over $30 million a year. He turned LWT around, too, largely by sacking an amazing number of overpaid and unnecessary staff. These three British properties were the money machines that paid for his great expansion in Australia, and his move to America in 1973.
MURDOCH'S INFLUENCE on Fleet Street has been wholly pernicious. The Sun would have died without him, but without him Britain would have been spared daily pornography, mindless sensationalism, and, perhaps, the disgraceful, screaming chauvinism of most of the British press during the Falklands war (THE SUN SAYS: STICK IT UP YOUR JUNTA). Murdoch justifies his papers' crassness by pointing to the circulation figures and prating about freedom of the press. Just the excuse offered by the owner of every "adult" bookshop.
In 1981 Murdoch bought The Times, the most famous newspaper in the world, and The Sunday Times. The Times was dying on its feet, partly through editorial inadequacies, but chiefly through labor troubles and managerial ineptitude. Murdoch has made some progress toward solving the labor problems, at huge cost and with a crisis every three months. He gave formal guarantees of editorial independence to the two papers that only the foolish or desperate believed. They had to shut their eyes to Murdoch's record and their ears to what he was telling them: in a television interview after he bought The Times, he said, "The proprietor's got to pay the bill at the end of the week. He's got to meet the payroll. And the proprietor has to be involved in the strategy or he has to have a successful editor. A successful editor has total freedom. It's when things are going badly, the paper's losing circulation, that the proprietor has to step in or he's going to have no newspaper and the people who work for him, they're going to have no jobs."
It was a fair warning, and an eminently sensible point. Editorial independence can mean very little to a paper as near death's door as The Times. Within a year of buying it, Murdoch proved his point by sacking the first editor he appointed, Harold Evans, former editor of The Sunday Times. When rumors of Evans's departure first surfaced, Murdoch issued a statement saying, "Reports that Harold Evans is about to be replaced as editor of The Times are malicious, self-serving and wrong." Evans was fired just a month later. Murdoch's guarantees of independence seemed to preclude such an abrupt demonstration of proprietorial prerogative, despite Evans's obvious incompetence. For a few days Evans refused to leave, and there were two editors in the building. Murdoch won, of course.
THERE HAVE BEEN no sensational changes at The Times since Murdoch bought it. His intention is to increase its circulation by lowering its sights, eventually challenging the middle-brow Daily Telegraph and giving up the elitist, specialized market that sustained the paper in the past. The trend is already apparent. The Times is more rabidly conservative than itused to be, and took an extreme chauvinistic line over the Falklands war. Its circulation has risen but itsadvertising is negligible, and the paper is still losing a great deal of money. Further changes can be expected at both papers, perhaps more at The Sunday Times. The former editor of The Sun, Sir Larry Lamb, is now editor-in-chief of The Australian and tells colleagues he expects to be given The Sunday Times by January.
Murdoch's power is not restricted to firing his editors. He uses his newspapers to further his commercial interests. The acquisition of The Times is a good example: it appeared to be a blatant violation of antitrust laws, but it was permitted by the government because, according to one of Murdoch's most senior executives, "Maggie thought she owed me a favor." The favor was in return for Murdoch's newspapers' support of Margaret Thatcher's Conservatives in the 1979 election.
Murdoch has tried his hand at influence-peddling in America, too. When he bought a half share in Ansett Airlines in 1979, it was in the market for new jets. Murdoch took over the negotiations himself, and got the most favorable deal from Boeing, on the condition that it obtain financing from the Export-Import Bank, $290.1 million at 8 percent. On the day that the bank's board considered the loan, February 19, 1980, Murdoch was having lunch with Jimmy Carter at the White House. The Export-Import Bank board rushed the loan through with brisk efficiency. Members had twenty minutes to read the briefs instead of the usual twenty-four hours. One of them said, "I think it was inadequately, totally inadequately, prepared. I just don't understand the transaction." Others thought they did. Murdoch and Carter, of course, never discussed the Ex-Im loan. That would have been unnecessary.
Yet Carter got what he wanted: Murdoch's support against Senator Kennedy in the Democratic primary in New York. Murdoch did not have to strain to accommodate Carter. The Post had been virulently anti-Kennedy for years. On December 9, 1979, a headline proclaimed, "TEDDY IS THE TOAST OF TEHRAN. Mob hails him as Hero after his Shah attack." On January 17, the Post started to run a series on "Ted Kennedy's Secret Parties." Murdoch got his loan, and the Post supported Jimmy Carter in the primary.
Murdoch made no promises for the general election, and that fall the Post supported Reagan. It was a wise choice: the Ex-Im loan was in difficulty, and needed assistance at the highest level. All those New York Republicans whom Murdoch had helped to victory, led by Senator Alfonse D'Amato and Representative Jack Kemp, held a testimonial dinner for him on January 12,1981, and presented him with a facsimile of the Post's front page endorsing Reagan, inscribed "To Rupert Murdoch. This will always be a memorable day for me. Nancy and I want you to know you will always have our deepest appreciation. Ronald and Nancy Reagan."
David Stockman wanted to abolish the Ex-Im Bank and the Ansett loan with it. As he told Bill Greider, "How in the world can 1 cut food stamps and social services and CETA jobs and EDA jobs and you're going to tell me, you can't give up a penny for Boeing?" Bank and loan survived, one of the early defeats of Reaganomics.
IT HAS BEEN YEARS since newspaper proprietors threw their weight around with American politicians as openly as Murdoch does. It happens all the time in Australia, and has long been the norm in Britain. British proprietors, as Stanley Baldwin put it, have always enjoyed "power without responsibility, the privilege of the harlot throughout the ages."
Using the influence conferred by owning newspapers to further their business interests is an old game for proprietors: the eminently respectable Thomsons were offered a cut of North Sea oil because they owned The Times, and made billions. American proprietors may be slightly more discreet, but not much. Murdoch has never seen any need for discretion in his business dealings or manipulating politicians. He has carried the newspaper business in New York back to the gory and sleazy days of Citizen Hearst, and reformed characters like the Daily News are appalled.
There is one final ingredient in his character that is almost totally missing among American and British proprietors. He takes risks. Time Inc. closed The Washington Star after losing $30 million; Murdoch has spent four times that on the Post. Buying the waterlogged Times was an amazing gamble. One of his former henchmen in London says, "He's a buccaneer: when he sees a sail on the horizon, he wants to sink it."
It is the old entrepreneurial spirit, alive and well, though imported from Australia. In its way, most admirable. Unfortunately, the fruits of all that enterprise are newspapers like the New York Post.
Patrick Brogan, a freelance writer based in New York, was Washington correspondent of The Times of London from 1973 to 1981. This article originally ran in the October 11, 1982, issue of the magazine.