In his 2012 presidential campaign, Mitt Romney endlessly mocked solar and wind power in speeches. "We all like wind and solar," he said, "but you can't drive a car with a windmill on it." But top Republican presidential contenders for 2016 should hesitate before making solar energy a punchline.
The clean energy industry has seen explosive growth over the last decade, but only recently has solar become cost-competitive with coal and natural gas. And lately, corporations have made massive investments in the sector. On Thursday, SolarCity announced it will create a $750 million fund—$300 million of it from Google—to install rooftop solar in 14 states plus D.C., helping homeowners cut their utility bills. Earlier in February, Apple announced its own ambitions to save money through solar with a $850 million investment in a giant solar farm that will power corporate offices and stores in California. The government's stimulus package in 2009 provided loan guarantees that first made today's private-sector breakthroughs a possibility. In hindsight, Solyndra's bankruptcy wasn't a big deal.
Solar is creating jobs too—far more than the Keystone XL pipeline will ever create. The solar industry employed 174,000 workers in 2014, compared to the 80,000 employed in coal, according to the Solar Foundation. Like Keystone XL's construction jobs, most of these jobs are temporary ones for installations. Still, industry demand for workers shows no signs of slowing, as more homeowners and businesses add solar panels to cut costs. Solar Foundation expects jobs to grow to more than 200,000 by the end of this year.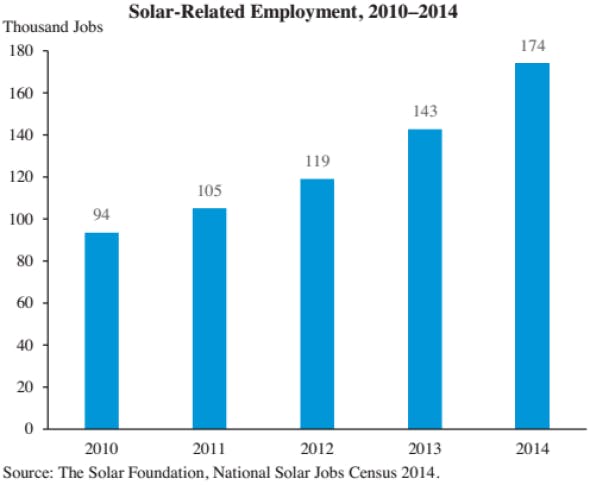 Moreover, a January poll from the New York Times, Stanford, and Resources for the Future found that 80 percent of American voters support corporate tax breaks to produce electricity from solar, wind, and water. So if Republicans care about job creation and cutting corporate taxes as much as they claim, they'll have to tone down their derision of the industry. Quips about windmills atop cars won't work anymore, politically.