During the unrest in Baltimore on Monday night over the death of 25-year old Freddie Gray, rioters appeared to be attacking businesses indiscriminately—setting fire to a CVS and looting a liquor store, among other places—but they may have tried to avoid black-owned businesses. The New York Times' Ron Nixon reported that a member of the Crips "described how he and some Bloods had stood in front of black-owned stores to protect them from looting or vandalism." Other reporters noticed rioters acting in a similar way:
Some businesses hung signs indicating that they were black-owned.
In Baltimore, 35 percent of businesses are black-owned, which is unusual for its size. I looked at the percentage of businesses that are black-owned for the 20 U.S. cities with populations between 450,000 and 650,000. The data come from the Census's Survey of Business Owners, which hasn't been updated since 2007. (Data for 2012 is scheduled to be released later this year.)1
The numbers appear to make sense. Cities with a higher percentage of African-Americans have a greater percentage of black-owned businesses. At 31 percent and 28 percent respectively, Atlanta and Washington, D.C., were the only other cities that approached Baltimore's 35 percent. On the other hand, blacks own less than 5 percent of businesses in Denver, Seattle, Albuquerque, Tucson, and Mesa.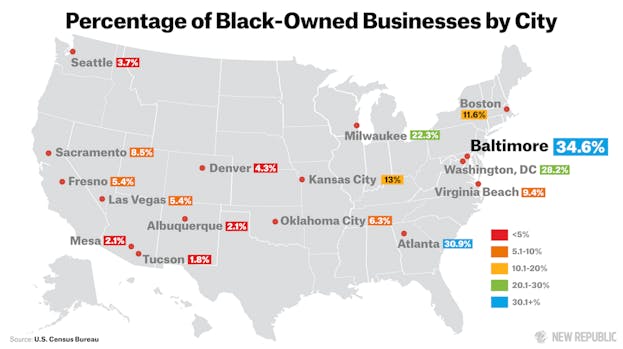 The Census Bureau doesn't have data on a more granular level, so I don't know how the percentage of black-owned businesses varies within Baltimore. The economic conditions do vary considerably. For instance, as Michael Fletcher reported in the Washington Post, more than 50 percent of residents between the ages of 16 and 64 from Freddie Gray's neighborhood, Sandtown-Winchester, are not working, versus less than 40 percent for Baltimore overall. The median income in Sandtown-Winchester is less than $25,000. In Baltimore overall, the median income is more than $40,000.
Of the 20 cities, only 16 had usable data. I exclude Nashville, Louisville, Long Beach and Portland, Oregon.