We glance up at our screens, where Woody Allen and Diane Keaton share a bench in the Manhattan twilight, the lights of the Queensboro Bridge glowing in the distance. Taking in the glorious view of the East River, he tells her, "This is really a great city. I don't care what anybody says." We stumble off the bus and onto the street, past a woman frenziedly emptying the contents of her purse into a garbage can, and mill around, taking photos of the bridge and the glass-and-steel residential towers of Roosevelt Island.
Holly Golightly steps out of a taxi in the early-morning calm of 57th Street to look in the window of Tiffany's on our monitors while Joe Buck stands in front of the same storefront, wondering why no other pedestrians have stopped to help a man passed out face-down on the sidewalk. Outside, a steady stream of tourists pause in front of those same windows, as much to follow in Holly's footsteps as to check out the overpriced baubles found there.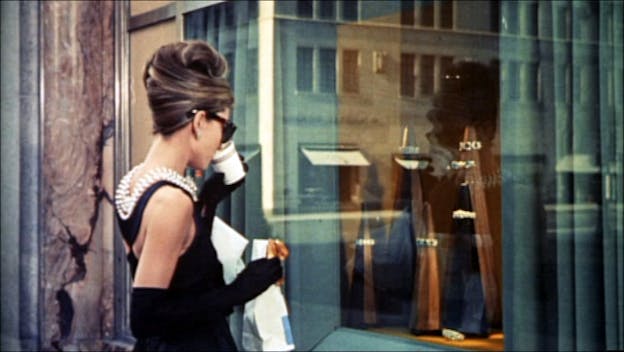 Woody and Diane appear again outside Zabar's, gazing in at the window, a New York Times under Woody's arm. We're idling at Broadway and 79th, taking a short break to scurry inside for black-and-white cookies while a saxophonist plays Billy Joel's "Just the Way You Are" on the sidewalk.
This is no cinematic fever dream, but the Turner Classic Movies Classic Film Tour, rolling through Manhattan streets three times a week since 2013. We are pinballing between past and present on our bus, the allure of Hollywood's gritty New York contrasting with the one-percent-theme-park feel of contemporary Manhattan. Accompanied by a wry tour guide named Jason, and an omnipresent array of flat-screen televisions, about 20 of us, an even split of New Yorkers and out-of-towners, skewing toward safari-hat-clad retirement age, are on a three-hour bus tour through New York's cinematic history, looking at clips from films legendary (King Kong) and not-so-legendary (You've Got Mail) filmed in New York City.
As I waited outside the Stardust Diner at Broadway and 51st Street, the New Yorker in me rebelled inwardly at the idea of boarding a tour bus in the city I live. I imagined hastily donning a sandwich board reading "I AM NOT A TOURIST" for all excursions off the bus, to absolve myself of the guilt of clogging the sidewalks with a passel of slow-walkers and snapshot-takers. But the panic soon passed, and I settled into the rhythm of revisiting Manhattan, where I had lived for my first four years in New York, in stereoscopic perspective, simultaneously visible out of our windows and on our screens.
We drove through Columbus Circle, where Travis Bickle attended a political rally and the Stay-Puft Marshmallow Man rampaged through the streets, up Central Park West, past where Sandy Dennis' Ohioan visitor bellowed, "We surrender! New York, you win!" in The Out-of-Towners, and over to Lincoln Center, where Gene Wilder's Leo Bloom stood on a fountain in The Producers and shouted, "I want everything I've ever seen in the movies!"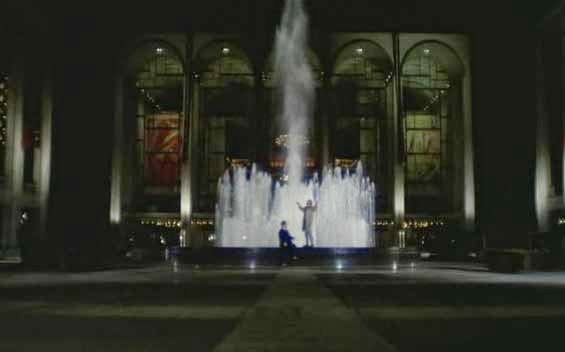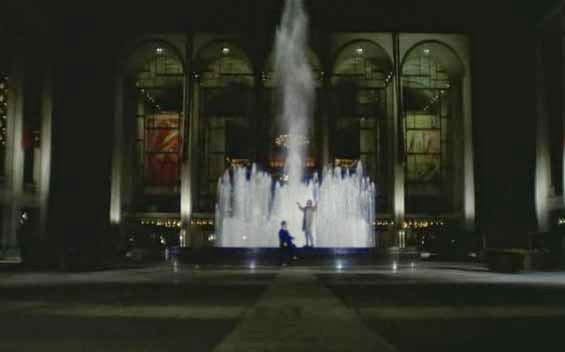 The rest of the tour passed in a similar haze of movie references and personal reminiscences, the city I learned about from the movies overlapping with mundane memories. There was the spot where Harry and Sally bought their Christmas tree, next door to the apartment I had once spent a morning and most of an afternoon waiting impatiently for a friend's couch to be delivered; there was Verdi Square, where Al Pacino shot up in The Panic in Needle Park, adjacent to the diner where my friend Reuben and I had gone on a double date on a trip to the city as college students.
For many if not most New Yorkers, New York is a dream we encounter in the movies before we make it the place we live. We see New York, and then we see ourselves in New York. New Yorkers are romantics about the city in part because the movies taught them to romanticize it. "Seeing New York in the movies is what made me want to live in Manhattan one day," TCM host Robert Osborne, who grew up in Washington State, says during the recorded introduction to the tour. But the juxtaposition of the filmed Manhattan on our televisions and the Manhattan of today out our windows only heightened the sense of unreality.
To watch Manhattan in the movies of the 1950s and 1960s is to glimpse a grubbier Manhattan, now vanished and replaced by its ritzier doppelganger. The low-slung buildings where Judy Holliday's Gladys Glover imagined her name on a giant billboard in George Cukor's It Should Happen to You have now made way for the towering Time Warner Center. The territory belonging to the Jets and Sharks on the Upper West Side was torn down to build Lincoln Center; in fact, the city paused their imminent demolition to allow Robert Wise and Jerome Robbins' crew to film. The Emerald Inn from Billy Wilder's The Apartment, where Jack Lemmon's C.C. Baxter and Shirley MacLaine's Fran Kubelik drown their sorrows, is now a Kate Spade store, with a slinky red sleeveless dress on display in the window. The movies had always given us a partially imaginary Manhattan; now, the most imaginary Manhattan of all seemed to be the one constructed of cement and steel.
Manhattan was still bustling, still beautiful, still vibrant. But it felt less and less like a place where ordinary people could live—or even want to. The affordable Manhattan had gone the way of the gritty Manhattan we had caught glimpses of on our screens. I had fled across the East River almost ten years ago with the rest of the middle-class refugees, and this return visit and history lesson only served as a reminder of the extent to which Manhattan had become inhospitable territory. Gladys Glover and C.C. Baxter would live in Brooklyn now, or maybe Queens. We surrender—you win.
Hollywood still idealizes Manhattan, but the most memorable movies about New York City of the past decade have moved to the outer boroughs, too. Some of my favorite recent New York movies are the ones that take an interest in corners of the city distant from the hubbub of midtown Manhattan: the tortured Brighton Beach romance of James Gray's Two Lovers; the Willets Point car-repair stores of Ramin Bahrani's Chop Shop; the Jackson Heights street-corner bustle of Joshua Marston's Maria Full of Grace. These movies share a stubborn devotion to New York's ecstatic hodgepodge of overlapping cultures, and the economic and personal struggles of their characters—struggles of the kind that gilded Manhattan has little room for anymore.
Seeing the city with TCM, and peeking at the cheats (relocated landmarks, cleverly disguised soundstage work, mismatched exteriors and interiors) used by filmmakers to bend New York to their needs, reminded me of an argument advanced by Thom Andersen's 2003 documentary Los Angeles Plays Itself: that the best movies about a city are the ones that respect its geography, and its limitations. We have seen so much of the movie Manhattan—simultaneously identical to the real Manhattan and nothing like it—and still so little, relatively speaking, of the city. Of New York's approximately 120,000 blocks, how many have never been featured in a movie?
We were let off at tour's end a block away from Grand Central Terminal, where we had just seen Cary Grant slip on a pair of sunglasses to flee his omnipresent pursuers in North by Northwest. I was momentarily tempted to follow in the footsteps of the most suave man ever to appear onscreen and request a berth on the Twentieth Century, but settled for a seat home to Brooklyn on the decidedly uncinematic F train. Life can't always be a movie, after all.