On Wednesday, the Century Foundation released a thorough report on virtual labor organizing. If you're interested in organizing your workplace, there might soon be an app for that. And if you're not interested in being unionized, you're leaving money on the table. Lots of money.
By the hour, according to the report, unionized personal care workers can expect to make almost 10 percent more than their non-union counterparts, while construction workers in unions can earn nearly 42 percent more. For unionized workers in life, physical, and social sciences, hourly pay is almost double that of non-union workers in the same field.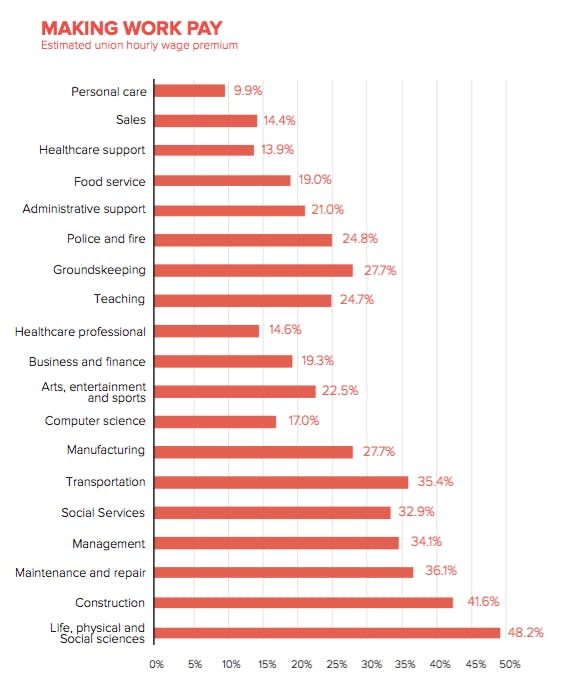 No wonder, then, that non-unionized workers earn much less over their lifetimes. Teachers who do not belong to unions lose $475,000 of potential income over their careers; transportation workers, $687,000; construction workers, $1,082,000. Those in life, physical, and social sciences come out as the biggest losers, missing out on $1.5 million dollars.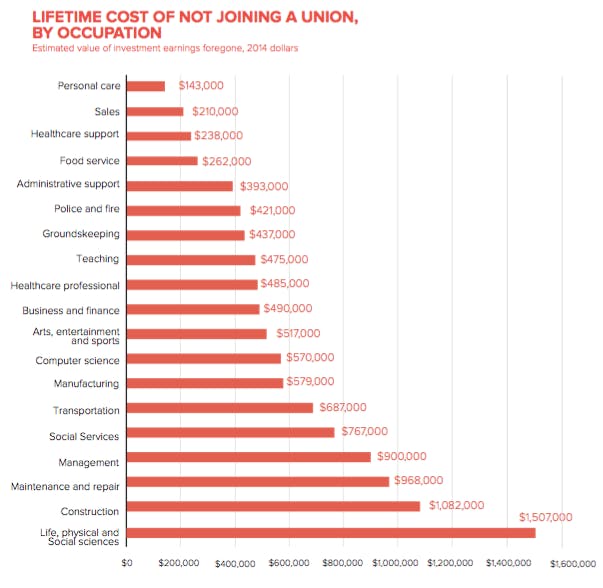 Some of the highest losses affect male-dominated working class professions, like construction, repair and maintenance work, and manufacturing. Past studies have shown that union membership is a huge boost when working class men are looking to marry. Union membership is also associated with higher life satisfaction overall, likely thanks to improved pension plans, healthcare benefits, vacation time, and paid sick leave. But even leaving aside the benefits to families and communities and the potential rescue of a flagging American middle class, one thing is certain: Unions get their workers paid.