Last year, the number of people forced from their homes by war, famine, or natural disaster, passed 50 million for the first time since World War II. According to the United Nations, 19.5 million of the world's nearly 60 million forcibly displaced people are refugees and an additional 1.5 million are asylum seekers, while 38.2 million are internally displaced. Over half of the refugees under the age of eighteen.
Since January, over 200,000 migrants have crossed into Greece, while over 100,000 have entered Italy by making a perilous journey across the Mediterranean. While the European Union requires migrants to register in the country they arrive in, many refuse to do so, fearing that it will imperil their journey to the more prosperous countries in Northern Europe. Germany, the most popular destination for migrants, expects to field over 800,000 asylum applications by the end of this year. The crisis, challenging the EU's humanitarian reputation and its vaunted policy of open borders, has triggered an extraordinary summit. On Tuesday, September 22, twenty-eight EU countries agreed to a plan that would resettle 120,000 migrants across Europe, despite objections from the Czech Republic, Hungary, Romania and Slovakia.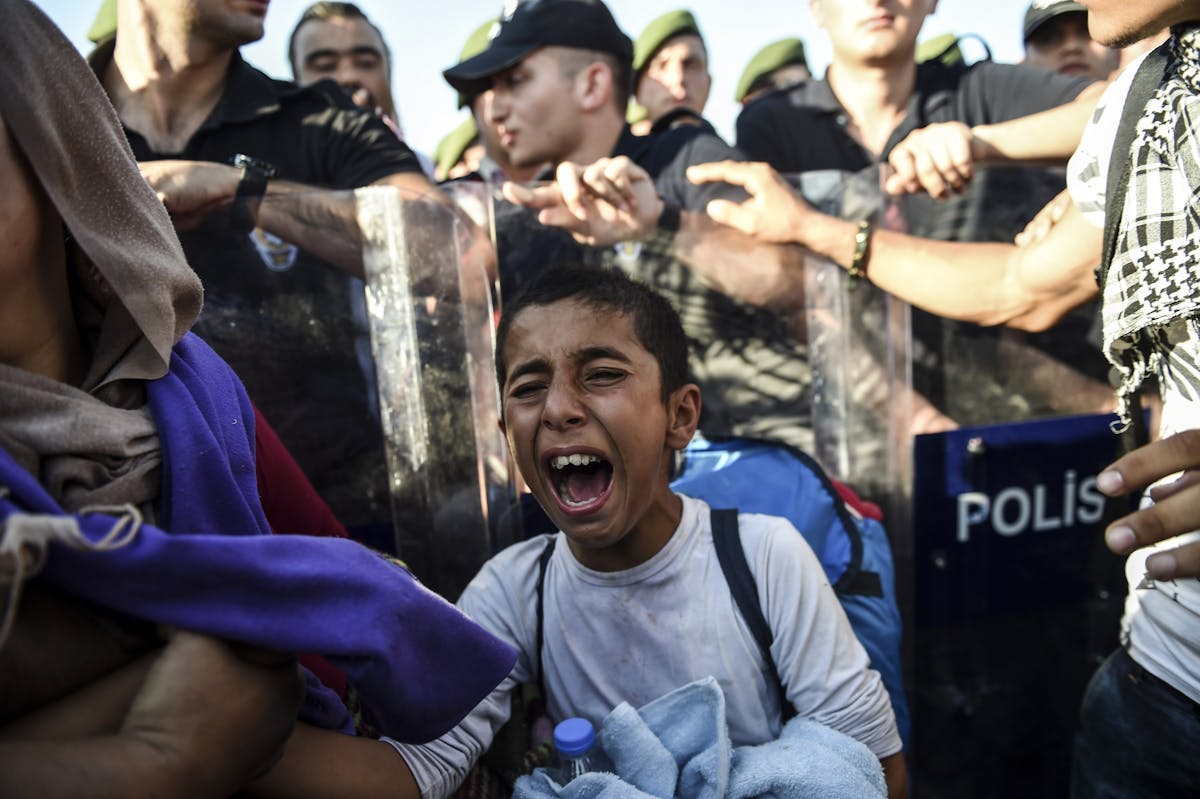 Edirne, Turkey (Greek border) September 18, 2015
A boy cries as migrants press against a police barricade that has been set up near the Turkish-Greek border at Edirne, in northwestern Turkey. Last week, thousands of migrants gathered in this border town demanding passage to Greece overland, rather than risking the perilous journey across the Aegean sea, where many have died in shipwrecks this year. After organizing on Facebook, the migrants marched from their makeshift camp on the outskirts of the city to the border, where they were blocked by hundreds of Turkish police in riot gear. When this photograph was taken, the migrants were still camped outside the city.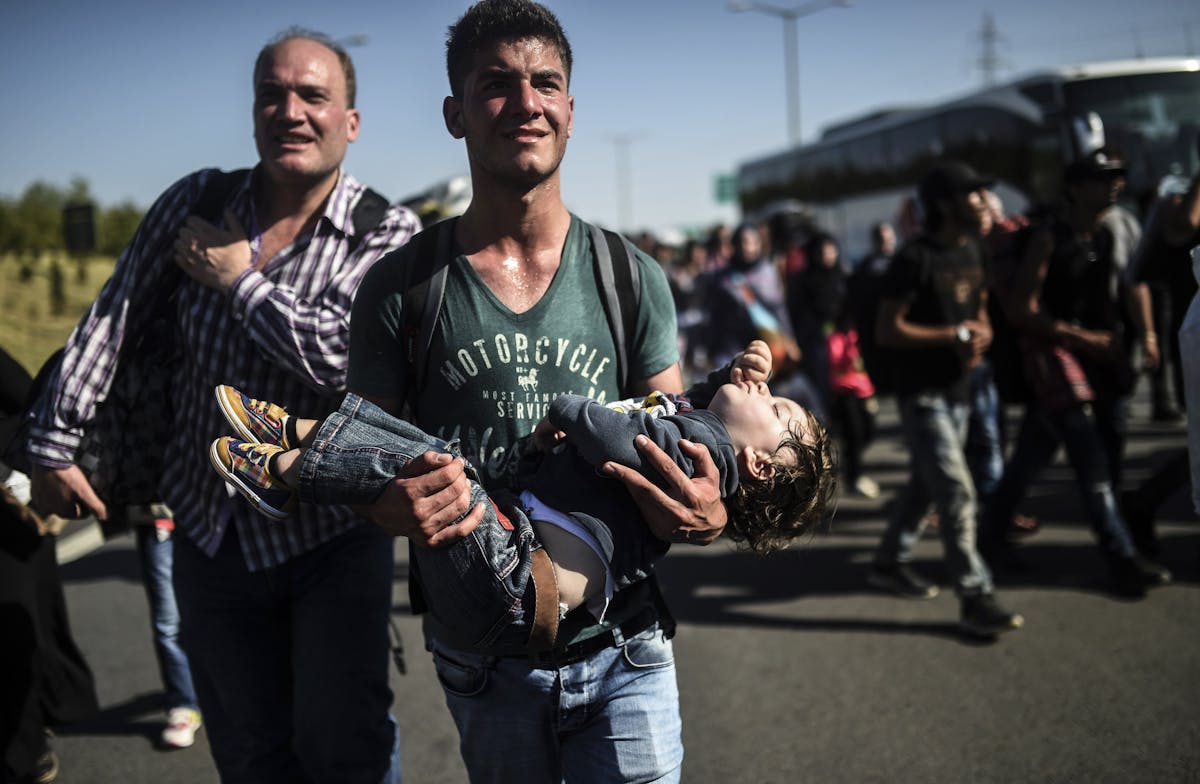 Edirne, Turkey (Greek border) September 18, 2015
A man carries a sleeping child as migrants march along the highway. Authorities are still preventing migrants from crossing into Greece at this border town—many of the migrants who were camped on the outskirts of the city have since been shuttled in buses to a stadium in Edirne's center or, in some cases, to other Turkish cities, including Istanbul.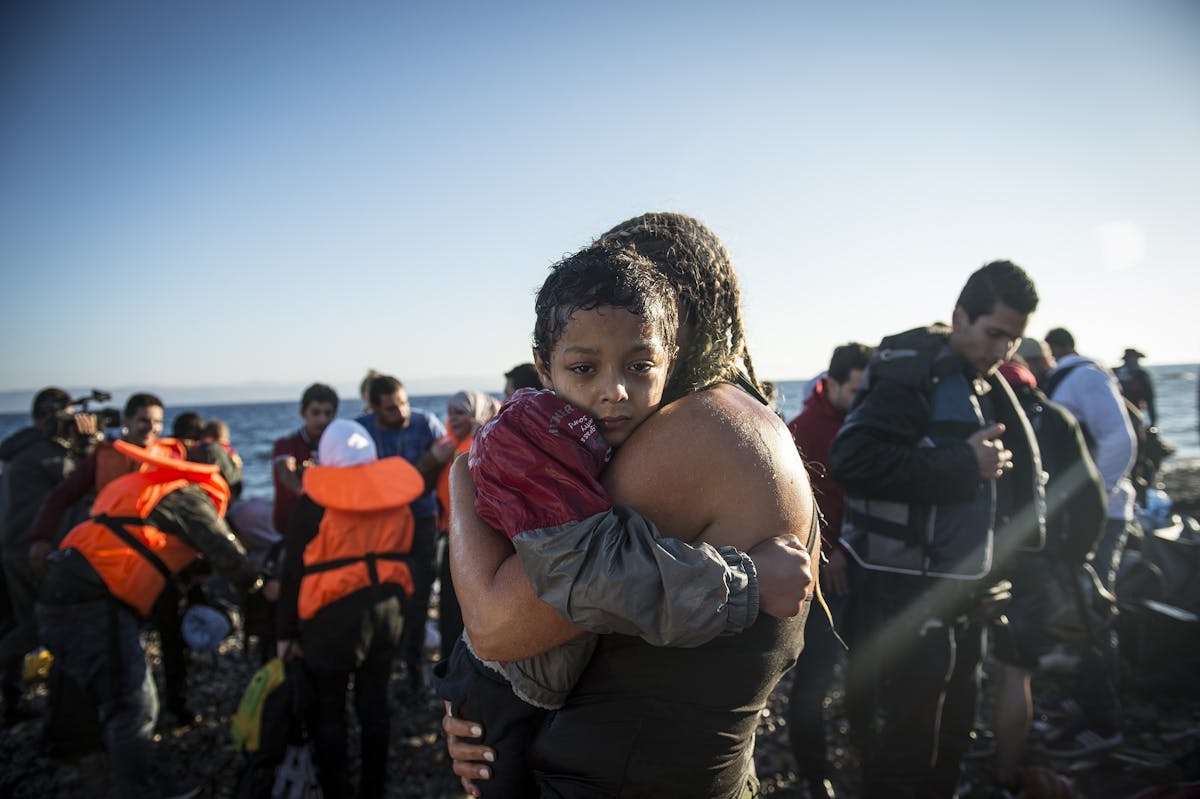 Lesbos, Greece September 18, 2015
A volunteer holds a child as a boat carrying refugees arrives at the Greek island of Lesbos, which has become a major transit point on the long journey to central and northern Europe. Many of the refugees come to Lesbos on packed boats piloted by inexperienced captains from Turkey. Thousands of migrants currently reside in refugee camps on the island.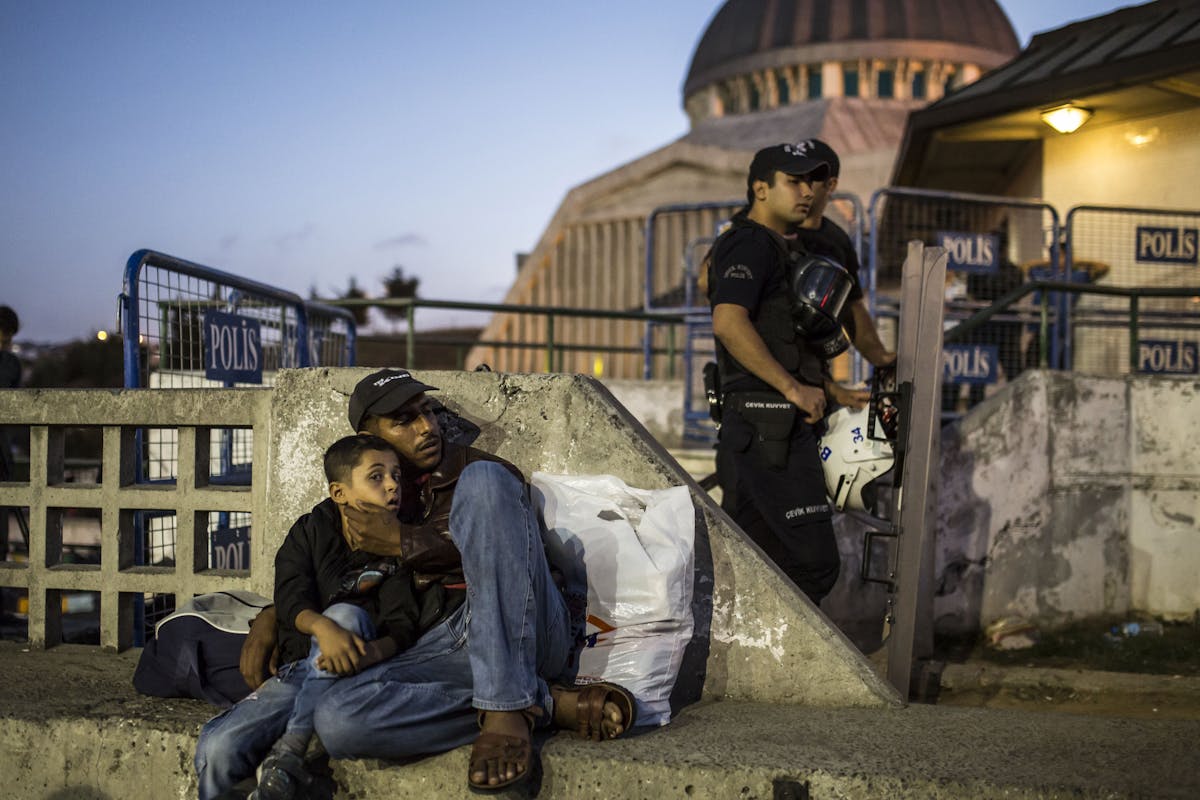 Istanbul, Turkey September 17, 2015
A man holds his son in front of a police barricade at Istanbul's Esenler Bus Terminal, as they wait for a bus to take them to the border town of Edirne. After thousands of people began demanding a safer overland passage over to Greece, Turkish authorities began withholding tickets and restricting travel in an attempt to stop the flow of migrants. After being refused tickets, hundreds of migrants camp out in the bus station.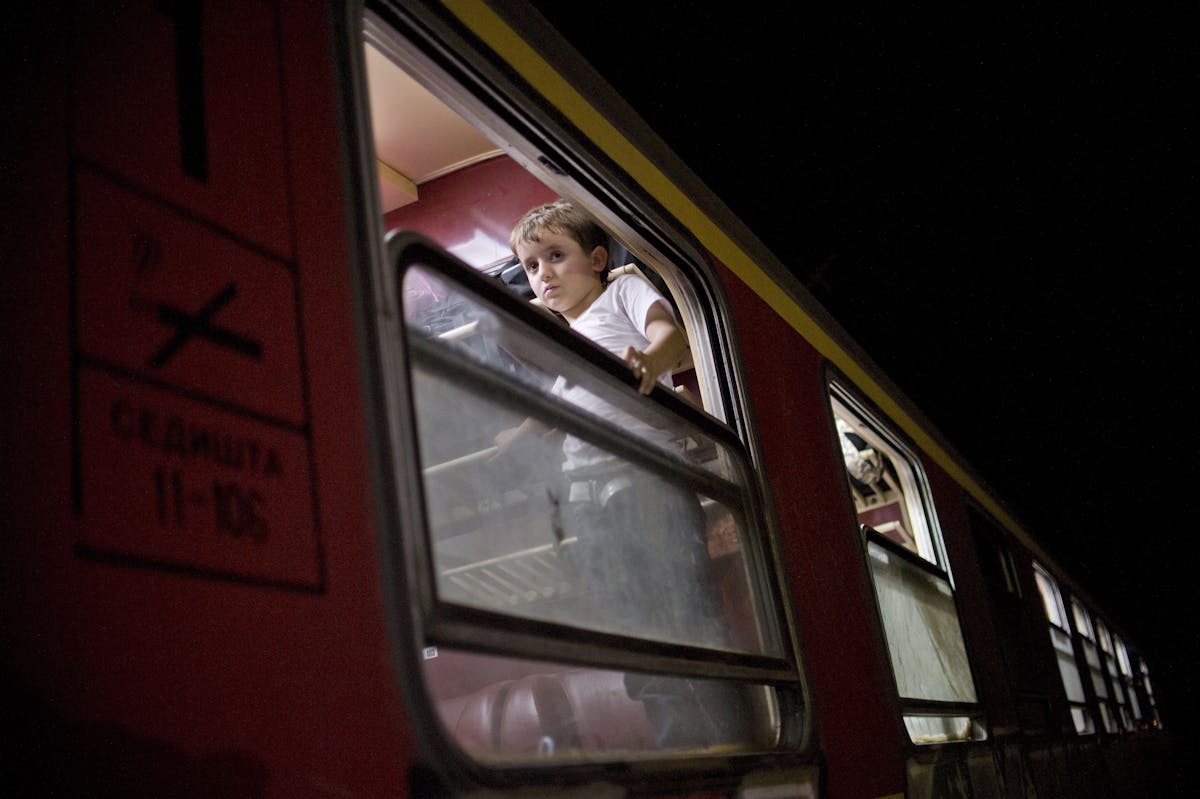 Gevgelija, Macedonia (Serbian border) September 17, 2015
A boy peeks out the window of a packed train that will transport migrants from Macedonia's southern border with Greece to its northern border with Serbia. Thousands of migrants pass through Gevgelija, arguably the country's busiest border crossing, in a single day. Most don't spend long in Gevgelija. Instead, they board the train to Tabanovce, a village on Macedonia's Serbian border as quickly as possible.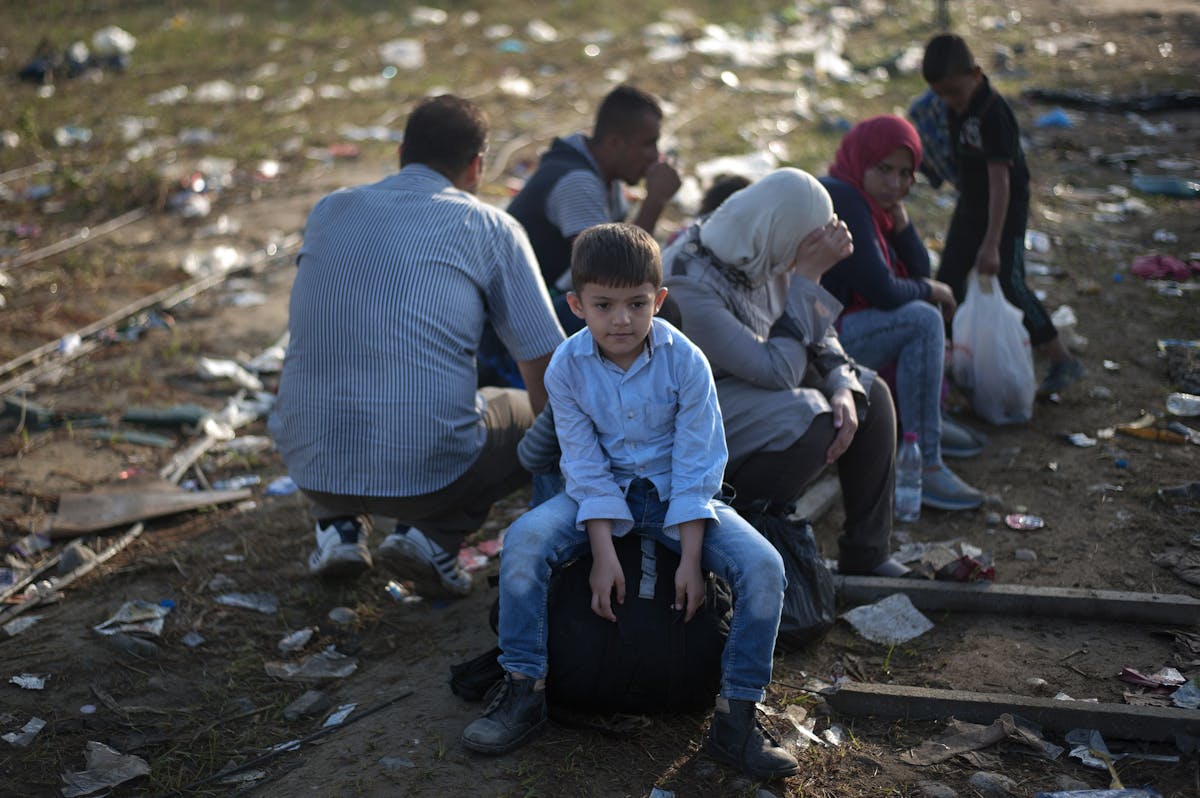 Gevgelija, Macedonia (Serbian border) September 18, 2015
A boy rests after crossing into Macedonia. When Croatia closed its border with Serbia because of the unprecedented influx of migrants, other entry points into the Balkans followed suit. "Don't come here anymore," Croatian Interior Minister Ranko Ostojic recently told migrants. "This is not the road to Europe."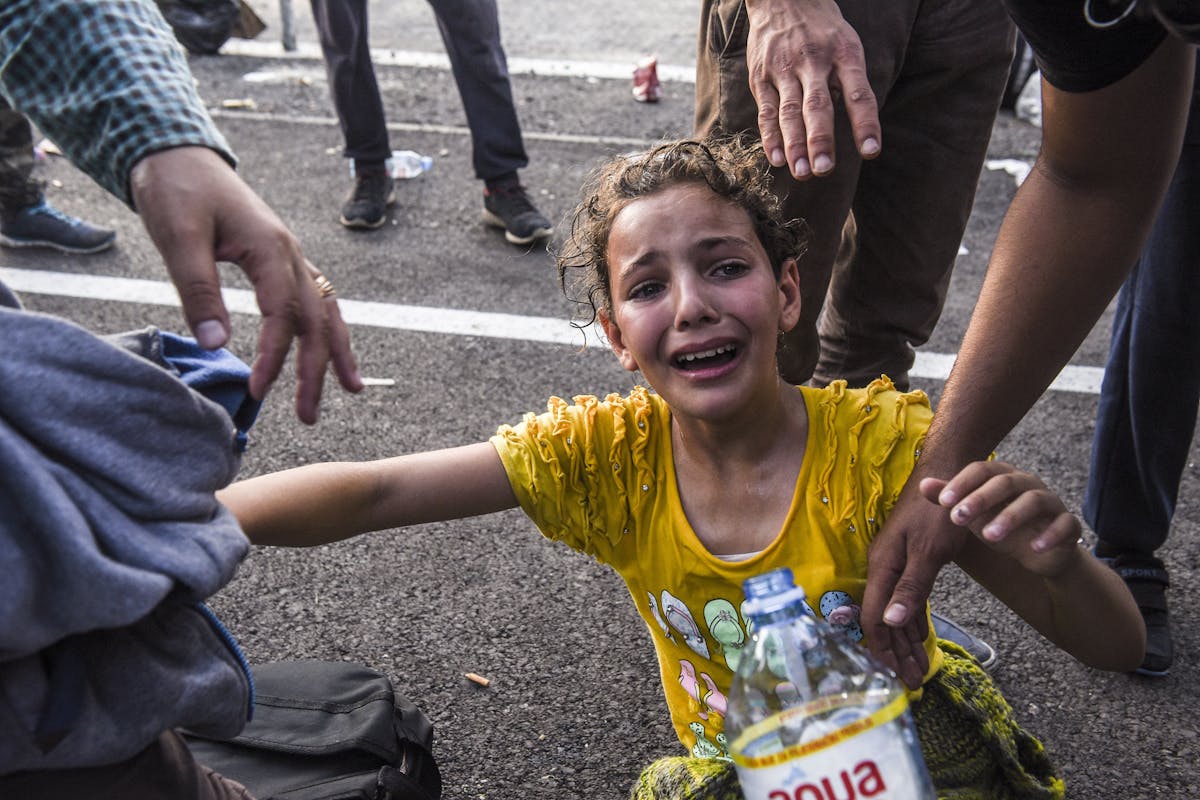 Horgos, Serbia (Hungarian border) September 16, 2015
A girl cries after Hungarian riot police fires tear gas at migrants that have massed along the country's Serbian border. There is a small crossing point at Horgos, where many migrants wait to try to enter the country legally; others pay smugglers or attempt to scale a newly-constructed border fence. When migrants chanting "open the door" attempted to push through the crossing point at Horgos, riot police fought back with pepper spray, tear gas, and water cannons; migrants responded by throwing fruit and bottled water. Dozens of migrants were injured in the clashes, including two children. On September 16, Hungarian officials announced they were suspending the Horgos border crossing for thirty days in response to the violence.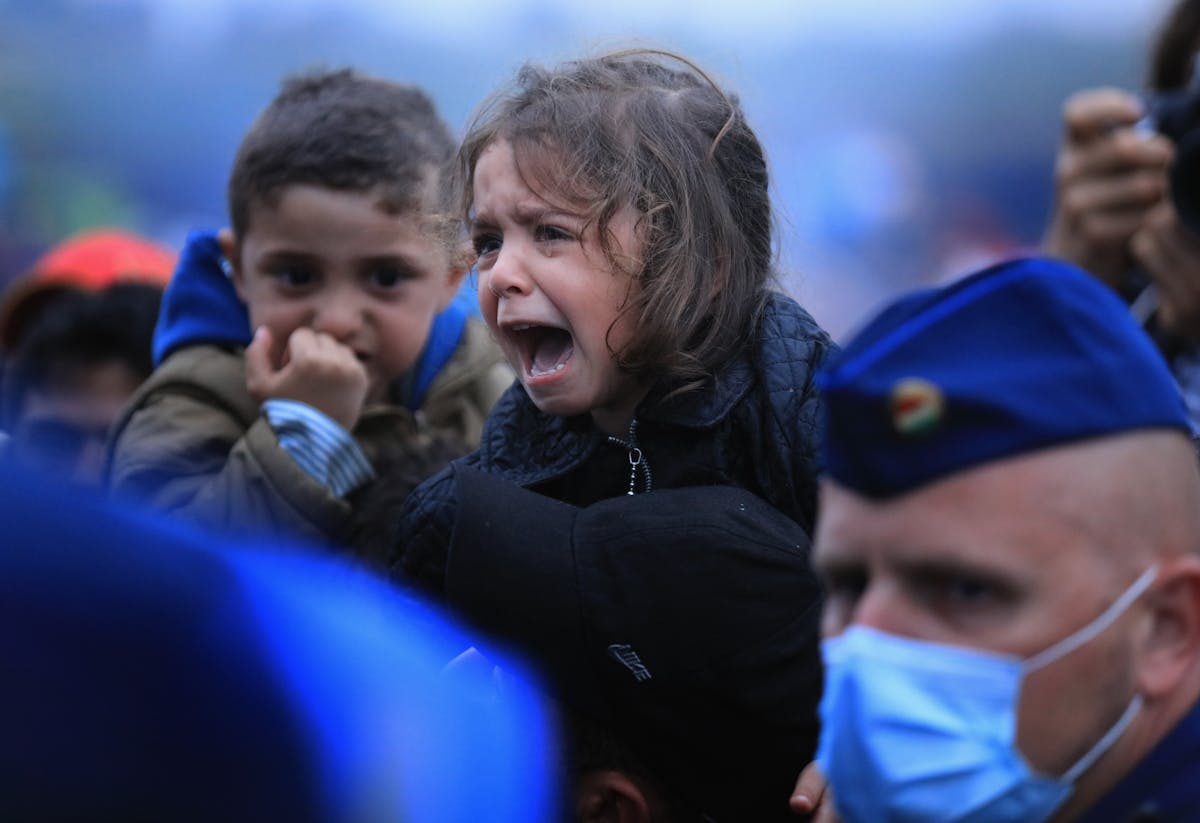 Roszke, Hungary (Serbian border) September 11, 2015
A young girl cries as migrants scramble to board waiting buses that will take them to a camp near the Hungarian-Serbian border at Roszke.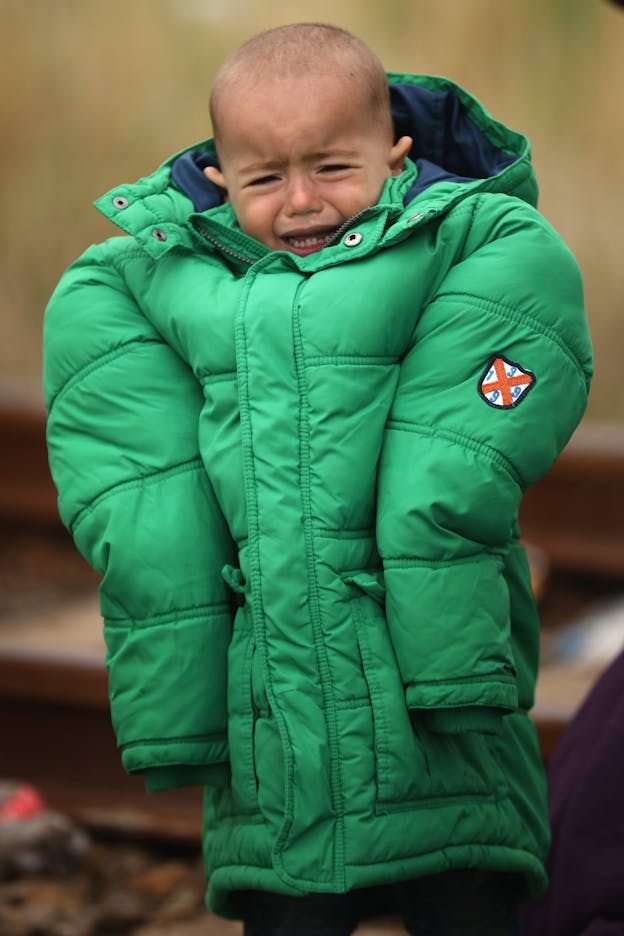 Roszke, Hungary (Serbian border) September 11, 2015
A young migrant boy cries as he walks towards waiting buses at the Hungarian border with Serbia. Since the beginning of 2015 the number of migrants using the so-called "Balkans Route" has exploded with migrants arriving in Greece from Turkey, and then travelling on through Macedonia and Serbia before entering the EU via Hungary.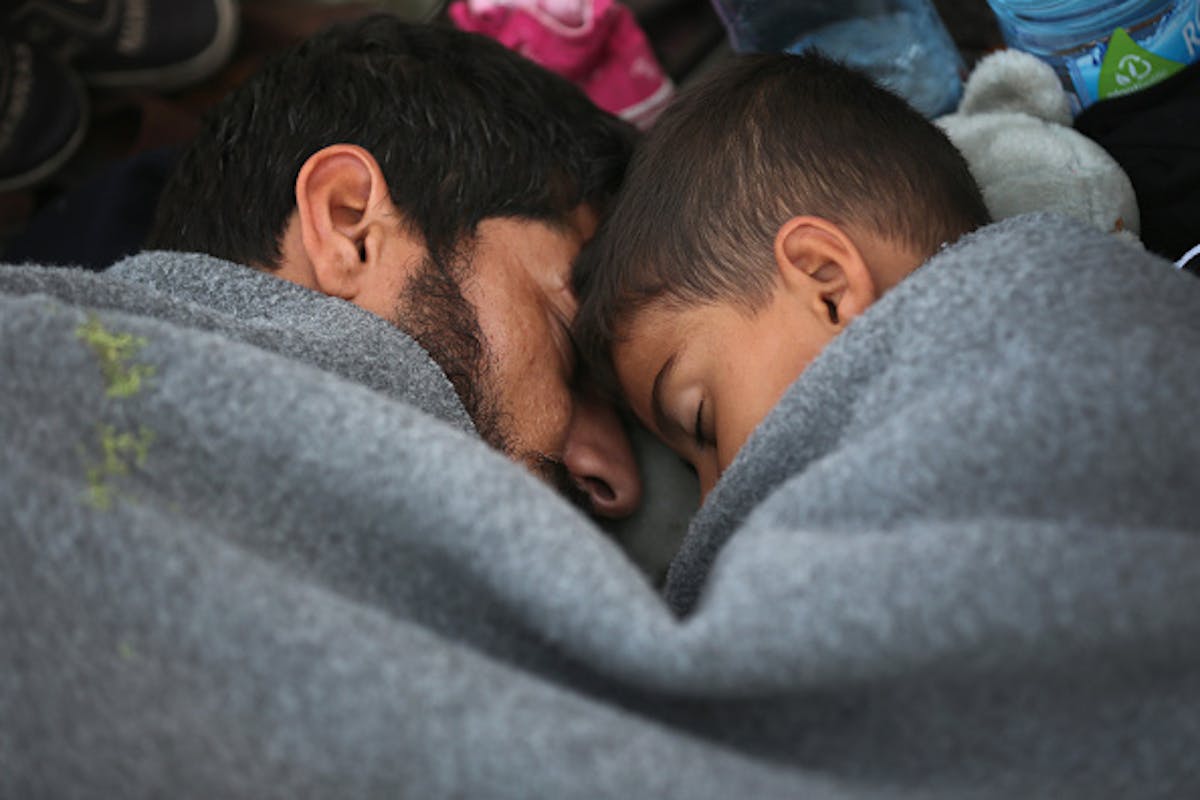 Horgos, Serbia (Hungarian border) September 17, 2015
A young boy and his father rest after the previous day's friction at the border crossings on in Horgos, Serbia. Overnight, hundreds of people were transported from the border by bus to Croatia, after Hungary sealed its border with Serbia following clashes between migrants and riot police.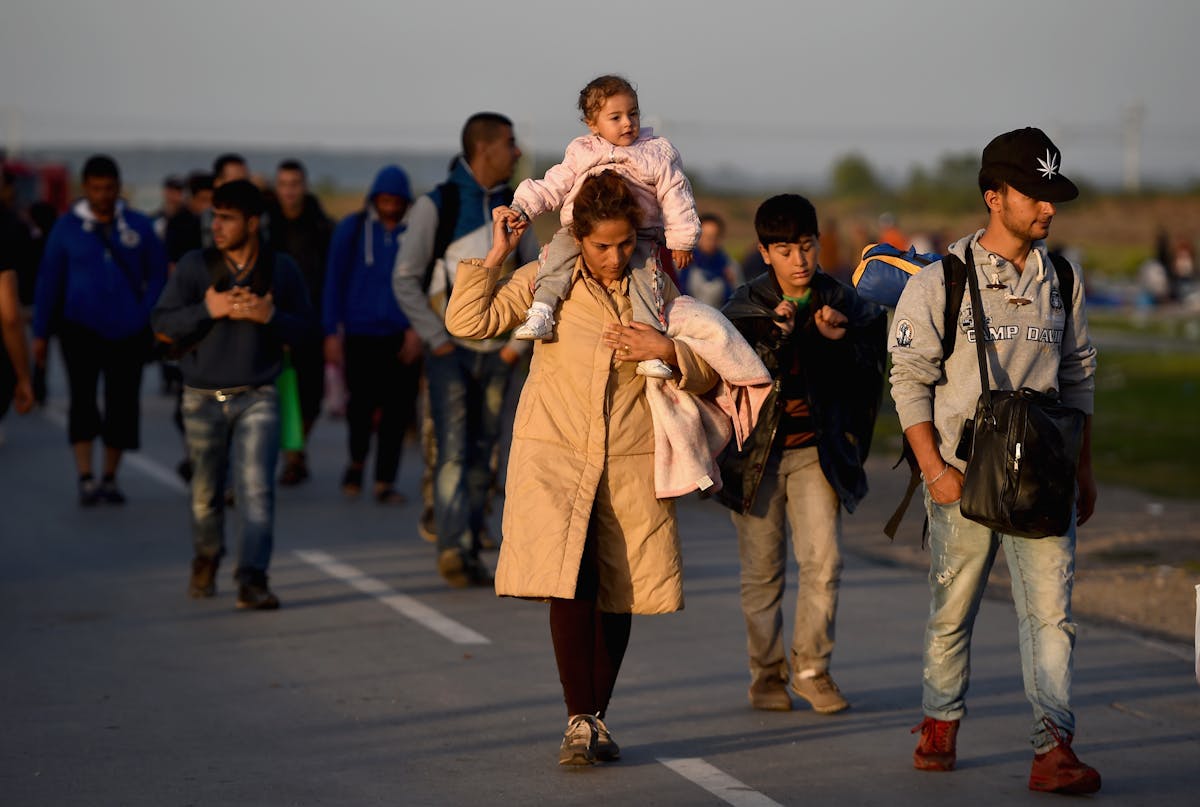 Tovarnik, Serbia (Croatian border) September 18, 2015
A woman holds her child on her shoulders at Tovarnik railway station as migrants wait to travel to Serbia from Croatia. Tovarnik has been the site of stampedes and clashes with police in response to overcrowding. According to the Guardian, the station is only 12 kilometers from a minefield "left over" from the Yugoslav Wars.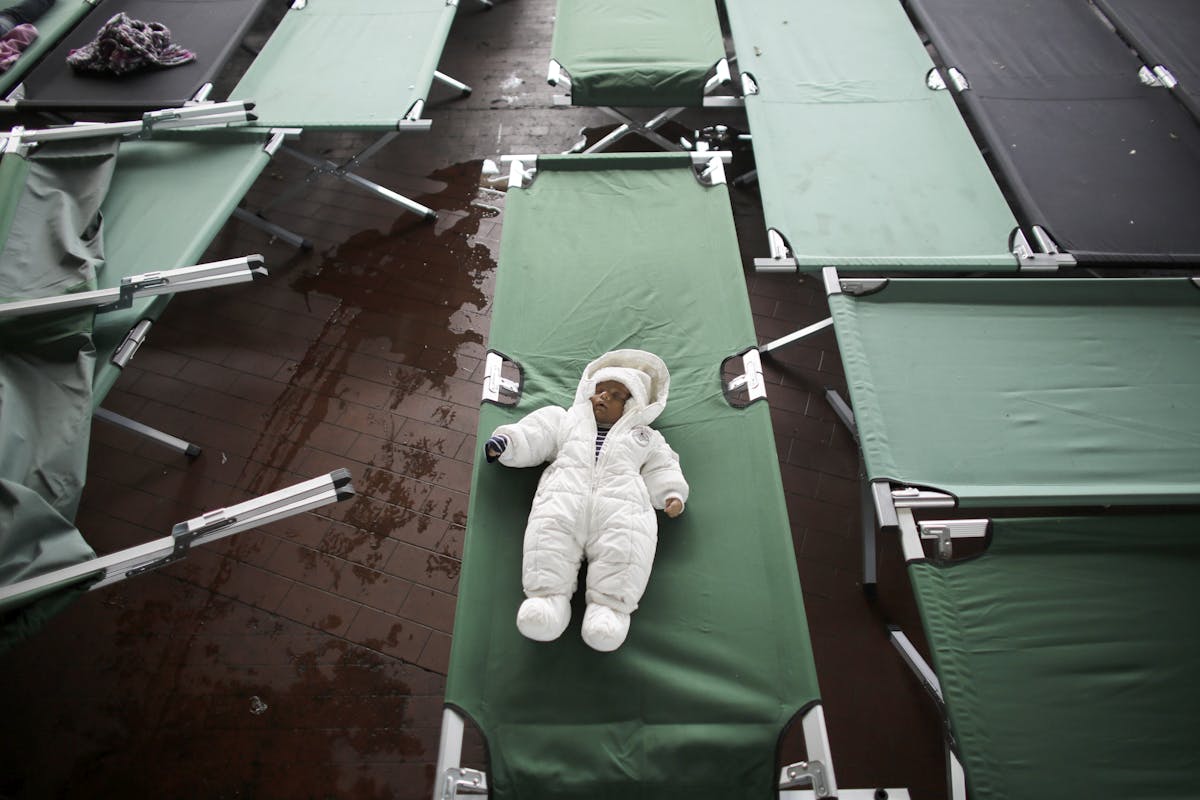 Passau, Germany (Austrian border) September 15, 2015
Parwan, a three-month-old from Afghanistan, sleeps in a temporary registration center in the southern German border town of Passau. Refugees were taken to the center from trains and cars or were picked up as they walked.