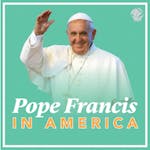 Pope Francis never once mentioned the words "climate change" in his address on Thursday. With House Speaker John Boehner sitting behind him and mostly Republicans sitting in front, Francis devoted little attention to environmental isssues in his hour-long speech. More precisely, he devoted 225 words to it.
Francis did discuss "the environmental deterioration caused by human activity":
In Laudato Si', I call for a courageous and responsible effort to 'redirect our steps' (ibid., 61), and to avert the most serious effects of the environmental deterioration caused by human activity. I am convinced that we can make a difference and I have no doubt that the United States – and this Congress – have an important role to play. Now is the time for courageous actions and strategies, aimed at implementing a 'culture of care' (ibid., 231) and 'an integrated approach to combating poverty, restoring dignity to the excluded, and at the same time protecting nature' (ibid., 139).
In another part of the speech, Francis called for the "right use of natural resources" and hailed our potential to put technology "at the service of another type of progress, one which is healthier, more human, more social, more integral."
He also quoted his encyclical, Laudato Si, saying, "We need a conversation which includes everyone, since the environmental challenge we are undergoing, and its human roots, concern and affect us all." However, the encyclical itself is much more direct on what climate science tells us about the disturbing warming of the planet.
Environmentalists and conservatives expected more forceful words of the U.S.'s role in creating a global threat and acknowledgement of the scientific consensus. Congressman Paul Gosar of Arizona even publicly announced he'd boycott the speech because of the Pope's climate activism. "If the Pope chooses to act and talk like a leftist politician, then he can expect to be treated like one," Gosar wrote in Townhall last week.
Though many will continue to use the Pope's words to pressure Congress to take action, some journalists and environmentalists saw a glaring missed opportunity:
Then again, Francis did address climate change in his remarks at the White House on Wednesday, saying, "Mr. President, I find it encouraging that you are proposing an initiative for reducing air pollution." And climate change is likely to come up again on Friday, when Francis delivers an address to the United Nations.