I won't be marketing my services as an investment adviser, at least not soon. Friends and relatives are ordering these boxes—functional adults who know how to cook and have at least a passing familiarity with grocery stores and farmers' markets. More startlingly, one friend is putting money into "meal-kit" companies, as he informed me is the term of art. It seemed clear I couldn't keep dismissing Blue Apron, with its three million meals a month and almost $200 million in venture capital raised so far. Or its rival Plated, co-founded by two fresh-out-of-Harvard-Business-School entrepreneurs, Nick Taranto and Josh Hix, whose office I recently visited. On one wall was a huge drawing of the Plated world of the future, with employees dispensing Plated boxes as if from a CSA in a mini-grocery store run, of course, by Plated; vertical farms along the brick walls of a reclaimed factory neighborhood; cyclists bearing Plated boxes; and, my favorite touch, hovering drones dangling multiple boxes emblazoned with the bright red Plated logo. Both services deliver to all the Lower 48—or as Matt Salzberg, the founding CEO of Blue Apron, put it, "We reach 99.7 percent of the population."
Just Add Cooking, the Boston-area company my friend invested in, was co-founded by Jan Leife, who in his native Sweden witnessed the success of Middagsfrid often referred to as the world's first meal-kit company (it dates to the dark ages of 2007). Purple Carrot, another Boston-area company but one that is all-vegan and ships to the Northeast and Mid-Atlantic, emphasizes the farm origins of its ingredients—like everybody else, now that the local, sustainable gloss is mandatory.
I spent an afternoon in the stunning Buckhead, Georgia, home of Hadi Irvani, the young founder of PeachDish, a meal-kit company that has already made it into the big leagues: It was featured alongside Plated in a recent Today Show segment. Once a week, Irvani's home serves as a test kitchen for recipes. I tasted and watched as the team—including Seth Freedman, a chef who spent time teaching cooking at a farmers' market in an underserved Atlanta neighborhood, and Judith Winfrey, a former leader of a local Slow Food chapter—worked on perfecting the instructions for a broccoli-scallion-egg stir-fry from Root to Leaf: A Southern Chef Cooks Through the Seasons, a new cookbook by Atlanta's most farmer-friendly chef, Steven Satterfield.
All meal-kit companies have teaching in their mission, or say they do, along with encouraging people to cook at home—against which no right-minded person can argue. At a price of about $9 to $12 per person per meal, they need somehow to make the experience they offer compelling and exciting. They're competing with prepared-meal sections in supermarkets; restaurants, particularly "fast casual"; and an ever-increasing number of grocery-and meal-delivery services, including UberEats and Google Express.
The companies are trying to give customers options to fill the at-home-on-a-weeknight gaps (generally three meals a week, one owner told me) with leftovers for one more meal and a lunch—portions are very large.
The advantages of meal kits are by now familiar: No more bottles of fenugreek that go stale once you've used a half-teaspoon for that Indian recipe. You can take a chance on a new and possibly scary ingredient, say fish sauce. Meal kits bring Slow Food Ark of Taste ingredients to the masses who have never heard of Slow Food, let alone the Ark of Taste, which are ingredients at risk of extinction—in the case of PeachDish's Halloween chili, merkén, a Chilean spice and pepper blend. Meal kits hold hope for the always-vexing problem of cooking for one, in which buying small amounts while maintaining a varied menu can seem discouraging, if not downright depressing.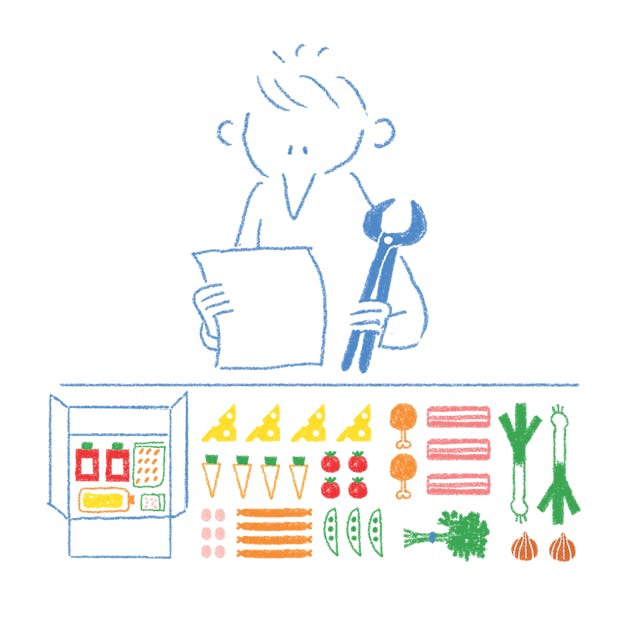 Over three cook-a-thon evenings, one with only my spouse and the others with groups of six and ten people, I tried a variety of meals from four different companies. What all had in common was a lot of packaging. All of the companies are strenuously, and loudly, working to reduce this problem: Plated has moved to a compostable "Jutebox" bag that looks like woven brown grass in a dry-cleaner bag and can be recycled; Blue Apron says it is starting a packaging returns program. There's the unwrapping and laying out of mise en place; proteins are at the bottom, between ice packs, then the heavier produce, like potatoes, then the bits and bobs of spice and sauce packets, or "knickknacks," as Blue Apron somewhat too cutely calls them.
Certainly, there was fun in cooking together, and the reason corporations buy cooking-school time for team-building exercises kicked in: The teams I'd assembled had to learn to work together, figure out sometimes opaque or misleading instructions, sort and delegate chores, and try to be considerate but expedient, even when it was clear their cooking partner had no idea how to peel a clove of garlic let alone identify and separate one from the full head. I could sternly tell teams, including one newlywed husband, that the first commandment of cooking is to clean up as you go. Too many recipes called for a profligate number of pots; only PeachDish admirably stuck to its pledge of no more than one pot and one pan per recipe. Every recipe from every company took longer than the instruction card promised.
Surprisingly for services that target total food novices, one thing not provided on most instruction cards was the basic information any decently written cookbook includes: exactly what equipment is necessary; the order of what to preheat and when; and which steps to do first and how long each step should take. Only one company said to wash all produce and herbs. One cooking team member sliced through a long, fresh green jalapeño lengthwise and immediately jumped back, her nose running and her hands tingling; soon everybody was wheezing. Nothing in the directions said gloves were essential and cold running water would quell the fumes.
As a longtime veteran of cooking classes and demonstrations, and as a pedant, I enjoyed showing the garlic neophyte how to smash the clove with the flat of a knife and then mash it with a bit of salt to release the flavor without releasing the strongest chemicals, a favorite trick Barbara Kafka shared in her cooking classes. What I didn't realize I needed to do was tell people to taste for seasoning: One card said to salt at three or four different stages, something a chef would do, but always tasting each time. One company sent a bag of pretty coral-colored seasoned salt without saying just how much should go in, resulting in inedible dishes when the teams logically assumed the right amount was all of it.
Would I ever buy another meal kit? Nah. I appreciate the idea that a party in a box comes to your door, but for me half the party—all of it, really, in my version of cooking for one—comes from meeting the people who sell the food I'm looking for, the serendipity of discovering, say, a new kind of lobed winter squash, getting it home, and figuring out what to do with it. I see how meal kits can unlock these worlds—I admit I'd never made a daal, a huge and versatile category, and so of all the meals I tried, Just Add Cooking's simple daal with various Indian spices, peppers, and a base of sautéed onion was the most satisfying and memorable. But they don't offer depth.
The kits did make me slightly revise a longstanding criticism of myself as a cook: that I'm too slavish to recipes. I say it's because I'm so enraptured with the writer and want to experience their world, but it's really because I'm a timid and literal-minded cook. Yet the lack of notes from any of the companies encouraging—mandating—improvisation got to me. The instruction cards generally elicited presentable results. The dishes and platters my somewhat flustered and tired but content groups brought to the table were attractive enough. But they mostly had the homely, let's-ooh-and-aah-for-the-earnest-kids look of a small paint-by-numbers oil. The outlines were someone else's. The spaces were precisely mapped out. The coloring in was sometimes skilled, sometimes ungainly. But it was always a facsimile.
Recipes are blueprints, nothing more. The trouble with meal kits is if they achieve their goal of making people try and then embrace the exotic and new, and give them long-hoped-for confidence in cooking, they'll liberate the newly hatched cook from ever buying another meal kit. So they can't last as a viable business. Remember what I said about my investment advice?